Never say never. I've always said I wouldn't do anything invasive in terms of beauty procedures. The occasional facial or diamond peel or some laser treatments here and there are usually enough for me. But lo and behold, last time I went to Luminisce Skin and Laser Clinic, Dr. Kaycee Reyes asked me what my concerns were and I blurted out my dark undereye circles. She suggested injecting my undereye area with hyaluronic acid dermal fillers. It sounded scary at first so I said no thanks, I'll stick to the laser treatment I was there for.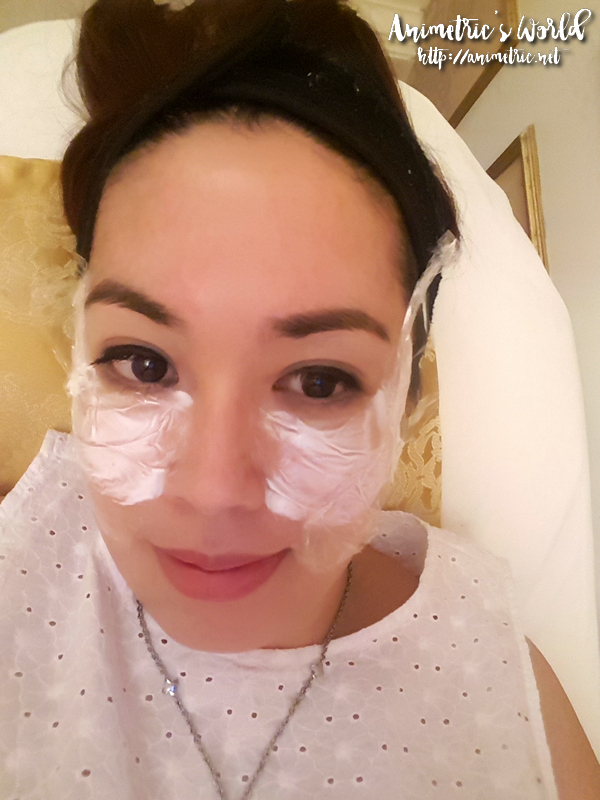 She asked me to think about it. One month later, I was back in Luminisce Skin and Laser Clinic for my first ever injection-based aesthetic treatment. Patients can opt for two anesthetic options to suit their pain tolerance level. First is the topical anesthesia, second is the injectable local anesthesia which will make the procedure completely painless. What you see above is topical anesthesia slathered all over my undereye area to make the injection more bearable. I said no to the heavier injectable local anesthesia.
First of all, what is a hyaluronic acid dermal filler? It's what aging people like me HUHUHU inject in their faces to plump up (or inflate if you will) areas which may have lost volume due to aging. Doc Kaycee said my dark undereye circles were made darker because my undereye area was sunken. She said she'd inject hyaluronic acid fillers to plump it up and diminish my dark undereye circles. Hyaluronic acid is a natural substance found in your body so it's non-toxic.
So anyway after the anesthesia set in, Doc Kaycee proceeded to inject my undereye area with hyaluronic acid fillers. It was PAINFUL. She told me I wouldn't feel a thing if I had the injectable anesthesia. I have high tolerance for pain and I was squeezing the hell out of the stress ball they handed me. I appreciate that Doc Kaycee takes her time with the injections because she wants it done right. The whole injecting process lasted maybe an hour or more. You can see a difference immediately after.
This is my photo AFTER the injections. I had injection marks which gradually turned into scabs on both sides of my face for several days.
Doc Kaycee handed me an after-care guide after the procedure. She also prescribed antibiotics so the filled area wouldn't get infected. There are a lot of things you can't do. Like you can't really press on the injection site or bathe with hot water because the fillers are still very malleable at this stage. You don't want to look deformed. So I was afraid to take off my makeup and wash or even touch my face. It's also natural to have some swelling and bruising (I didn't have any bruising but I had angry red injection marks which eventually turned to scabs). I had a dinner the next day so I was kind of worried. Two weeks is the length of time needed for the dermal fillers to fully set.
Doc Kaycee told me I could wear makeup and covering the injection marks and swelling was a real challenge. I took out a stippling brush for the first time since makeup school and used Happy Skin Second Skin Creme which is a foundation product that's thicker than all the BB Creams I normally use. Then I topped with Laneige Anti-Aging BB Cushion. That was just HOW MUCH coverage I needed one day after treatment. The photo above was the result of my foundation application and blending. I didn't have to wear any concealer. Before the procedure, I usually slather on a lot of concealer on my undereye areas to hide the dark circles.
So anyway here are before and after photos of my undereye areas. I have absolutely zero makeup in both photos. No foundation, BB Cream, concealer, or whatever. There's marked improvement although my dark circles have not completely disappeared. For patients who want permanent removal of dark underye circles, Doc Kaycee recommends surgical options. Right now, it's not something I'm willing to undergo. I told her I'm okay with improvement because it still means less time doing my makeup lol.
After the procedure, I find that it so much easier concealing dark undereye circles because they're not deep and sunken. They say I look more well-rested nowadays.
The cost of this treatment at Luminisce Skin and Laser Clinic depends on how much fillers need to be used. You can go for a consultation before you actually have it done. The hyaluronic acid fillers will gradually dissolve over time so you'll need to do it again after a year to maintain the effect.
For more information about the treatments at Luminisce Skin and Laser Clinic, log on to http://luminisce.com/ or check out Luminisce on Facebook. To inquire about hyaluronic fillers call 511-8500. Luminisce is located on the second floor of the Mercury Drug building on 32nd Street in BGC.
Like this post? Subscribe to this blog by clicking HERE.
Let's stay connected: