Since we live in a humid tropical country, most of us have probably experienced ending up with a shiny face at some point. My skin isn't as oily as it used to be in my teen years… in fact, some parts (like my cheeks) get kind of dry when I'm not mindful of my skin care routine but up until now, I still get shiny on the T-zone a few hours after I put on makeup. This is where Etude House Zero Sebum Drying Powder (P398) comes in.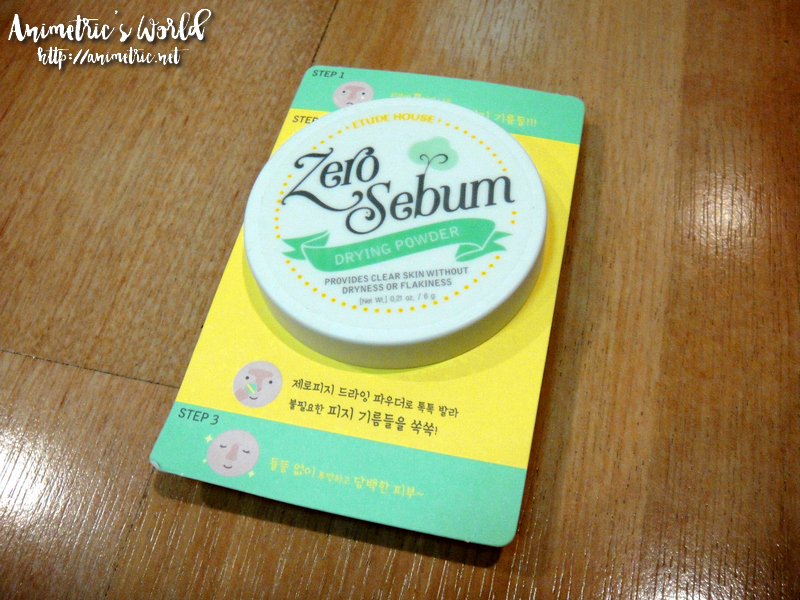 I've tried A LOT of powders. I find topping your foundation or BB or CC cream with powder necessary if you want to look fresh longer. Suffice to say, most powders that claim to control oil end up making my face look cakey. I hate that. Cakey is equal to old and I don't want to look old! When I saw Etude House's Zero Sebum Drying Powder, I tried it out immediately.
I love the way it looks. So fresh. It comes with a puff.
Etude House Zero Sebum Drying Powder is pretty small, so it's easy to carry around for touch-ups.
The powder is sealed when you first open it.
It's white and it's very fine. It smells like lime too, I love it already.
This is how you apply Etude House Zero Sebum Drying Powder (and yes I have seen how the Korean makeup artists do it) — hold the puff like so and pat on to the areas of your face which have a tendency to shine. Don't wipe or swipe — pat lightly. In my case, it's my T-Zone (forehead, nose, chin). You can actually use this with or without makeup. Without makeup, it should look something like my photo above.
After application (left) VS. 7 hours later (right)
I actually use this more on top of makeup and can I just say the oil control capability is amazing? Check out my photos above, taken 7 hours apart. I didn't retouch or reapply the powder throughout.
What I like about Etude House Zero Sebum Drying Powder:
I seriously love the refreshing lime scent. It's really the first thing I noticed when I removed the seal.
The powder is very fine and although it's white, it's transparent and it doesn't leave you looking like a kabuki actor.
The oil control capability is impressive. My photos which were taken 7 hours apart have very little difference.
It's not expensive! In fact, I find it very affordable at P398.
I super love the packaging. It's so easy to bring around.
This product is made of 80% mineral powder and contains no talc or mineral oil which can clog pores.
It feels very light on the face, you don't feel like you have a mask on.
Downside? For me, none! I love love love this product. It's now my official finishing powder! Please note that this product has zero coverage so you can't rely on it to hide flaws and imperfections of any kind. It just controls oil.
Etude House Precious Zero Sebum Drying Powder is available for P398 at all Etude House counters and boutiques nationwide. Log on to http://www.etudehouse.ph for a complete list of stores.
Like this post? Subscribe to this blog by clicking HERE.
Let's stay connected: