Etude House Philippines sent over these Etude House Play 101 Pencils for review a while back. I was very intrigued because I knew these pencils were all-around makeup products you can use for just about every part of your face — eyes, cheeks, lips…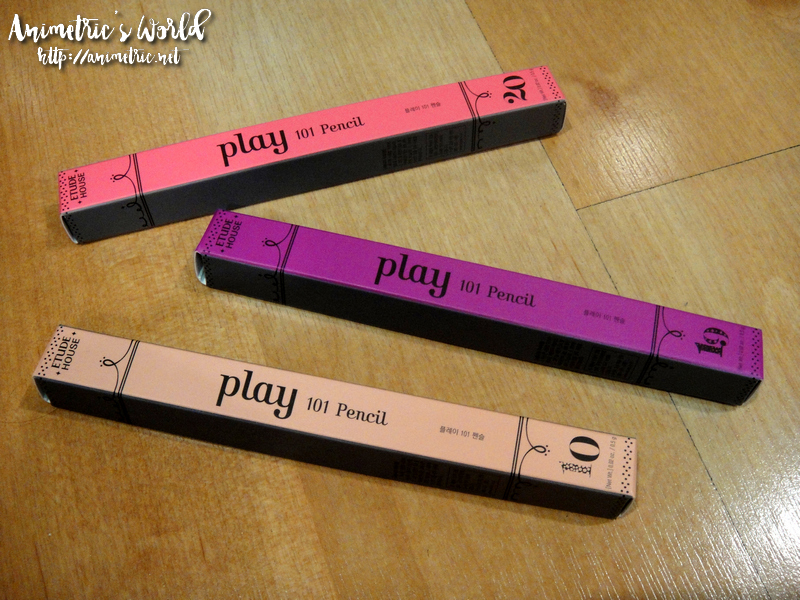 They gave me 3 pencils to play with: Etude House Play 101 Pencil 10, 19, and 20. There are 50 different colors and textures, can you imagine?
They looked like flesh, purple, and hot pink.
Twist the end of the pencil to push out more of it. Detach the tip to sharpen…
…like this! I love products that multi-task because it means there will be less clutter on my dresser, lol!
Here are the pencil swatches!
My first thought was to use the Etude House Play 101 #10 as a concealer but Marj gave me a better idea — use it to line the waterline. Its creamy texture makes lining the waterline super easy! I also used it to prime my upper lids.
I decided to be experimental and used shade #19 (purple, rumored to be the Pantone color of the year Radiant Orchid) on my eyes. Wow, it's really pigmented and again, the creamy texture makes it glide across your lids easily.
I topped it with a black liquid eyeliner. Just curl lashes and add mascara and you have a complete eye look right here in maybe 5 minutes.
I used the hot pink pencil, shade #20, on my lips. Creamy and pigmented, just like the first two.
Here's the complete look! The pencils can actually be used on the cheeks to but I was going to an event and didn't have time to try it. Anyhow, here's the look when shot indoors.
Here's the look under the natural light by my window.
Etude House Play 101 Pencils come in a whopping 50 different colors, textures, and finishes. OMG. I feel like collecting them all!
What I like about Etude House Play 101 Pencils:
They multitask like crazy! You can just bring a pencil case filled with these pencils and go on to create a complete makeup look!
They're highly pigmented. All you need is a swipe for an instant pop of color.
They're easy to blend so there's no limit to the looks you can create.
They're reasonably priced at P348 per pencil.
They're really easy to use because they glide on like a dream!
There are 50 beautiful colors to choose from.
Downside? I found it hard to remove from my upper lids, lol. I used makeup remover and cleansing oil and facial wash and there were still traces of purple on my lids. Other than that, it's all good.
Etude House Play 101 Pencils are available for P348 each at all Etude House stores nationwide. Log on to http://www.etudehouse.ph for a complete list.
Like this post? Subscribe to this blog by clicking HERE.
Let's stay connected: