On the second day of our Hong Kong Disneyland adventure, we visited Hong Kong Disneyland Hotel to have breakfast at the Enchanted Garden Restaurant with Disney characters!
As you can see behind us, Hong Kong Disneyland Hotel is Victorian in style.
It's very classy inside. There are long corridors illuminated by lamps, shiny marble floors, and classic landscape paintings on the walls.
It really comes across more as a Victorian mansion rather than a hotel. There are even varnished wooden cabinets showcasing porcelain Disney character figures.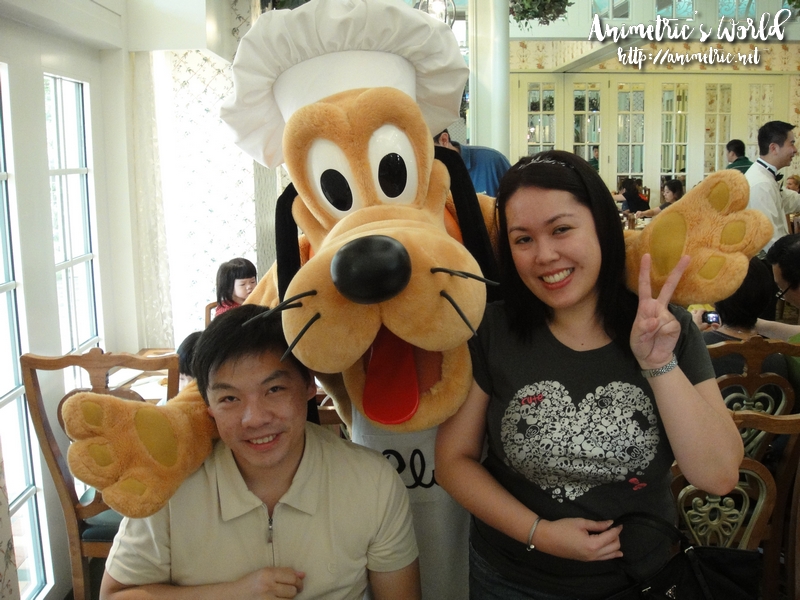 We then proceeded to the Enchanted Garden Restaurant for our character breakfast. Classic Disney characters like Mickey Mouse, Donald Duck, Goofy, and Pluto in chef costumes roam about, visiting each table for photo ops with guests. 😀
Mickey-shaped breakfast fare like waffles and pancakes abound in the buffet.
This is my first plate. I got crispy bacon, Mickey pancakes and waffles, scrambled eggs, baked cherry tomatoes, hash brown, and some veggies. So yummy!
I also had some congee from the dimsum section. 🙂
After breakfast, we stepped outside and took a walk. We were enthralled by Mickey's Maze. You can actually go through it and try to find your way from one side to the other. Kids will find it more challenging since the bushes are taller than they are.
We really should take the kids here the next time we go back to Hong Kong. There are a lot more things to see and do in this hotel compared to Disney's Hollywood Hotel.
Hong Kong Disneyland Hotel
Magic Road, Lantau Island, Hong Kong
https://www.hongkongdisneyland.com/hotels/hong-kong-disneyland-hotel/
Like this post? Subscribe to this blog by clicking HERE.
Let's stay connected: