This ECQ is proving to be a good time to discover hidden gems when it comes to food. While one of the best things I've ordered is still Khaleb's Shawarma, this French Apple Cake from Lucci's is probably the winner when it comes to the sweet things. You read right — French Apple CAKE. Not pie. It really is cake.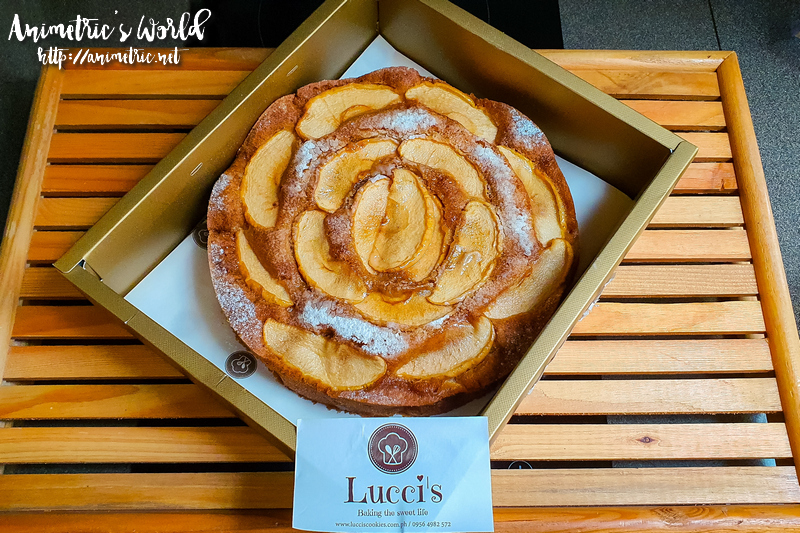 I got one for our family a couple of days ago. I was shocked at the price — P399! Most cakes from homebakers this ECQ cost anywhere from P800 to P2,000 a piece plus delivery. I initially thought I read it wrong when I saw P399 on the pricelist.
So how do I describe the French Apple Cake from Lucci's… it's a deliciously moist cake topped with buttered sweet apple slices and powdered sugar. It's soooo good. I get hints of vanilla and caramel with every bite. The best part? It's not overly sweet, it's just perfect. We loved it so much we ordered 4 more cakes to give to friends celebrating their birthdays this month. 😀
I wish I could include a scratch and sniff button on this post to share how good it smells.
It's really cake, not pie.
Aside from the French Apple Cake, Lucci's also has a selection of cookies. There's Oatmeal Rum Raisin, Ube White Chocolate, Hot Cocoa, Chocolate Chip Walnut, Deep Dark Chocolate Chip, and Chocolate Peanut Butter. They're only P150 for 6 pcs of 25g cookies or P350 for a box of 25g cookies. For 80g cookies, the prices are P450 for 6 pcs and P800 for 12 pcs.
All the flavors are yummy but I liked the Oatmeal Rum Raisin best. Wow, they do not skimp on ingredients. I could taste the ube halaya in the Ube White Chocolate cookie.
You can order via Lucci's Instagram account. They accept BDO and GCash as modes of payment. They are based in Quezon City so you can either pick up your order or have it delivered via GRAB, LalaMove etc.
Like this post? Subscribe to this blog by clicking HERE.
Let's stay connected: