Whenever I'm abroad, I enjoy visiting food courts. There's a wide variety of food I can sample and the prices are reasonable — definitely cheaper than a standalone restaurant. Here in the Philippines, food courts are usually dilapidated, crowded, and kind of dismal. But I can see that's slowly changing… places like Corner Market at The Podium, Hole In The Wall at Century City Mall, and The Grid at Powerplant Mall are proof of that. Anyhow, the newest and probably the best one yet, Eatogether Food Hall, is the latest addition to this growing trend.
We got a preview of Eatogether Food Hall at Capital Commons last August 7, the day before the grand opening. It's a sprawling complex with something like 10 different stalls offering everything from salad to steak to hotpot… they even have ice cream, cocktails, and milk tea!
Hubby, our son, and I went to check it out. I'm so glad we did because in the following days, the box office queue was just frightening lol.
Just pick a stall, any stall, and order from there. Or pick several stalls for a variety of dishes. Most dishes cost around P200+ per order.
Before entering, you're required to get a Vikings Reward Card with a minimum load of P200 (this place is after all, brought to us by Vikings). You need this because it's the only mode of payment they accept at Eatogether Food Hall (all branches, they have one in SM Megamall too!). It's really simple — load, tap, and eat! This card earns rewards points as well.
Food is made as you order so everything's fresh.
There's a Tong Yang Express where you can get your hassle-free hotpot fix.
Just pick a soup base and what you want to go into your soup. They'll serve it piping hot at your table.
You can make your own sauce or ask the staff to concoct one for you. Shabu Shabu Set Menu prices start at P208.
There's a bar that serves both alcoholic and non-alcoholic drinks. They have coffee as well as canned and bottled drinks.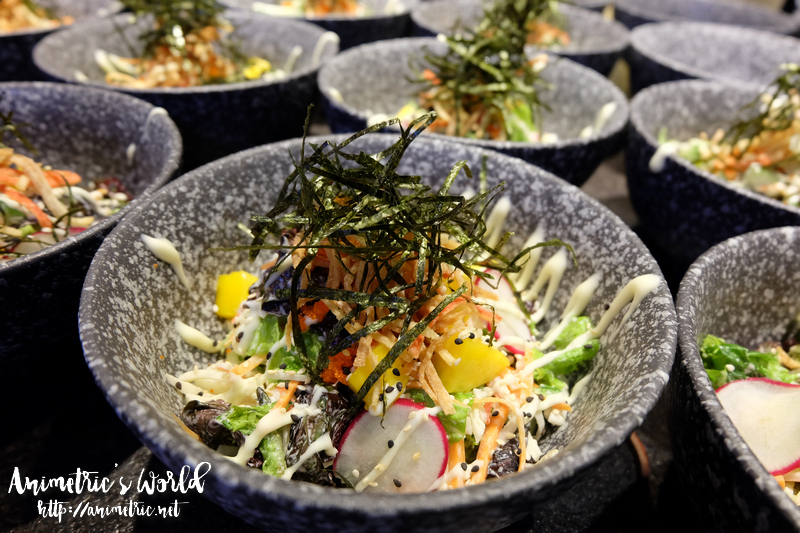 I really enjoyed the Kani Mango Salad.
One of my faves was the Sweet and Sour Pork with Peach from Hawker Lane. The pork is crispy and lean, just the way I like it. We're used to pineapples being used in this dish, but peaches work nicely too.
These are the King, Hot Chick, and Taiker Taiwanese Style Fried Chicken from Secret Chicken. They're really crunchy and flavorful, perfect when paired with an ice cold beer from the bar.
This is the Al Tonno Pomodoro (P238) from L'Italiano. Pretty decent pasta I'd say.
There was so much food I could hardly keep track. I remember being served Crispy Pata, Roasted Duck, Pizza, Malaysian Laksa Noodles, and even Milk Tea!
Super love Eatogether Food Hall. There's something for everyone and prices are reasonable. The place looks good too, it's actually like being abroad. Serving sizes are quite hefty — your hunger will definitely be satisfied. It's a great place to go to with family or friends. It's connected to Estancia Mall too so you can walk off everything you ate afterwards lol.
We'll probably visit Eatogether Food Hall in SM Megamall next.
Eatogether Food Hall
2/F Unimart @ Capital Commons
Meralco Ave. cor. Shaw Blvd., Pasig City
277-5777
Like this post? Subscribe to this blog by clicking HERE.
Let's stay connected: