It was a rainy afternoon last July 17, 2012 when I trooped to Beauty Bar in Greenbelt 5 for the K-Palette Philippines blogger event. Normally, I would not even think of going out in such weather but this particular day was special. K-Palette Philippines had flown in Japanese make-up artist Noriko Imura to conduct a live demo of how the product can be used.
These are the K-Palette eyeliners and eyebrow pens. K-Palette is known for its lasting effect, it's like having a 1 day tattoo since sweat and water can't take them off.
It wasn't all about eyeliners and eyebrow pencils that day. There were Zero Kuma concealers too.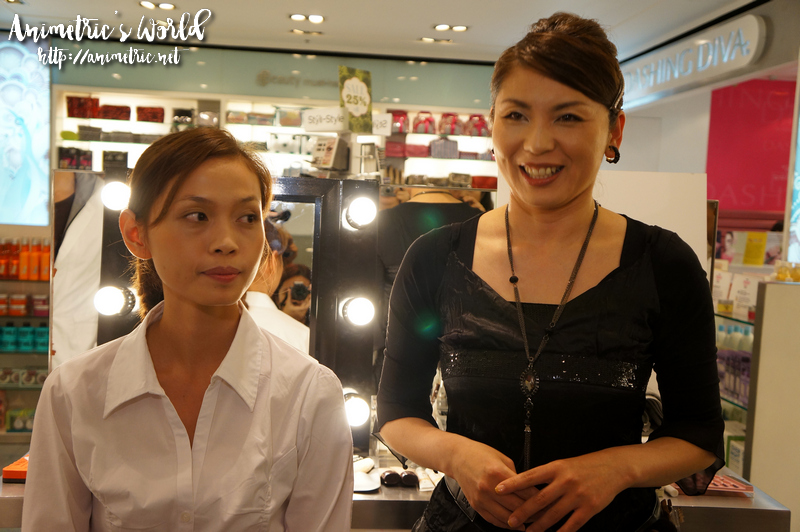 Imura-san was going to demonstrate how to use K-Palette eyeliners and Zero Kuma concealers on the model of the day.
Before starting, Imura-san draped a cape over the model's shoulders and clipped her hair back. Then she dabbed on some Zero Kuma concealer to cover the model's dark undereye circles. This is a perennial problem of mine too so I was really excited.
Take a look at the right eye of the model. The dark undereye circles seem to have disappeared. That's the magic of Zero Kuma Concealer. You can click on the photo above for a closer look.
After the dark undereye circles were concealed, Imura-san whipped out an assortment of K-Palette eyebrow pens and eyeliners.
Imura-san chose the eyebrow pen shade closest to the model's hair. She then proceeded to fill in the sparse eyebrows. She used short upward strokes, following the natural direction of the brows.
A good way of determining how long the tail end of your eyebrows should be is to take a long brush and then measure the end of your lips to the end of your eyelids. Where the brush tip ends is where your brows should end, like in the photo above.
Check out the difference after Imura-san does the model's eyebrows with K-Palette! I love how natural-looking they are. They don't look drawn on or made up. Wow! If you have sparse or short eyebrows, there's hope for you yet!
After doing the eyebrows, Imura-san demonstrates how to use the K-Palette Eyeliner. To make the eyes bigger and more defined, you will need to line both the upper lid and the lower lid. A darker, heavier, and thicker line gives a more dramatic effect. Imura-san then applied false eyelashes on the outer corners of the model's upper eyelids for a doll-like effect. It still looks so natural! It's amazing what some concealer, liner, and falsies can do, don't you think?
K-Palette has three kinds of liners: Real Lasting Eyebrow Liner, Real Lasting 2 Way Eyebrow Liner, and Real Lasting Eyeliner 24h. I will be reviewing these soon. Prices range from P895 to P1,050. All my eye product reviews have been badly delayed due to the fact that I had sore eyes for three weeks and I couldn't use any eye make-up for a month. I'm okay now though as my ophthalmologist cleared me 2 weeks ago.
Zero Kuma Concealer comes in three variants as well: 01 Moisturizing, 02 Brightening, and 03 Improves Blood Circulation. Each retails for P895. I will be reviewing 01 in the coming days.
K-Palette and Zero Kuma products are available exclusively at Beauty Bar in Trinoma, Greenbelt, Shangri-la, Eastwood, Robinson's Galleria, Gateway, Alabang Town Center, SM Mall of Asia, Midtown, Lucky Chinatown, Cebu, and Bonifacio High Street (soon to open). Buy online at http://shop.beautybar.com.ph.
Like this post? Subscribe to this blog by clicking HERE.
Let's stay connected: