Sometime last October, the Colourpop Cosmetics website offered free international shipping for a day with no minimum purchase. I of course scrambled to order some of their much coveted lipsticks. Colourpop lipsticks cost an average of US$5+ each. But since they don't have a legit distributor in the Philippines, resellers or biyaheras sell them for double the US SRP. I wasn't about to let the opportunity pass me by so I ordered a set of 3 full-sized lipsticks for US$15.
Now prior to ordering, I read from Yugatech and Chuvaness' blogs that there's a new law in place that exempts goods worth P10,000 and below from custom duties and taxes. You can download the PDF file of Customs Administrative Order (CAO) 02-2016 which covers imported goods with De Minimis (minimal) value HERE. This law came into effect last October. Before this was implemented, the De Minimis value was P10. Import anything over P10 in value and you get taxed.
I've been a victim of ridiculous customs taxes in the past. Several years ago when I was still running an anime website, a DVD retailer sent me an anime DVD to review. I was charged P1,200 in taxes even if the declared value of the DVD was only US$10 and it was marked as a sample with no commercial value. How can the taxes be higher than the declared value of the DVD? The guy showed me a computation I couldn't quite understand with the total P1,200 encircled underneath.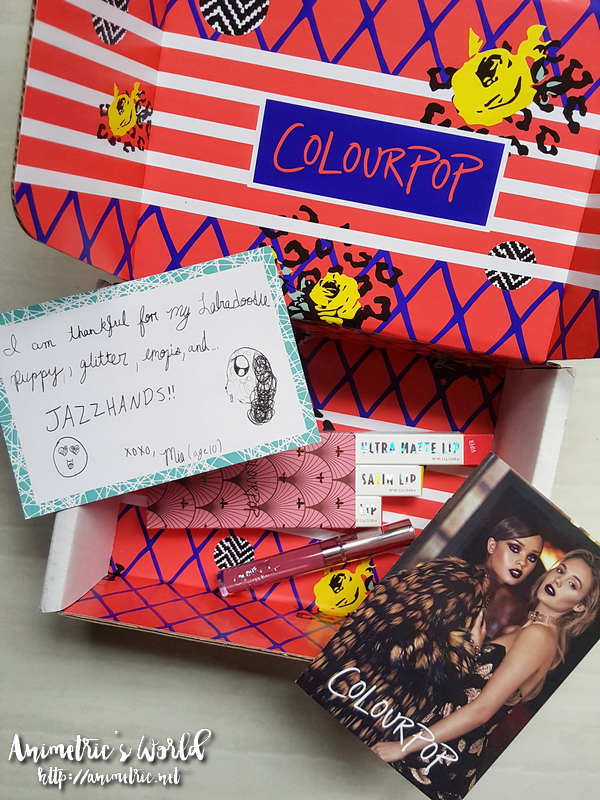 Anyway, moving on to the present, I ordered a set of lipsticks from Colourpop Cosmetics last month. It was shipped out November 26. I got the postal notice December 16. Not bad. I went to the Quezon City Central Post Office to claim it. It was pretty hassle-free. The customs guy said he would be opening my package to check the contents. I just shrugged and said sure go ahead. I knew there was no way in hell they could allege that 3 lipsticks must've cost over P10k lol.
Ah but the customs dude told me he wasn't checking if my small package contained P10k worth of items. He was checking if I went over the prescribed limit for the number of lipsticks I imported which was 10. The FDA-DOH has placed certain limits with regards to the quantities of personal effects you can buy / bring in from abroad. You can download the complete memo HERE. I only ordered a set of 3 lipsticks so I had no problem. Some of the others who went wild at the Colourpop Cosmetics free shipping offer couldn't get their stuff out though. They were told they had to secure clearance from the FDA-DOH. I don't know how that is done. I'm just glad I didn't over order.
After the Quezon City Central Post Office, my next stop was Philpost near the airport. It's where you go to claim EMS packages. I ordered some stuff from Korea last September and to my dismay, they sent it via EMS. The claiming location is so far from me I couldn't go before December. I took advantage of our Christmas break from work and finally made the long drive yesterday.
I had a similar experience. The customs guy opened my package and asked why there was no invoice and there were no prices indicated. I said it's because the Korean shopping site offered to send items of my choice for free so I could try out their service. They asked how much the items cost. I told them The Face Shop sells the compact here and it costs around P1k. The other item however is not available in the Philippines. He waved me off after re-sealing my box. They can't possibly insist that my paltry package cost over P10k, right?
I even brought downloaded PDF copies of the memos in case I'd encounter problems when claiming my packages. The post offices have copies of it affixed on their walls so you don't need to do that.
For each time I claimed a package, I only paid P112 handling fee. As long as you don't go over the De Minimis value of P10k and don't go over the prescribed quantities for personal use, everything should go smoothly.
I hope this helps. 🙂
Like this post? Subscribe to this blog by clicking HERE.
Let's stay connected: