Once or twice a week, I make it a point to exfoliate my face either by using a facial scrub or a peeling solution I bought from Korea called The Saem Dr. Beauty Laser Peel Soft Gel (I didn't bother reviewing it because it isn't available anywhere here in Manila). Good thing I came across CURE Natural Aqua Gel!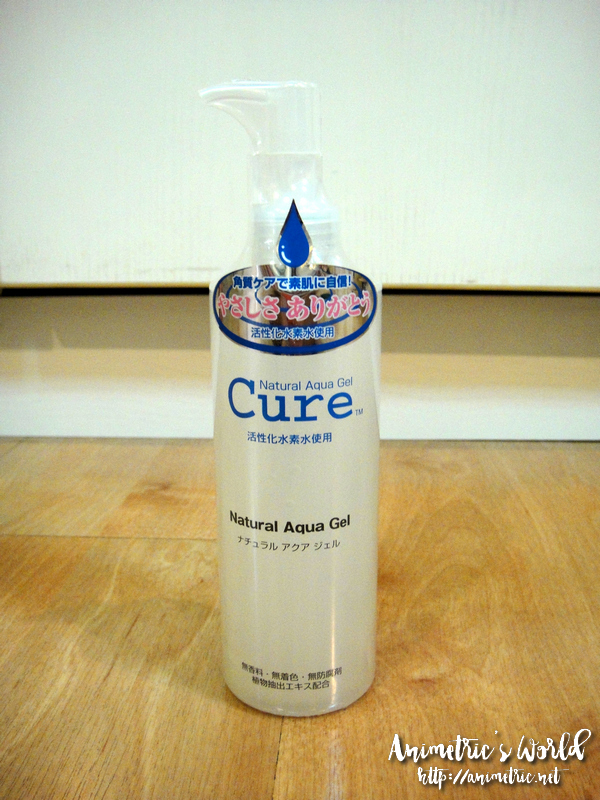 CURE Natural Aqua Gel is kind of like the Korean laser peel gel I was using. The good news is, it's readily available here in the Philippines.
CURE Natural Aqua Gel is kinda like the Korean peeling gel I got. It's made of 90% water. It's free from preservatives, coloring, mineral oil, and fragrance. It's such a bestseller in Japan that one bottle is sold every 12 seconds.
I proceeded to remove the shrink wrapping. The pump is locked with a piece of plastic to keep it from being pushed accidentally which could cause the content to spill.
Just remove the plastic clasp and you're good to go.
CURE Natural Aqua Gel is a clear liquid that's thicker than water and almost gel-like in terms of consistency.
As per the directions on the bottle, you're supposed to use this product on a clean and dry face (that means you wash and towel dry your face prior). Pump a dab of gel onto your fingertips. Apply on your face and gently massage in a circular motion for 30 seconds to 1 minute.
Then you start to see these white particles which are actually your dead skin being exfoliated.
After you've exfoliated your entire face, you rinse thoroughly with water and then follow up with your daily skin care routine (in my case toning and moisturizing followed).
I was amazed by how smooth my face felt afterwards. It seemed a tad brighter too. The tiny bumps that are usually at the sides of my nose were gone. I'm just happy I was introduced to this product because my Korean gel is running out.
What I like about CURE Natural Aqua Gel:
It's a quick and easy way to exfoliate without having to go out for a facial, so it saves gas and time.
A little product goes a long way, I used only a few pumps for my whole face. It says on their Facebook Page that if you use it twice a week (1-2x a week is recommended), one bottle will last for 4 months.
It's really effective, you see and feel the results right after a single use.
It did not cause any irritation or adverse effects — just make sure you follow instructions and massage gently, NOT rub vigorously.
One 250ml bottle of CURE costs P1,500. It's available at all Beauty Bar branches nationwide. I highly recommend it as not a week goes by that I do not exfoliate and I can say that I have pretty good skin for someone who's very close to turning 40, lol! It's definitely cheaper than going for a facial to boot.
Like this post? Subscribe to this blog by clicking HERE.
Let's stay connected: