It's the weekend — time for the Cucina Weekend Fiesta Buffet! If you've been reading my blog for a while, you'd know that I LOVE buffets. This is because I love trying out different kinds of food and ordering a lot is never practical. Paying one rate for access to at least 30-50 dishes is better for me. Anyway for the whole month of May, Marco Polo Ortigas' buffet restaurant, Cucina, has a special promotional rate! I was invited to try out the Cucina Weekend Fiesta Buffet yesterday and I'd like to share my experience.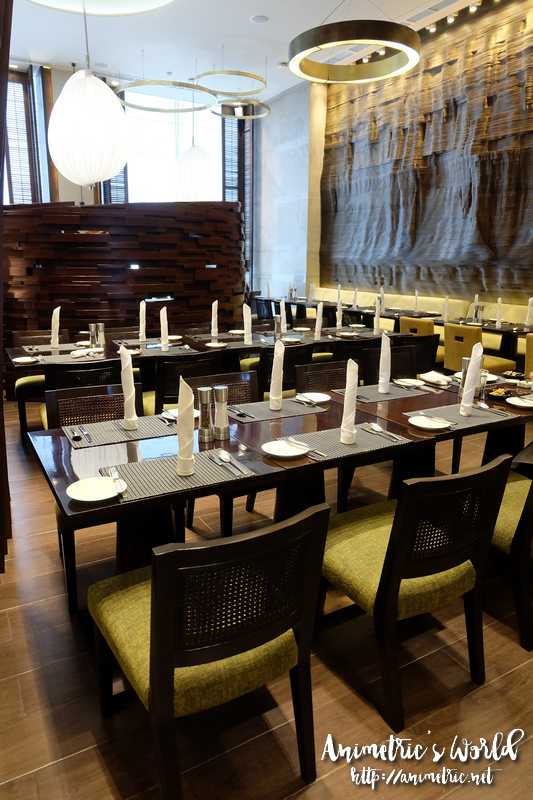 We went to try the Cucina Weekend Fiesta Buffet yesterday lunch. The Cucina Weekend Fiesta Buffet is from Friday to Sunday lunch and dinner. Let's just say it's an amped up buffet experience compared to the rest of the week.
Out of habit I first checked out the Salad Station where there was an array of ingredients for a DIY salad. There are a few ready-made ones too.
Beside the Salad Station is the Japanese Station where you can get fresh sashimi and sushi. I like the Futo Maki and the Spicy Tuna Maki.
My favorite Cucina offering is definitely paella. They cook up different kinds of paella every time. For the Cucina Weekend Fiesta Buffet, they first came up with the Mixed Seafood Paella. After the big pan was emptied, they whipped up some Paella Negra. What really makes their paella special is the rice. They use a different kind of rice — it's firm, chewy, and slightly sticky… it's the equivalent of al dente pasta. I love it. I always make it a point to get paella whenever I'm at Cucina.
Another offering that makes the Cucina Weekend Fiesta Buffet so special is the classic 3-week old Cochinillo. The meat is super tender and the skin is tasty and crispy.
There's Pork Belly too! I really enjoyed the tender Glazed Ham which I forgot to take a photo of.
There are baskets and baskets of fresh seafood — Mussels, Curacha, Manila Clams, Prawns, Crabs…
You can have freshly cooked pasta just the way you like it at the Pasta Station.
Top your pasta with no less than fresh parmesan which you grate by yourself!
The Cucina Weekend Fiesta Buffet has a section devoted to Filipino Food — Adobo, Kare-Kare, Sisig… I recommend the Sisig — it's nice, dry, and crunchy which is how I like my Sisig.
Here's a closer look at the Kare-Kare.
There's a Carving Station too! I had some Roast Beef and Roast Vegetables.
You can get more custom-cooked food at the Grill Station.
Here's a list of offerings at the Grill Station.
There's even Hong Kong-style Roasted Chicken and Pork Asado.
I'm not fond of chicken but wow, just look at that golden and perfectly roasted chicken!
I'm really a dessert person so I left room for the assortment of cakes and pastries there. There are Pineapple Tartlets, made from fresh pineapples and topped with pistachio.
Banoffee is served in shot glasses! My favorite dessert however is the Bread and Butter Pudding. I also liked the Cake Pops. If you're an ice cream person there are several flavors you can enjoy at the Scooping Station.
Overall I loved the Cucina Weekend Fiesta Buffet. While the selection isn't as staggering as other hotel buffets, I felt it was good value for the quality. Cucina at Marco Polo Ortigas is a great place to celebrate special occasions like say… Mothers Day. 😀
The Cucina Weekend Fiesta Buffet is available from Friday to Sunday, lunch and dinner. Rates are as follows:
Lunch – P2,300 nett
Dinner – P2,600 nett
There is an ongoing promo until the end of the month wherein 3 people can dine for the price of 2… so P4,600 for 3 people (lunch buffet) and P5,200 for 3 people (dinner buffet). It comes out to  P1,533 per head for lunch and P1,733 per head for dinner.
But wait, there's more! There's also a Cucina Weekday Craze Buffet from Monday to Thursday — lunch and dinner! Until the end of the month, you can avail of it for P1,100 nett for lunch and P1,500 nett for dinner.
Cucina @ Marco Polo Ortigas
24/F Sky Lobby Marco Polo Ortigas
Meralco Ave. cor. Sapphire St.,
Ortigas Center, Pasig City
720-7720
Like this post? Subscribe to this blog by clicking HERE.
Let's stay connected: