We celebrated our daughter's birthday in advance last Sunday at Fairmont Hotel's Spectrum Buffet. They have an ongoing promo with 2 banks — BPI and BDO. If you use a BPI or BDO issued credit card to pay for your meal, you get 50% off. At 50% off, the buffet rate comes out to P1,350 per head — which is pretty okay considering you'll be dining at a nice hotel. You can avail of this discount until Dec. 30, 2019.
We went for dinner. The place is nice — I really liked the tall glass windows and the hanging lamps.
There's a modest salad bar with DIY salad and pre-made ones in jars.
Cold cuts, cheeses, and breads are all in one place, this actually half of that spread… I didn't take a photo of the breads.
There's a Chinese food station with several types of dimsum and even Pata Tim in one of the steamers. There are also short order dishes like Barbecued Pork, Fried Rice, Roast Chicken, etc.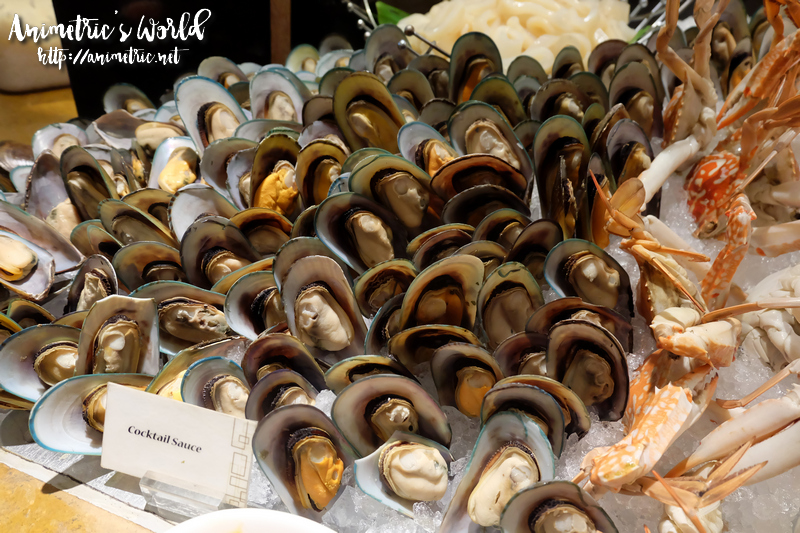 There's fresh seafood too — mussels, crabs, and prawns to be exact.
You can have a variety of Satay grilled to your preference. Everyone liked the shrimp.
The Filipino food station has a lot to offer — Kare-Kare Baka, Chicken Inasal, Pork Liempo, Laing, etc.
The Carving Station has Roast Beef and Porchetta. The Roast Beef can be grilled to your desired doneness. The Porchetta was a fail for me because the skin was not crispy. I hope they can fix this.
There's a Laksa Station where you can sort of DIY your own Laksa. DIY in the sense that you choose what goes into it and the chef will boil what you pick in the broth. It was way too spicy for my tastes and I have high tolerance for spicy food. Later on I found out that you can have the level of spicy-ness adjusted. Aside from all the food stations I've mentioned, there's also a Sushi Station, Pasta Station (where you can have custom pasta made), and an Indian Station with dishes like Curry Samosa, Chicken Tikka Masala, etc. I really loved the Papadams. Tasty and crispy, they're probably the best Papadams I've ever had.
Desserts can be found near the entrance. They are the first food items you see when you enter Spectrum. I really liked their Bread and Butter Pudding. They're bun-shaped so all you have to do is take one. It's your choice if you want to drizzle it with vanilla or caramel sauce.
Their Eclairs are green! Aside from Eclairs, they have other cakes and pastries (as well as kakanin) available for your eating pleasure.
There's an Ice Cream Scooping Station too… also a Halo-Halo Station which I didn't take a photo of.
Since we were celebrating our daughter's birthday, they served us a complimentary birthday cake complete with a candle.
In terms of size and selection, the Spectrum Buffet is comparable to Cucina at Marco Polo Hotel. I'd say the 50% off rate of P1,350 is fair for what they're offering. If it were double the price, it would be too much because that would mean it'd cost almost P3k per head… and you can already have Sofitel's Spiral Buffet for that price. The Spiral Buffet is more than double the size of Spectrum Buffet so you'll get more bang for your buck at Spiral there if both are pegged at the same rate. If you want to try the Spectrum Buffet, now would be a good time to with the BDO and BPI promos.
Spectrum
G/F Fairmont Hotel
1 Raffles Drive, Makati City
7795-1840
Like this post? Subscribe to this blog by clicking HERE.
Let's stay connected: