I've been using Cream Silk conditioner for years and the brand still never fails to surprise and amaze me. This time, they've come up with a new range of Cream Silk Customized Solutions. Since we all have our own hair problems, each variant addresses a different concern. I love it! This range is made better by the Advanced Hair Reborn Technology which repairs, strengthens, and replenishes hair from inside out.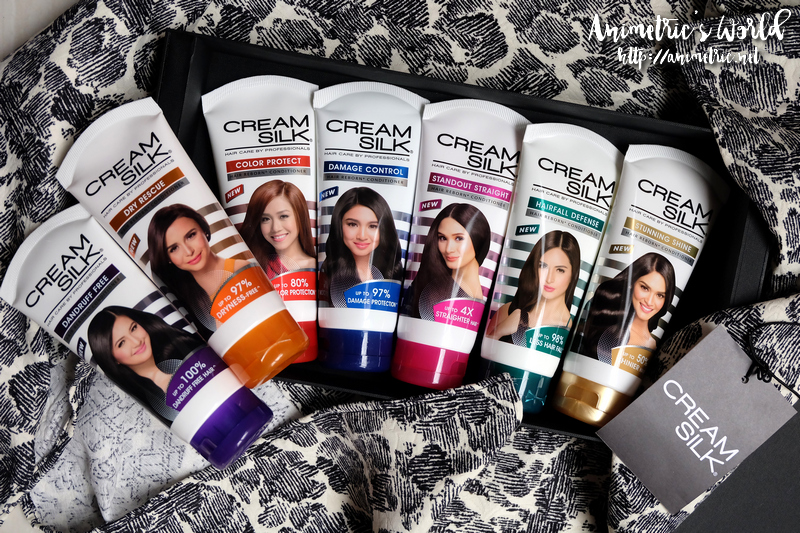 Cream Silk has tapped 7 modern Filipinas, each with their own story of transformation, to represent each of the Cream Silk Customized Solutions:
Dandruff Free (Julie Anne San Jose) for up to 100% dandruff free hair.
Dry Rescue (Yassi Pressman) for up to 97% dryness-free hair.
Color Protect (Rachelle Ann Go) for up to 80% color protection.
Damage Control (Nadine Lustre) for up to 97% damage protection.
Standout Straight (Heart Evangelista) for up to 4x straighter hair.
Hairfall Defense (Coleen Garcia) for up to 98% less hair fall.
Stunning Shine (Pia Wurtzbach) for up to 50% shinier hair.
At the moment, Cream Silk Color Protect is what my hair needs the most since I just colored it red a few days ago. Here's the catch, it's a temporary color that's supposed to last 2 weeks tops. I'm hoping Cream Silk Color Protect can help extend it.
So I got the red tube with Rachelle Ann Go. I've never tried this particular variant. One thing about Cream Silk is, no matter what variant you choose, your hair will smell super fresh and nice afterwards.
There's no difference in terms of texture and consistency when I compare with past Cream Silk conditioners I've used. It's still nice, thick, and creamy. I love how it detangled my hair perfectly so I could easily comb through it. When I use other conditioners I often have to supplement with a spray-on detangler just so I can run a comb through my head.
So here's the result of using Cream Silk Color Protect for the 3rd day in a row. It's also day 4 of my 2-week temporary hair color. I love how soft, easy-to-manage, vibrant, and fresh-smelling my hair is. So far so good.
What I like about Cream Silk Color Protect:
It detangles my hair nicely, no need to use a separate product.
My hair feels soft and smooth after it dries. It's also a lot easier to manage. I keep running my fingers through my hair in disbelief lol.
The fresh scent lasts all day and all night.
The red temporary hair color seemed to bleed a lot less when I started using this.
It's reasonably priced at ₱109 for a 180ml tube.
Downside? None so far! Based on previous experience I have to switch variants after I finish a tube because my hair tends to get immune after one round. But this is true for all hair products I use, not just Cream Silk.
Which do you think has the power to transform your hair?
You can purchase Cream Silk products at the Unilever Beauty Flagship Store on Lazada.
Like this post? Subscribe to this blog by clicking HERE.
Let's stay connected: