Did you know that you can now get Serenitea DIY Milk Tea Home Kits from Shopee and Lazada? If you're like me and you're still not comfortable being out and about, this is great news! But wait, there's more… lol. There are now several Home Kits available which combines 2 kinds of milk tea (Brown Sugar Okinawa and Taro) and 3 kinds of sinkers (Pudding, Black Pearls, and Panna Cotta). For this post, I'll be talking about the Serenitea pearls… because this is what most of us have been craving for!
So I got the Serenitea Okinawa Pearl Home Kit (P1,099). That's 15 sachets of Brown Sugar Okinawa Milk Tea and 2 500g packs of Black Tapioca Pearls, which for the purposes of this post we will refer to as Serenitea pearls.
This isn't my first time cooking pearls at home. I ordered Ersao black pearls from Shopee before. Although it turned out nicely, it took SO LONG to cook. I was stirring and watching the pot for over an hour. I remember thinking that I'd rather buy drinks with cooked pearls rather than make my own. Also tried cooking another brand of pearls. Though it took a much shorter time to get done, it resulted in melty yucky pearls.
Anyhow, back to the Serenitea Pearls. I'm so amused how they come in SHEETS. Yes, they are packed flat in foil. I was told that these are 10-minute express pearls for home use, not the old fashioned longer-cooking ones used in stores. Let's get cooking!
Step 1: Boil 1 liter of water. The amount of water you boil should be double the amount of pearls. Since I was cooking 500g of pearls, I boiled 1000ml of water.
Step 2: Put in the pearls after the water boils. The sheets were too tall for my saucepan so I broke them to fit. I set my kitchen timer to 10 minutes, since the instructions said to boil for 5-10 mins depending on your preference. I know how long it takes to cook traditional pearls so I went for the max time.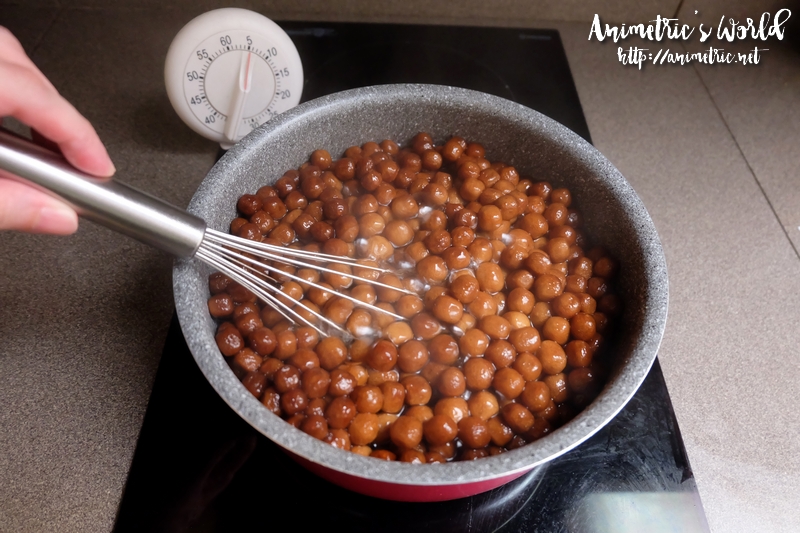 Step 3: Use a whisk to separate the pearls. I'm amazed that after just 5 minutes, the pearls were already nice and plump! But I stuck to 10 minutes of boiling before I removed them because I wanted chewy pearls.
Step 4: After boiling, put the pearls in a strainer and rinse them under running water. They recommend using filtered water for this step.
Step 5: Add sugar. The pearls have no flavor so you have to manually sweeten them. What I did was start with 1/4 cup sugar and proceeded from there based on taste. I ended up sweetening 500g of pearls with a little less than 1/2 cup sugar. You can use any type of sugar — white sugar, brown sugar, muscovado sugar, coco sugar, etc. I used coco sugar.
Step 6: Continue stirring the pearls with a whisk to ensure everything is coated with sugar and separated nicely.
After stirring with a whisk, your Serenitea pearls are ready to serve!
Follow the instructions for your drink of choice (Brown Sugar Okinawa Milk Tea or Taro Milk Tea). Then add ice and your sinkers (I used Serenitea pearls and pudding for this drink). Voila! You can now enjoy Serenitea at home! 😀
A 500g pack of Serenitea pearls can be used for up to 10 drink servings. They can't be kept in the refrigerator since pearls harden when refrigerated so best to use them up right after cooking.
You can purchase Serenitea DIY Milk Tea Home Kits at all Serenitea branches and the following online stores:
Like this post? Subscribe to this blog by clicking HERE.
Let's stay connected: