So… we've been in community quarantine for over a month now. A lot of us have been living simply since most of our jobs and businesses are in limbo and we don't know how long this is going to last. Food and drink seem to be the only relevant topics now. Let's face it… who cares what you're wearing while you're stuck at home? If you do go out for supply runs, you're in a mask, hat, and eyewear for most part so applying makeup is also out. I feel that all I do is cook these days but at least it keeps me up and about at home. Our occasional indulgences are food deliveries. We haven't had stuff like milk tea in a while but that's about to change since I got the Serenitea DIY Milk Tea Home Kit.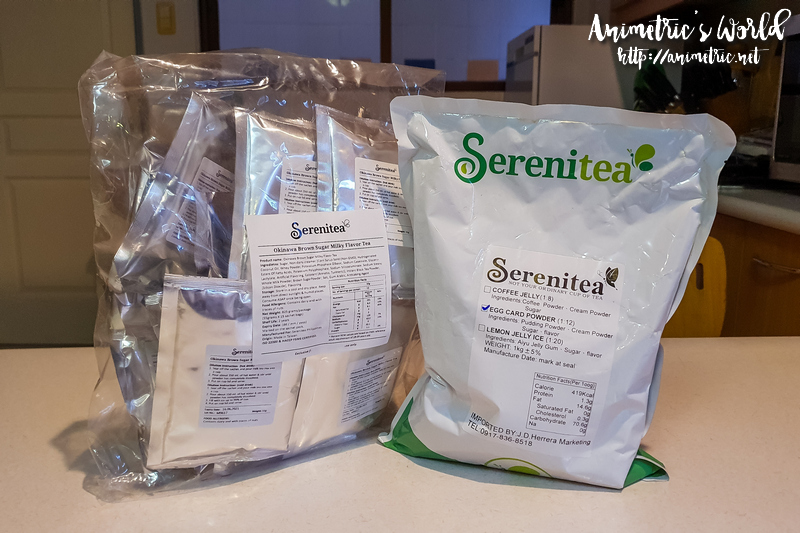 Tadaaah! This is the Serenitea DIY Milk Tea Home Kit Set B (P899). It lets you make Serenitea Okinawa Brown Sugar Milk Tea with their trademark Pudding sinker. One kit makes 15 servings so it comes out to around P60 per serving, which is around half the usual price of this drink.
There are 3 Serenitea DIY Milk Tea Home Kits available. If you get the set without any sinkers, it comes out to around P40 per serving.
Okay so first things first. I transferred the pudding powder to an airtight container because there's a lot of powder and you need to use just 100g lol.
So let's make those pudding sinkers, shall we? These are the official instructions and what I actually did to make Serenitea pudding:
Boil 1200ml of water. Then put in 100g of pudding powder and 100g of sugar after it boils. Dissolve completely.
What I did: Mix together 130g of pudding powder and 100g of coco sugar (that's why my powder mixture is brown) in a saucepan. Pour in 1200ml water and bring to a boil while stirring constantly. Make sure the powder mixture is completely dissolved.
This is what my pudding mixture looked like after the water boiled and everything dissolved.
Pour pudding mixture into trays. I used two trays so it would firm up faster. Too much pudding mixture in one container will make the liquid level too deep. That said it may take a long time for it to firm up.
After the pudding mixture firms up, cut up into cubes (I did this so I can transfer to a more compact container since I have limited ref space) and chill in the refrigerator. I'm so happy I got the texture and consistency right on my first try, although I did use a bit more pudding powder than what was recommended.
Now for the milk tea. If you want it hot, just melt the contents of an entire sachet in 350 ml of hot water. Want it cold? Melt the contents of the sachet in 150ml of hot water then add as much ice as you want.
I always like my milk tea cold because it's so hot here so I melted the sachet contents in 150ml hot water. Then I poured it into a glass with pudding and lots of ice.
And so we all had a glass of Serenitea Okinawa Brown Sugar Milk Tea with Pudding for our milk tea fix! The sweetness level of the drink mix is set to 100% but it's easy to adjust by adding more water or ice. I got my desired level by adding cold water and ice. We loved how refreshing it was — it's also perfect as dessert after a meal. My pudding is light brown instead of yellow because I used coco sugar. Don't forget to keep the extra pudding in the refrigerator!
You can order a Serenitea DIY Milk Tea Home Kit at https://tiny.cc/get-serenitea. There are 3 branches that sell it — Serenitea Congressional (0923-2520166), Serenitea Rada Makati (0943-7001157), and Serenitea Butterfly Garden (0943-7096322) if you would like to walk-in and buy it. Stores open at 11am. You may also use the GRAB and Lalamove pabili service to purchase.
Like this post? Subscribe to this blog by clicking HERE.
Let's stay connected: