I love snow ice. I actually prefer it to ice cream. First Crush by Cold Layers in Greenhills is one of my favorite desserts. The place closed down though, only to reopen as Cold Layers Cafe in Fisher Mall here in Quezon City. So yay it's on my turf!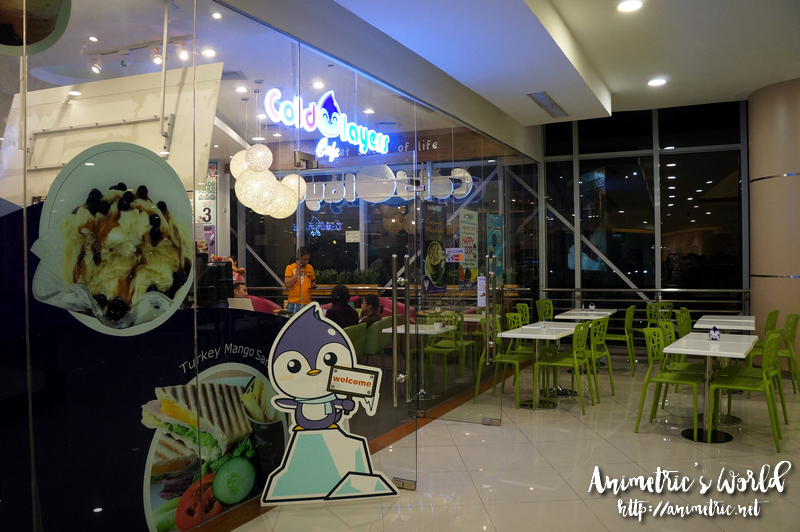 We were invited to visit Cold Layers Cafe in Fisher Mall some weeks ago.
I was surprised because they are now a full-blown cafe offering a wide selection of hot meals. Hubby had this French Onion Soup. Although it was offered to us it wasn't anywhere in the menu because it's a relatively new selection. It's yummy! I'll update this when I find out how much it costs.
Just to try something different, I had the Pumpkin Soup. I found it comforting. I could tell they used real pureed pumpkins.
Then we tried Cold Layers Pasta, a dish comprised of ziti cooked al dente in a mix of tomato and cream sauce then sprinkled with parmesan cheese. It's good! I think my kids will like this too.
What do you know, Cold Layers Cafe serves rice meals too! Here's a kid-friendly option — Breaded Fish Fillet (P220). Crunchy fish fingers, garlic rice, side salad, and marinara sauce on the side make up this complete meal. Don't forget the squeeze the lemon wedges over the fish!
If you like your meal cheesy, the Chicken Parmigiana is your bet — breaded chicken breast fillet with melted cheese and marinara sauce with side salad and garlic rice.
Don't like breading? You can opt for the Pork Teriyaki (P220).
There are also Pinoy all-day breakfast selections like the Glazed Pork Tocino (P200) and Beef Tapa (P200).
I was ecstatic come dessert time because my fave First Crush (P140) was still available. It was the bestseller then and it's still the bestseller now. It's soya milk snow ice with grass jelly, black pearls, and brown syrup — the brown syrup is kinda like what they use with taho. This is seriously divine. One serving is just right for one person. Scratch that, I think I can finish 2-3 servings if getting fat weren't an issue lol.
Just to clarify, Snow Ice is not the same as Shaved Ice. Snow Ice is fully flavored without any additional ingredients or toppings. It's ready to serve as is because it's shaved from something that resembles a solid block made of milk and fruits and/or other ingredients. Oh and it's a lot less fattening compared to ice cream.
Much as I wanted to stick to my fave Cold Layers dessert, I did try some of the other variants available like Sweet Surrender (150). It's Horlicks-flavored snow ice (Horlicks is a malted milk drink) with chocolate syrup, tapioca, and horlicks powder. It was okay but my heart still belongs to First Crush. I find this a tad too sweet.
Wow, Avocado (P120) is another amazing must-try flavor. I make avocado shakes at home using ice, condensed milk, and fresh avocados. This is like the snow ice version of the homemade avocado shakes some of us are accustomed to… also made with real fresh avocadoes. Yummy!
Matcha lovers unite. Meant To Be (P150) is green tea snow ice with red beans and cornflakes. I like the deep and rich flavor of matcha snow ice but I'm not a fan of red bean so this isn't really fro me.
My chocoholic daughter would love Chocolate (P120). All the richness of premium chocolate and the lightness of snow ice!
Salted Caramel (P120) is a new flavor. Interesting, but my vote still goes to First Crush.
Cheese!!! Something Cheesy (P140) is cheese snow ice with cheese bits, matcha powder, and chocolate syrup. Need I say more?
Thank you so much Cold Layers for having us over! Hubby and I will definitely be back with the kids! So happy my favorite dessert is so much closer now.
Oh yeah, Cold Layers has an ongoing promo wherein their yummy snow ice is 50% off from Mondays to Thursdays from 10am to 3pm.
Cold Layers Cafe
3/F Fisher Mall
Quezon Ave., West Triangle, Quezon City
361-1431
Like this post? Subscribe to this blog by clicking HERE.
Let's stay connected: