Closeup unveiled something new at Vask Modern Tapas last week. It's something that will guarantee minty fresh breath no matter what. Introducing… the new Closeup Fresh Attraction toothpaste! It's available in 2 variants: Oxyrush and Arctic Shock. Oxyrush is the blue variant which features Glacier Fresh mouthwash and Crystal Frost. Arctic Shock is the green variant with Arctic Frost mouthwash and Ice Crystals.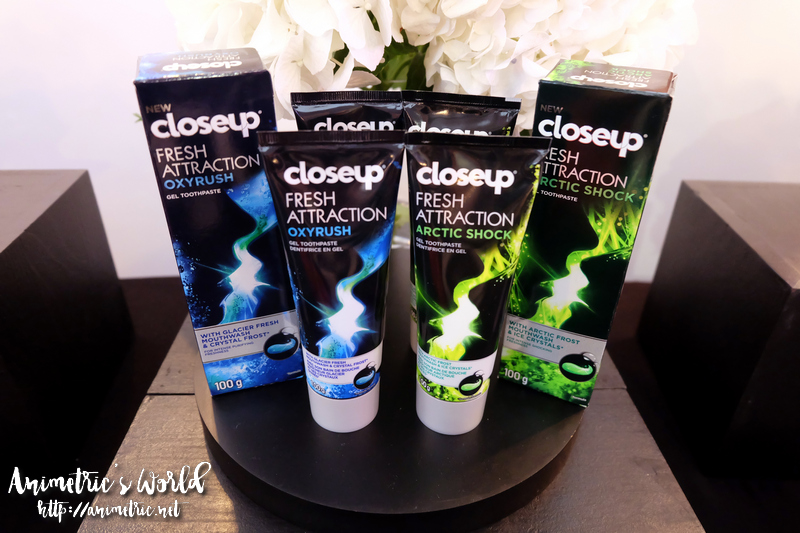 Both variants provide continuous fresh breath that doesn't waver even if you eat strongly spiced or garlicky food. We put that to the test when Vask started serving wave after wave of really flavorful tapas.
Closeup Fresh Attraction also has a new face to represent it — Sarah Lahbati. She was accompanied by event hosts Kryz Uy and Slater Young during the launch.
I had a lovely time catching up and munching on tapas with my friendships Lush Angel and AskMeWhats.
So anyway, everyone took home the new Closeup Fresh Attraction variants.
I'm partial to Oxyrush. I would describe it as intense icy mint. I brushed with it after breakfast and since then I've already had a morning snack. What do you know my mouth still feels minty and fresh!
Arctic Shock is infused with lychee and you can taste it. I don't really like lychee so I don't care much for this variant. But it's amazingly efficient in keeping your breath fresh. I brushed with it after eating at Vask (that was about 4:30pm). My breath was still fresh after dinner and before bedtime at around 11pm!
The new CloseUp Fresh Attraction toothpastes are available in 100ml tubes and retail for P89 each. It's already available at leading supermarkets and drugstores nationwide. You can also purchase from Lazada if you don't want to go out anymore.
Like this post? Subscribe to this blog by clicking HERE.
Let's stay connected: