Chinese food reigns supreme in our house. This is why when I come up with recipes, I often aim for Chinese style dishes. Alas, some of our favorites are just too tedious to prepare… like Cha Misua. I'd rather order than cook Cha Misua which usually involves 2-3 kinds of broth and a truckload of other ingredients. Good thing Chinese homecooked dishes are now more accessible than ever. The latest Chinese food purveyor we tried is The Humble Chef. They have all the classic Chinese comfort food we could ever hope for — Kiampung, Cha Misua, Fresh Lumpia, Hong Ma, etc.
This is their Kiampung (P360 for 2-3 pax / P680 for 5-6 pax). Glutinous rice is cooked with pork and mushrooms… think glutinous rice cooked in Chinese Pork Adobo. It's very good and the garnish (fried scallions, green onions, and peanuts) are packed separately.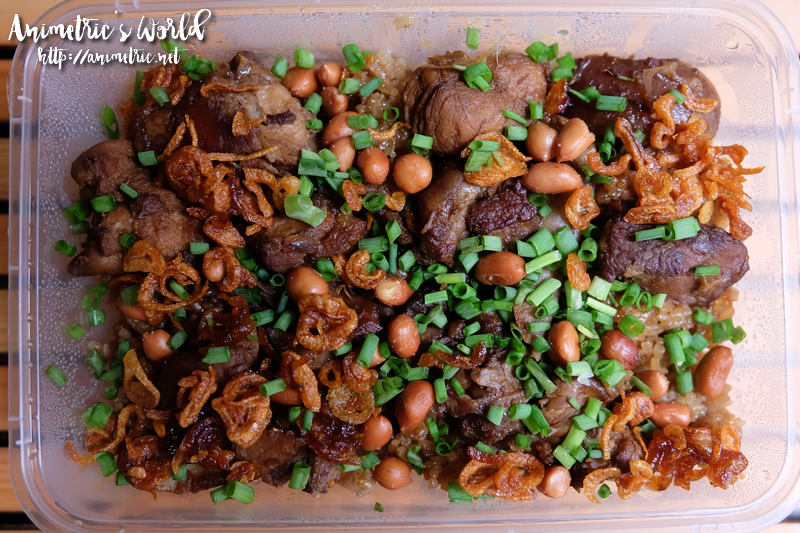 Here's our Kiampung after I jazzed it up with the garnish. Yum! My mother-in-law cooks this on a regular basis, but since we can't really go visiting houses we haven't had this in a while. Kiampung is actually a complete meal in itself since it's rice and ulam in one.
The Humble Chef also has Cha Misua (P500 for 2-3 people / P1,000 for 5-6 people) on their menu. This is served during birthdays for long life and good fortune. Now our peg for Cha Misua is my mother-in-law's. For us, it's better than all the expensive Chinese restos' Cha Misuas. Wow. The Humble Chef's Cha Misua is like an amped up version of my mother-in-law's Cha Misua. It's SOOOO good. Hubby, the kids, and I loved it so much. The same garnish you use for Kiampung is actually used for Cha Misua. My daughter said, "Wow, they have an amah (grandmother) too,".
So this is the jazzed up Cha Misua. It's delicious, my kids couldn't stop eating it! Definitely a must-try.
My favorite dish from The Humble Chef is Hongma with Cuapao (P350 for 2-3 pax / P700 for 5-6 pax). I love Hongma, but I don't really like eating fat — ironic isn't it?
Well, The Humble Chef's Hongma is super tender with just a thin layer of fat that's woohoooo so so so good. Huhuhu, I never thought I'd ever say fat is good. But this one is. The meat and the fat just all melt in your mouth. And that sauce! It's so perfect. My goodness. Wala kang itatapon.
To complete the lineup of classic Chinese homecooked dishes is Fresh Lumpia (P600 for 2-3 pax / P1,200 for 5-6 pax). It comes complete with lumpia wrappers, fresh lettuce, peanut sugar, and toasted seaweed.
Just look at how loaded it is! Definitely better than Ha Yuan's.
It tastes just like my own amah's fresh lumpia. She used to cook it a lot when I was a little girl. Everyone would say she cooked really good fresh lumpia. Unfortunately, she passed away over a decade ago.
My gosh… I love all of The Humble Chef's dishes that we tried. They are truly reminiscent of how our grandmas cook Chinese comfort food. Everything is flavorful and delicious but there's no MSG kick like I experience in restaurants. Will definitely order again!
For orders and inquiries, check out The Humble Chef PH on Instagram and Facebook.
Like this post? Subscribe to this blog by clicking HERE.
Let's stay connected: