My sister celebrated her birthday at Makati Shangri-la Hotel's Circles Event Cafe last Saturday night. They currently have an ongoing buffet promo. You only have to pay P1,250 net per head for either lunch or dinner buffet. Normally, the rate is much higher. You have until Feb. 28, 2018 to avail of this discounted rate.
Circles Event Cafe is located on the ground floor of Makati Shangri-la Hotel. This actually isn't my first time here. I've tried their breakfast, lunch, and dinner spreads in the past.
Truth be told, I find the lighting too dim… bordering on depressing even. My kids commented that the place looks old. It's fine during breakfast and lunch when there's a lot of natural light coming in through the windows. But dinner? It's pretty dark in the dining areas.
I went around to check the different buffet stations before getting food. The sushi and sashimi selection consist mostly of tuna, salmon, and tamago… plus of course, the obligatori California Roll.
There were seafood on ice, namely shrimps and small crabs. It's kind of scaled down. The last time I had dinner here there were lobsters, oysters, and a lot of other stuff.
The salad station had several ready-made salads but I opted for their Caesar Salad tossed in a giant cheese bowl. You can add bacon bits, croutons, and other toppings after it's tossed.
There's a pasta station where you can get some freshly cooked pasta. That evening, they were making Seafood Marinara, Bacon Carbonara, and Beef Meatballs.
They had Roast Beef at the carving station. Yorkshire pudding, gravy, and roasted vegetables too.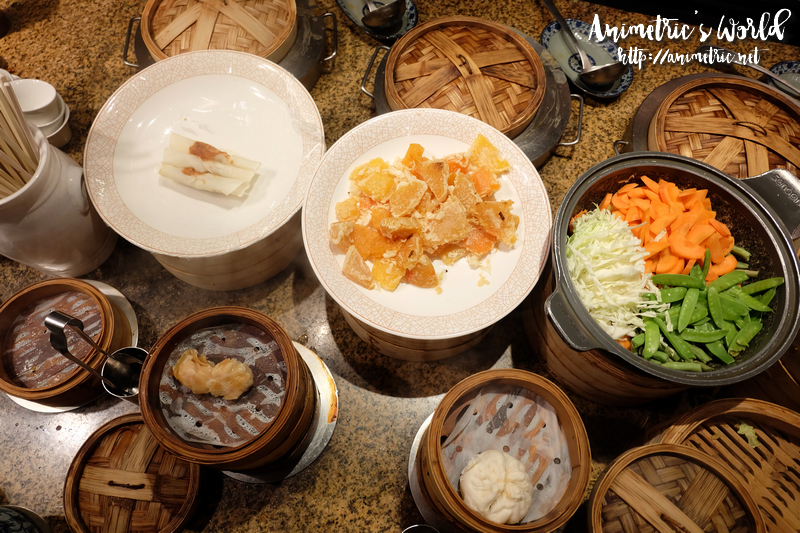 There's a Chinese food area where they had various dimsum.
There were a few Chinese dishes like Mapo Tofu too.
I liked the Seafood Risotto they mixed in a gigantic parmesan bowl.
I had Papadams (not in the photo) with a variety of Indian dips like Hummus and Chutney too. Their Pita but was too tough to eat lol.
There were dishes from different countries. This is Beef Rendang from Malaysia. They also had Coq Au Vin, Pinakbet, Sausage and Sauerkraut, Corn Masala, and more.
You can make your own Halo-Halo at this station. They also have an ice cream scooping station beside it.
As always, there are a gazillion small pastries and a chocolate fountain. This is the Strawberry Trifle. They have native Filipino sweets like suman, kutchinta, biko, etc. My favorite puto bumbong was nowhere in sight though.
I had just finished my 5-Day Prolon Meal Program a couple of days before. I was soooo hungry during those 5 days that I thought for sure I'd overindulge. Surprisingly, I didn't. I had a bit of salad, risotto, half a slice of roast beef, papadams and dips, and then a couple of small pastries for dessert. Then I had hot tea — coffee and tea are included in the buffet rate after all. I just didn't feel like getting more food, which might be an after-effect of my diet.
Having tried the Circles Event Cafe buffet when it's not discounted, I can say that this promotional buffet is a scaled down version of their usual spread. In fact, they have black out dates (Feb 14 to 16 I think) wherein the buffet will be priced higher than P1,250 per head. I'm guessing they'll pull out all stops there. That said, if you want to experience Circles at a much lower price, by all means visit by Circles Event Cafe by Feb 28. Personally, I think you'll have a better experience at Niu by Vikings at that price point but then again, this is Shangri-la.
Circles Event Cafe
Lobby Level Makati Shangrila Hotel
Ayala Ave. cor. Makati Ave., Makati City
814-2580
Like this post? Subscribe to this blog by clicking HERE.
Let's stay connected: