We found ourselves at what's probably the newest restaurant in San Juan City, Chef Laudico Guevarra's, some time last week. My mom and stepdad are in town from the US and well, naturally there's a hankering for Filipino food.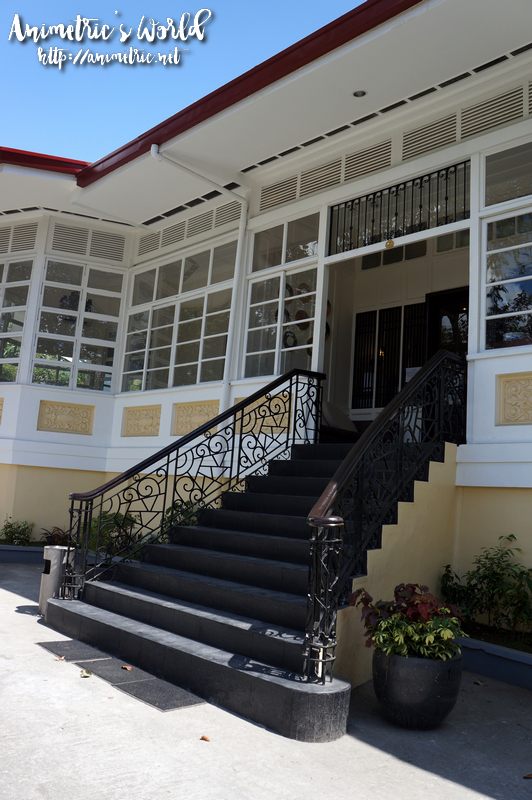 Chef Laudico Guevarra's looks like a big old Spanish-style house from the outside.
There's a big buffet spread consisting of more than a dozen dishes.
There were a few raw fish dishes, such as Bangus Belly Kilawin served on Chinese spoons.
There's a Salad Station with different kinds of greens.
Moving on, I tried a few main dishes including Pakbet Bagnet, which is a predominantly a veggie dish consisting of squash, string beans, ampalaya, okra, etc. cooked with bagoong (Filipino shrimp paste)… plus an added twist. It also has lechon kawali (crispy roasted pork, also called bagnet). Interesting, but since the bagnet was stewed with the veggies, they weren't crispy anymore.
I also sampled Angus Beef Kare Kare. Kare Kare is a dish that's usually made with ox tail and veggies stewed together in peanut butter. This one also had cubes of beef. There was also a small bowl of bagoong (Filipino shrimp paste) on the side which you can spoon alongside your Kare Kare. I had mostly the veggies drenched in sauce with bagoong since I'm not a fan of ox tail. This was just okay, not too rich and not overpowering.
Steamed Fish was my daughter's favorite viand. I'm guessing it's Cream Dory fillet. This is actually cooked Chinese style since it uses soy sauce and ginger. She had two platefuls of this with plain white rice.
There was also Seafood Crab Roe Pasta.  I noticed it had a generous amount of mussels. I didn't try it because it sounded so… sinful.
My hubby enjoyed Pancit Guevarra. It's actually the usual old-fashioned pancit canton.
There's a Roast Station where you can get Chicken, Pork Belly Roast, and US Angus Beef. There's mushroom gravy and lechon sauce on the side you can scoop out to accompany the roasts.
There's a Grill Station too — grilled fish, prawns, chicken, pork… etc. There's actually also a Lumpiang Ubod Station where you can assemble your own but I wasn't able to take good pics of it.
Of course, an eat-all-you-can buffet isn't complete without dessert. There was a variety of sweets including this interesting layered um… whatever (there was no label), leche flan, fresh fruits (with a chocolate fountain), etc.
These Chocolate Tarts were too sweet for me. The soft-serve ice cream machine was a failure that day too… when my kids tried to get some, white liquid came out instead of ice cream. I didn't bother taking photos. I should also mention that there's also a Drink Station where you can get unlimited sodas and iced tea from vendo machines.
This is one of the function rooms at Chef Laudico Guevarra's.
All in all, we had a nice enough lunch at Chef Laudico Guevarra's. Even though it was a buffet set-up, the food was piping hot and we thought P399 was a very fair price for everything that was offered. The air-conditioning failed though. A lot of the customers were actually fanning themselves because it was so hot and they had to come out with electric fans. The buffet area, especially the Grill Station, was not refilled enough too. We wanted more grilled prawns but they never reappeared. They were actually on their soft opening phase when we went so aside from the glitches I've mentioned, we still had a pretty okay experience.
Have you tried Chef Laudico Guevarra's? How did you find it? I hope they fix the problems we encountered. Reservations are recommended since the place does get packed.
Like this post? Subscribe to this blog by clicking HERE.
Let's stay connected: