My kids' yaya has been bugging me to switch to Champion Detergent Bar and Powder ever since we got a hold of a few sample packs from a school fair last year. She told me that the kids' uniforms are so much whiter and softer when she used Champion to wash them. They smelled better too. But when I went to the supermarket, I noticed that the current brand I was using was a bit cheaper so I did not make a switch.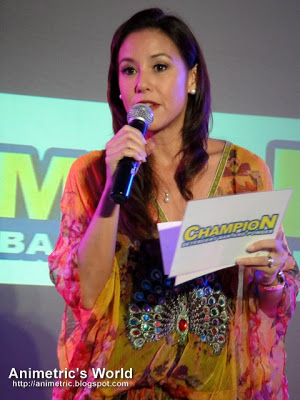 I took the opportunity to better get acquainted with the product last Sept. 14, 2011 at its launch event held at the Makati Shangri-la Hotel. Christine Jacob-Sandejas hosted.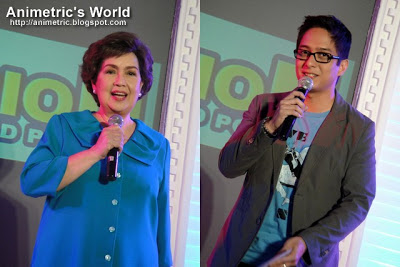 Champion endorsers Ms. Susan Roces and Ryan Agoncillo were there. I was amazed by how beautiful Ms. Susan looked considering her age. Her make-up was perfect too — very elegant and age-appropriate, none of the "Ganda ng lola mo!" hot pink crap make-up that makes even the most beautiful face look… ugh.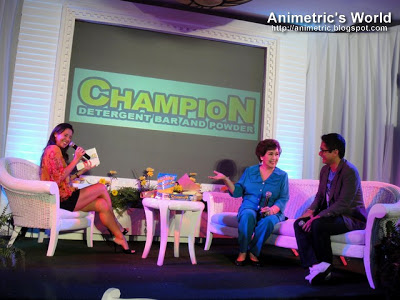 There was a fun discussion about making choices. Ms. Susan Roces gamely admitted that prior to accepting the endorsement offer for Champion, she went to the supermarket and bought several different brands to try. She compared the results and was very happy with Champion… resulting in her present status as one of the official brand ambassadors. She also consulted her household helpers since they were the ones who were actually going to use the product. Ryan said he noticed that all their clothes smelled a lot better for a longer time since switching to Champion. I agree, Champion Detergent Bar and Powder do make your clothes smell clean and fresh!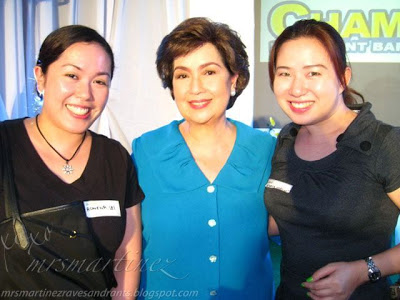 Of course, Mrs. Martinez and I would never miss a photo op with Philippine screen legend Ms. Susan Roces. 😀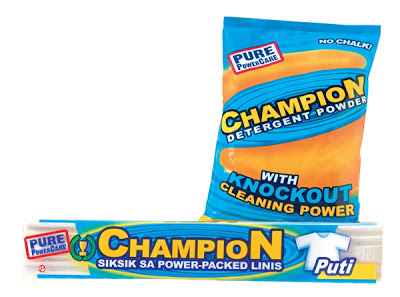 So… would you like to experience the Champion difference? My yaya swears by it and I believe her because my kids' clothes always look immaculate and new.
Five (5) lucky readers will get to take home the following:
500g Champion Infinity
500g Champion Regular
500g Champion Klasik Scent
500g Champion FabCon
500g Champion Natural
12 assorted solo bars
Each winner will get two (2) sets… a total value of P620 based on Champion's SRP!
Just complete the sentence "Animetric's World, I want to share the Champion experience with (name of friend) because ______________".
There are two (2) ways of posting your answer, please choose just one way:
Share on Facebook.

Click on the Share button on top of this post. On the blank box above the title of the blog post, tag Animetric's World and tag your friend completing the sentence "Animetric's World, _____________________________". Example: "@Animetric's World, I want to share the Champion experience with @Friend's Name because I want both of us to have an easier time doing the laundry!".

To tag, type in the "@" symbol then follow it with the word "Animetric" This will prompt a drop-down menu box which will present you "Animetric's World". Click that and you should see "Animetric's World" become a blue link. Do the same for your friend's name. After completing the sentence, click the Share. Make sure your profile is set to everyone or else your entry won't appear on my FB page.

Tweet your entry on Twitter.

Twitter entries must use this format: @animetric I want to share Champion with @friend because we want fresh smelling clothes! (sample entry)
After sharing on FB or Twitter, post the url of your entry on the comments section below. I will not check one by one, I will base the raffle participants on those who have posted the url of their entries on the comments section.
Three winners will be drawn via random.org while two winners will be chosen by me based on the answers provided: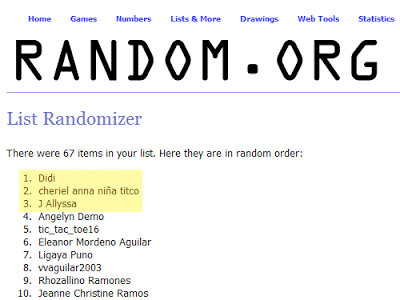 Congrats to Didi, Cheriel, and J Allysa for being chosen by the randomizer! Best answer winners are Raffy Tabunar and Tara YC!
This contest is open to everyone who can claim the prize in Makati City. Prizes will NOT be shipped and MUST be claimed. Deadline for entries is on Sept. 30, 2011!
Like this post? Subscribe to this blog by clicking HERE.Become a Facebook Fan for updates from Animetric's World.