For my 19th BB Cream review, I'm going local with the Celeteque Brightening Multi-Benefit BB Cream (P325). Just one more and I would've reviewed 20 BB Creams, lol!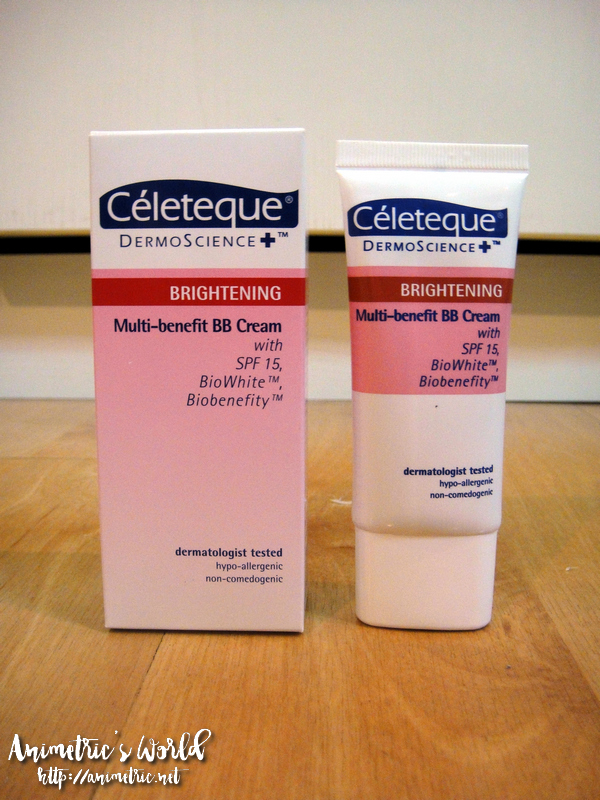 I was able to grab a full-sized sample tube from Sample Room, but Celeteque also sent me their newly launched line of Celeteque Dermoscience Brightening products which also included the Celeteque Brightening Multi-Benefit BB Cream.
Celeteque Brightening Multi-Benefit BB Cream comes in a 30ml tube.
There's only one shade and this is it. It's neither too thick nor too thin in terms of consistency.
Without further ado, here's my before and after application shot. Not much change, which is good, because it means it matches my skin tone. I did notice that it had a very matte finish, in fact, one of the most matte ever.
Here is how it looks under natural light, I stood in front of our bedroom window as usual lol. In this photo I have absolutely nothing but the BB Cream on.
Here's a more presentable photo with me out of my pajamas. I also filled in my brows. But that's about it. I don't like wearing makeup when I'm just spending the day inside the office. What follows after this is just lip balm.
Here's another shot by my window, with eyebrows this time.
This was taken 8 hours after I applied the BB. The shine you see isn't from oil, it's from sweat… hahahaha! I had spent some time in the kitchen with no aircon or electric fan while fixing my kids' merienda. I did not even blot once any time before taking this photo.
What I like about Celeteque Brightening Multi-Benefit BB Cream:
It actually matches my skin — it doesn't leave any pink, gray, or whatever cast when applied.
It's matte, so it's good for humid climates like ours.
It has SPF 15 for sun protection.
It contains Biobenefity, a trademerked ingredient that provides brightening benefits and BioWhite, which helps reduce fine lines and lighten dark spots.
It absorbs excess oil so you don't even have to top it off with powder after application.
It's very affordable at P325 per tube!
Downside? Since it's so matte, it doesn't spread over the skin as easily as other BBs I've tried. It dries quickly too. That said, blending can be a bit more tricky. Coverage is also on the light side so it can't really be used as a foundation replacement. The SPF is also lower compared to most BBs but if you're spending most of the day indoors it shouldn't be a problem.
If you want a tinted daily sunscreen which provides a host of skin care benefits and light coverage, this is a good product to try.
Celeteque Brightening Multi-Benefit BB Cream is available for P325 per tube at all Watson's branches nationwide.
Like this post? Subscribe to this blog by clicking HERE.
Let's stay connected: