So this article about mommy bloggers written by the notoriously blunt showbiz writer Lolit Solis has been circulating on Facebook. According to Lolit, she attended Mega Prime's presscon featuring celebrity mommy Marian Rivera. She was appalled that there was a mommy blogger who brought a baby to the event. According to her, there was another one who brought unruly child who kept running around.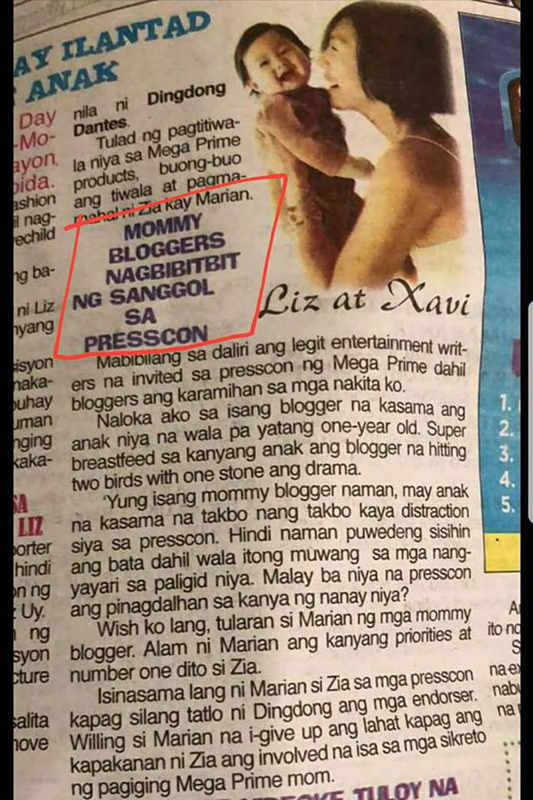 Blogger forums, especially mommy blogger groups, have been abuzz because of this article. Of course most were offended — Lolit did after all, discredit bloggers by saying there were only a handful of legit entertainment writers there. Shady Lolit, does this mean bloggers are not legit? Lol. When I was studying at the Ateneo back in the '90s, we were shown an example of how not to be as a journalist or broadcaster. Our teacher played an episode of The Probe Team with Che Che Lazaro. In that episode, Lolit admitted to accepting "payola" (bribe money) when it came to dispersing "news" or "information" (I'm guessing about showbiz and politics since she was in entertainment). Based on that, I really don't think she's in any position to judge who is legit.
According to event attendees, Lolit's account of what happened during the event is inaccurate. I wasn't there so I only have secondhand information to go on.
Anyhow, the PR has already stated that they do not share Lolit's sentiments with regards to what went down during the event. Apparently, the event was the launch of a mommy club by the said brand. A lot of mommy bloggers felt that it was okay to bring children. I never saw the invitation and I am not acquainted with the brand and PR so I have no comment about that.
So why am I posting this? Honestly, I was surprised at how some people felt entitled to bring kids to events (I'm not referring to this mommy club launch)… just because they're mommy bloggers. One went as far as to say that it's PR's fault for inviting her knowing she has a child, so they shouldn't mind if she brought the child along.
Now I'd like to give a little perspective, being someone who does PR work on occasion. It's wrong to assume that just because you're a mommy blogger, you can automatically bring a child or children to all events. Some events are not even appropriate for kids. It's never a blogger's right to bring additional people unless they actually ask the PR/brand and they're allowed to. There are things to consider like space, food allocation, safety, comfort level, etc. So unless it is stated in the invitation that we can bring children or whoever, we shouldn't feel so entitled. Let's say a venue has 50 seats and they invite 50 people. If all 50 were moms and automatically brought kids, that would instantly double the number of guests to 100. Preparing for 50 is a lot different from preparing for 100.
Of course there are mom-and-kid events and family events. Those are a different story. The invitation would usually indicate that you can bring your child / children / family along.
Think of it this way, if you were throwing a party for 50 people and 100 unexpectedly show up, how would you feel?
Like this post? Subscribe to this blog by clicking HERE.
Let's stay connected: