Finally! I got to try the gelato that a lot of bloggers have been raving about. I'm not really swayed by popular opinion where ice cream is concerned because there is the basic fact that I'm not very much into ice cream. I'm more of a yogurt person. That said, ice cream should really be exceptional to have an impact on me. I don't even like Carmen's Best (I've tried it in several food fairs), widely touted as one of the best ice creams because I find the flavors I've tried too sweet. But then I surprised myself by taking a shine to Fog City Creamery's brandy-infused creations when I normally can't stand alcohol. So how did I find Bono Artisanal Gelato?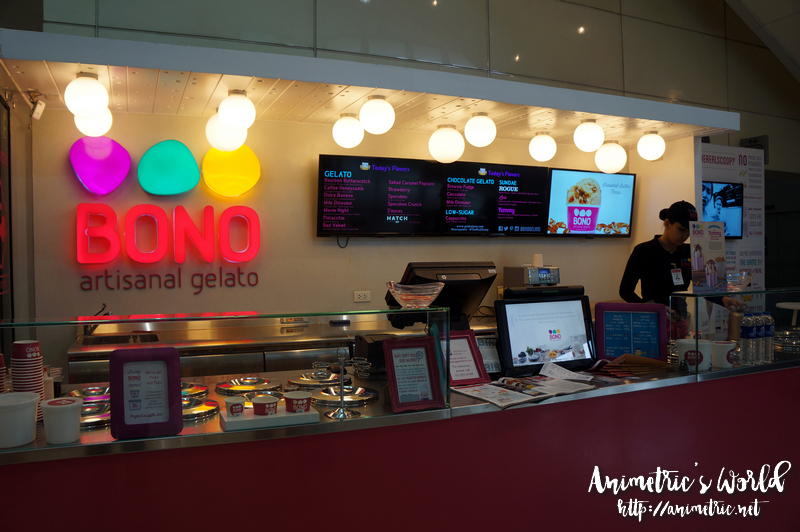 My kids and I attended an activity at The Podium last Saturday. I told them I would treat them to gelato afterwards since they were relatively cooperative, lol. So we headed for Bono Artisanal Gelato afterwards.
We were kind of full from lunch so we decided to each have small sizes of Bono Artisanal Gelato which costs P85 per serving. My son decided on Red Velvet Gelato, inspired by red velvet cake and laced with cream cheese. He liked it and said it didn't taste anything like chocolate, lol. Red Velvet is basically a chocolate cake, right? Anyhow, the important thing is he liked it!
My daughter couldn't decide between Milo Dinosaur and Cioccolato and so the lady behind the counter let her try some samples. She concluded that Milo Dinosaur tasted weird and opted for Cioccolato instead, which surprised the lady haha. Cioccolato is 70% dark chocolate so it's bittersweet. I told her that my daguhter's taste is quite mature and she has always liked dark chocolate best.
When my turn came, I couldn't decide what to have. I asked what the bestsellers were and she told me Speculoos Crunch. I'm so sick of cookie butter already and so I told her to recommend a bestseller that wasn't too sweet. She let me try a spoonful of Pistachio and a spoonful of Salted Caramel Popcorn. The Pistachio gelato tasted like pistachio nuts transformed into ice cream, it was really really good! Salted Caramel Popcorn had me giggling because I couldn't quite believe that popcorn-tasting gelato can actually be created lol. In the end, I settled for Malted Cookie Dough since it combined two things I love — cookie dough and malt.
After paying for our orders we settled on one of the tables.
The kids were very pleased with their respective gelatos.
I too was very happy with my Malted Cookie Dough — creamy malt ice cream (tasted like Horlicks, my favorite malted milk drink) with generous chunks of cookie dough. My serving was small but it was practically bursting at the seams with chewy chocolate chip cookie dough. Soooo good and gone too soon hahaha!
We'll definitely be back for more Bono Artisanal Gelato!
Bono Artisanal Gelato
G/F The Podium
ADB Ave., Ortigas Center, Mandaluyong City
Like this post? Subscribe to this blog by clicking HERE.
Let's stay connected: