This post has actually been requested by quite a number of readers who are interested to start their own blogs. I wish someone had guided or advised me back in 2009 when I moved my personal Multiply blog to blogger/blogspot. I was doing everything nonchalantly, not really thinking of the future or what I really wanted to do. During the first couple of years my blog was pretty directionless. All I knew was, I wanted to write and I found the perfect outlet. I didn't even know what SEO was. I didn't know that there were such things as blogger/media events. Had I known I would end up where I am now, I would have planned my blog better. 🙂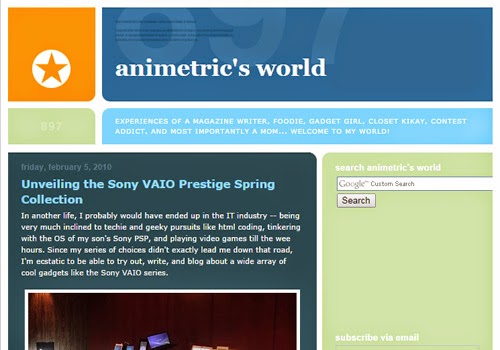 Animetric's World back in 2010
So you want to blog? Before you decide, think. Why do you want to blog? If the main reason is because you want to be invited to events, I will tell you this early that your blog will not take off. Nobody wants to read about one event after another… and if nobody wants to read what you're posting, you're not going to get very far where real opportunities are concerned. Brands and establishments invite you and/or send you things because they are hoping to tap into your audience. But what if there is nothing to tap? Just think, what are the sites you like to go to and read through regularly? Take a step back and strive to be like them. There's a reason why they keep you coming back for more.
1. Okay, so you're decided. You're going to blog. The first thing to do is to decide where you're going to put it. You have two choices:
Free hosting — blogger.com or wordpress.com
Paid hosting — register for a domain and pay for monthly hosting
I chose free hosting at blogger.com because I didn't know what I was doing back then. It was also the easiest to work with. I know how to code using raw html and blogger is pretty manual in terms of everything (wordpress has a bunch of plug-ins which automate everything) so blogger it was. I chose one of the default blogger templates and typed away post after post. If you're not yet sure how you want to proceed, you can practice with blogger. If you're really serious and willing to invest, you can hire a professional web designer and pay for hosting. That way, your blog is 100% yours. Mine is at the mercy of blogger.com which is owned by Google. I back up everything obsessively because I don't want to wake up one day and find everything gone. I've been here for 5 years.
Whether it's a free host or paid host with your own domain, make sure your url is easy to read, type, and remember.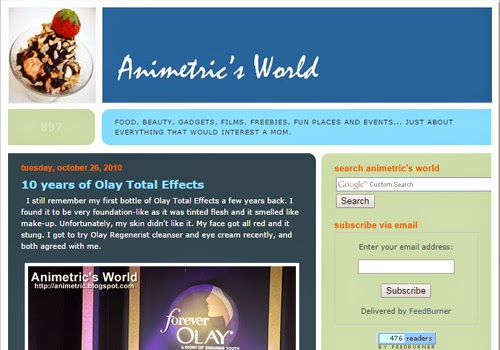 Animetric's World back in 2010
Unfortunately for me, the blogger template I picked is not very flexible in terms of customization options. Don't make the same mistake.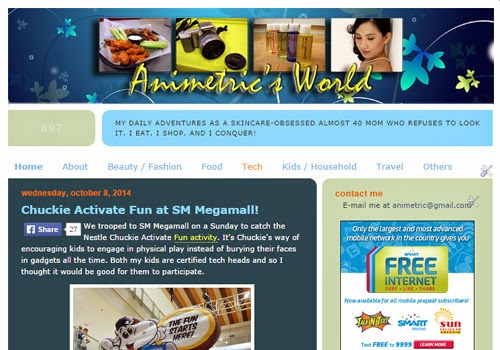 Animetric's World in 2014
I can only change the header graphic, fonts, and colors. I'm still looking at other templates in the hopes of being able to overhaul this and come up with something more streamlined. If you're going with blogger, make the template you choose is flexible enough to accommodate future changes.

2. Let's say you've gotten your account and/or domain + hosting. Think of a title. The title should:
reflect what your blog is going to be about
be easy to remember — avoid tongue twisters nobody can pronounce
I know I have a weird title. I used to own and manage an anime website called animetric.com (1997 – 2007) so a lot of people online know me as animetric. I sold animetric.com because I lost interest in anime. But I kept the username because my Google account from way back in the year 2000 was animetric@gmail.com. I thought I would be retiring from the internet but I found myself blogging at the url animetric.blogspot.com which as it turns out has belonged to me since the year 2000. That is why my blog is called Animetric's World. It's no longer about anime, it's about things that interest me. My world.
3. Now that you have your hosting, design, and title set up, it's time to put in content. Here are some tips:
Introduce yourself and your blog in the first post so people will know what it's about and what to expect.
Blog about things that interest you. No point wasting time posting about stuff that bore even you. If you don't like it, chances are your readers won't too.
Write in a conversational manner, as if you're speaking to people and trying to engage them in conversation. People go to blogs because of the personal touch involved. If they wanted a literary and photographic masterpiece they could just go to any newspaper or magazine website.
Write in the language you are most comfortable with and try to be grammatically decent at the very least. Nobody wants to read material that do not make sense.
Use nice, clear photos — preferably those that you took yourself so you won't get into trouble. Again, nobody wants to waste time trying to decipher that blur that's supposed to be a product / place / person.
Please do not plagiarize (meaning, copy someone else's work).
Avoid being long-winded. This is the online world and people generally have shorter attention spans. If you're going to drag on and on about a topic, you're probably going to bore them and drive them away.
Think before you post. Is this something you want cached in Google FOREVER? Yes, forever. Even if you delete a post, Google will keep a cached copy of it for who knows how long (I'd like to assume forever so I don't do anything rash or stupid).
4. When everything is set up, it's time to get people to visit your blog. Traffic and engagement are what will ultimately open up opportunities for you. How do you do that?
Promote, promote, promote. I'm pretty sure you have FB, Twitter, Instagram, etc. Promote your blog and/or your posts on your social networking channels.
Visit other blogs and leave comments. There's usually a blank where you can fill for your url. Hopefully you will get a return visit and potentially attract more readers.
Join blog networks like Nuffnang Philippines (http://www.nuffnang.com.ph) for more exposure. You get to meet fellow bloggers, brands, and other industry people this way. You can also monetize your blog (earn from it) by installing Nuffnang ad codes.
Join blog contests. Brands and establishments hold blogging contests from time to time. Let's say you join a blogging contest sponsored by brand X. Brand X would most probably have social networking accounts and your blog would get more exposure if brand X shares your post.
Practice SEO (Search Engine Optimization) so your blog comes out when people search for things in Google. I don't know how that goes as Google is constantly changing its algorithms when it comes to searches.
Engage. When people e-mail you or leave comments, do take the time to reply.
In the blogging world there are no guarantees but as with any field, what you can do is give it your best shot and see where it will take you. I hope that this post is helpful to those of you who want to start blogging. 😀
Like this post? Subscribe to this blog by clicking HERE.
Let's stay connected: