I've been seeing the most creative concoctions by Black Scoop Cafe on social media practically forever. They're always making something go viral. I just never got around to actually trying any. Well, I finally got the chance to last Wednesday at their Eastwood City branch. There are SO MANY things on their menu that I had a hard time making up my mind what to order.
The Eastwood City branch of Black Scoop Cafe is located at Eastwood Citywalk 2. It's a nice venue for catching up with friends — brightly lit, sufficiently air-conditioned, and highly Instagrammable.
It's self service (like Starbucks) so you place your orders at the cashier and pay first. Then you go to the claiming area for your food and drink.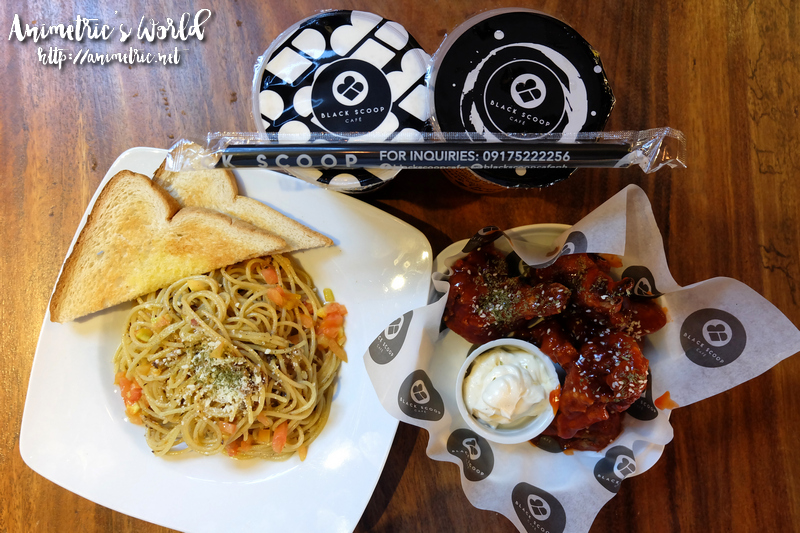 Okay so these aren't really all for me, lol. There were quite a few of us in the cafe. Anyhow, I ordered Aglio Olio Spanish Sardines Pasta (P220) and Buffalo Wings (6 pcs for P180).
The Aglio Olio Spanish Sardines Pasta is simple and tasty, the type you whip up at home when you just want something nice and quick.
The Buffalo Wings is pretty good — a balanced mix of sweet and mildy spicy. I wasn't really a fan of the mayo dip though, it's just regular mayo. Anyway it's already good on its own so you don't really need the dip.
As for the drinks, I ordered 2 to try (and share with my kids) — Wintermelon Cream Cheese Latte (P120 Medium / P135 Large) and Imperial Fruit Tea (P110 Medium / P120 Large). The Wintermelon Cream Cheese Latte is very very rich. I found it a tad too sweet but my daughter liked it a lot. It tastes like a mix of caramel, milk, tea, and cream cheese. The Imperial Fruit Tea is like a stronger and sweeter version of Presotea's Signature Fruit Tea Fusion. I'd like to try Matcha Cream Cheese Latte next time.
Their Sundae is what I really came for. There are 2 flavors: Black Mascarpone and Milk Tea Swirl. Then you choose your toppings. Although I really wanted Black Mascarpone (it's SOOO GOOD), I got the Milk Tea Swirl because it looks better in photos lol. Of course I chose Black Bison Pearls as my topping. A Cup Classic + 1 Topping is P135. Worth trying, the pearls are so chewy and delicious!
Black Scoop Cafe is a great place for merienda due to the sheer variety of drinks and snack foods like sandwiches and pasta. They do have rice meals too in case you want to have a major meal like lunch or dinner. Prices are very reasonable.
One thing I do wonder about is… where are White Rabbit Ice Cream and Melona Soft Serve I've been seeing online? Upon further research, it seems you'll find these and even more stuff to order at their Maginhawa branch, which is the Black Scoop Cafe flagship store. I think we'll visit that one next.
Black Scoop Cafe
2/F Eastwood Citywalk 2,
Orchard Road, Bagumbayan, Quezon City
Like this post? Subscribe to this blog by clicking HERE.
Let's stay connected: