One bright and sunny Sunday, we trooped to Commercenter in Alabang to attend the Bento Mommas Workshop sponsored by Cheez Whiz!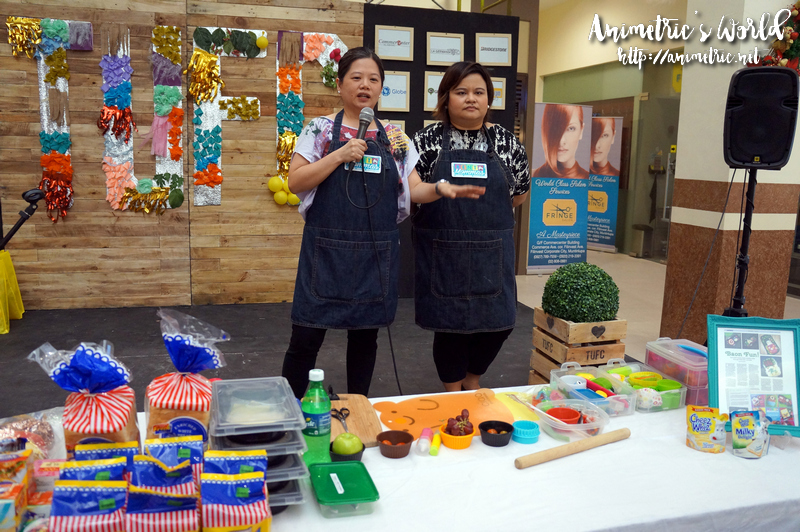 Bento Mommas Kaye and Moneigh facilitated the workshop.
We were going to use Cheez Whiz Original and Cheez Whiz Milky Delight cheese spreads to make our bentos!
Each participant got her own kit filled with bento essentials — containers, cutting mat, scissors, knife, food items, food drawing pens, paper holders…
Anyhow, Kaye said we were going to make Christmas-themed bentos that day, starting with a snowman sandwich bento. We rolled slices of Gardenia white bread flat and then used different sized cookie cutters to cut out circles. I cut off excess bread with scissors. We then used Cheez Whiz to glue the circles together, forming cheese sandwiches in the process.
At that point I got busy carving the apple into a hat and a Christmas tree with a knife. We all used Cheez Whiz as glue to make the snowman parts stick together. Then I skewered some grapes and put is some Oreos… voila! I was done with bento no. 1!
For bento no. 2, we would be packing a rice meal. Kaye said in any bento, we should always follow the rule go, grow, and glow when it comes to picking ingredients so that the bento will be good to look at, good to eat, and good for the body as well!
So this is how you shape rice — you put it in a sandwich bag and then sort of mash and knead it until it forms the shape you want. We were going to make a reindeer so I had to like mold it into an oblong-ish shape that could work as a reindeer head.
Broken pieces of pretzels served as antlers.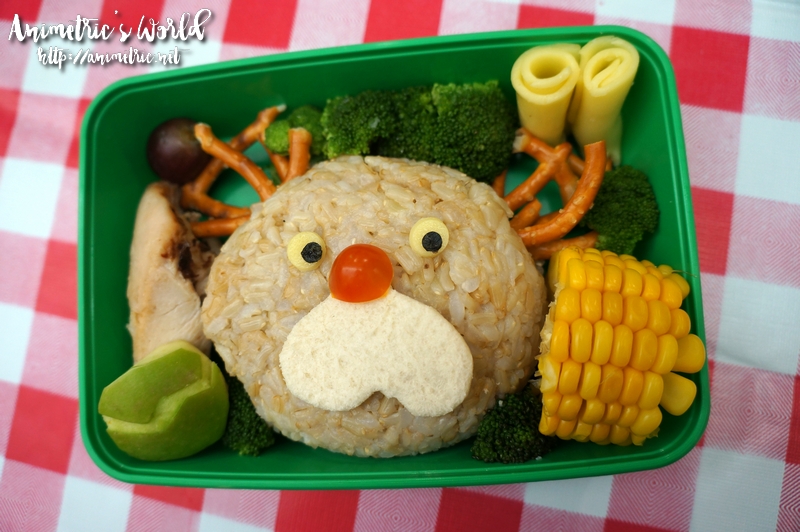 We used cheese and seaweed for the eyes, half a cherry tomato for the red nose, and bread for the face. It is recommended that you pack a lot of stuff in the bento so that spaces are filled and the stuff won't move around in transit while inside your child's lunch box or school bag.
Wow I actually made two bentos in one day! That's such a world record for me since I don't really cook or do kitchen-related stuff.
I picked up a lot of bento-making tips and tricks which I'd like to share with you all:
Use clear lime soda like Sprite to keep your fruits from turning brown. For example, you're using apple slices for your bento. Make sure to dip the white surfaces in Sprite so they don't discolor.
Use Go, Grow, and Glow foods when it comes making bento so the meals you make and pack are healthy.
Waste not, want not. Set aside leftovers properly for recycling. For example, leftover bread can be turned into croutons or pudding or bread crumbs.
Use airtight containers so the food retains its freshness.
Cheez Whiz works great as a glue to keep food items stuck together. It's yummy too!
Make sure your bento is packed full with little to no spaces in between foods so that everything stays put.
Thank you Cheez Whiz and Bento Mommas for a fun afternoon!
Cheez Whiz is available in 3 variants, Original, Pimiento, and the new Milky Delight at all leading supermarkets nationwide for around P70+ per 220g jar.
For more cheesy ideas, log on to http://cheeseanything.com.
Like this post? Subscribe to this blog by clicking HERE.
Let's stay connected: