I was given the chance to learn basic hair cutting at the Bench Fix Training Center last June 28, 2012. It was a very rainy day but I wasn't about to miss such a great opportunity! That said, I drove through the wet streets from Quezon City to the Bench Fix Training Center in Market! Market!. I'm always excited to learn something new, more so if it's beauty-related!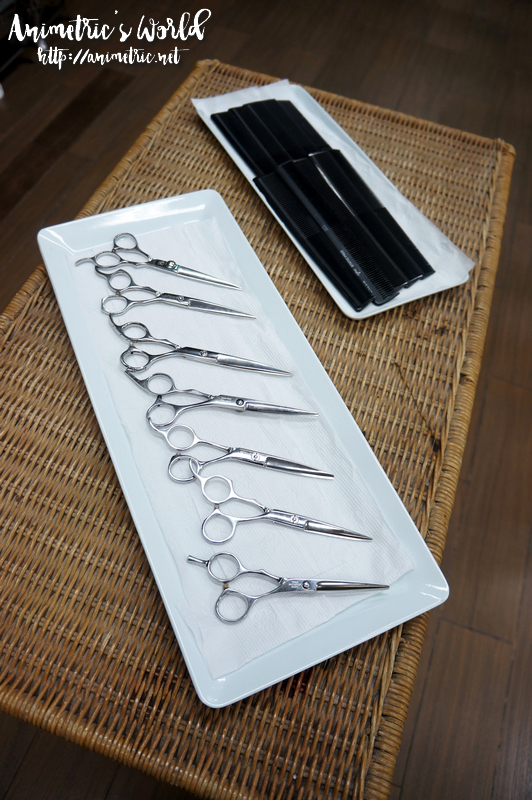 Combs and scissors were waiting for us at the Bench Fix Training Center. We were cutting the hair of real people, not just practice mannequins.
Even more of a plus was the fact that we were going to be taught by none other than the Alex Carbonell of Studio Fix, Bench Fix's high-end salon. One of Alex's responsibilities is training the stylists of the Bench Fix salon chain.
I first met Alex in Propaganda a few years back. I had my hair cut and colored for a TVC shoot my family and I did in Singapore for the Singapore Tourism Board. The TVC aired on the Discovery Channel for about 2-3 months back in 2008… and no, that is not my voice hahaha! They had a Singaporean woman do the voiceover. The amazing thing was, he still remembered when we met again for the hair cutting workshop!
So anyway, my model was college student Jobelle.
Jobelle had fine, straight hair which was just a little dry at the ends… in general her hair was in good condition. She said she just wanted a little trim.
Alex would demonstrate what we needed to do on his model, and then we would do what he did on our own model.
The session started with the junior stylists shampooing our models.
They were going to get their hair colored after the cut so conditioner was not applied. I was told not conditioning the hair would make the color adhere better… something like that.
Since we needed to detangle our models' hair and it was hard without conditioner, we applied a pea-sized amount of L'oreal Kerastase Nectar Thermique instead. It's very effective.
Alex proceeded to teach us how to section hair for cutting.
So that was what I did. After sectioning, you pin the sections so you can cut without obstructions.
Alex taught us how to cut the innermost layer of hair first. We gradually moved on to give our models a simple, layered cut. I did everything from sectioning to cutting, albeit my work was under the direct supervision of a senior stylist.
Check out my model's layered hair after I was through cutting.
I couldn't stay for the coloring and the full blow-drying because I had to leave and fetch my kids from school… but I was able to finish her layered cut. The bottom layers are still damp as of this photo. How I wish I could've seen her after the color! I wonder if I can now cut my daughter's hair? Haha!
Thank you so much L'oreal Professionnel, Bench Fix Training Center, and Alex Carbonell for such a great learning experience!
Like this post? Subscribe to this blog by clicking HERE.
Let's stay connected: