Hubby and I prefer to go supermarket shopping in the morning during opening time. We have the impression everything is cleaner and more fresh plus there's less people. Downside? We can never buy alcoholic drinks. See, we're in Quezon City and there seems to be a rule that alcoholic drinks can only be sold from 1PM to 5PM. So much as we'd like to grab a few beers, we can't! We're not willing to go back in the afternoon either. Every time we get home we have to take a bath, disinfect, etc. so we try to do everything we can when we're already out.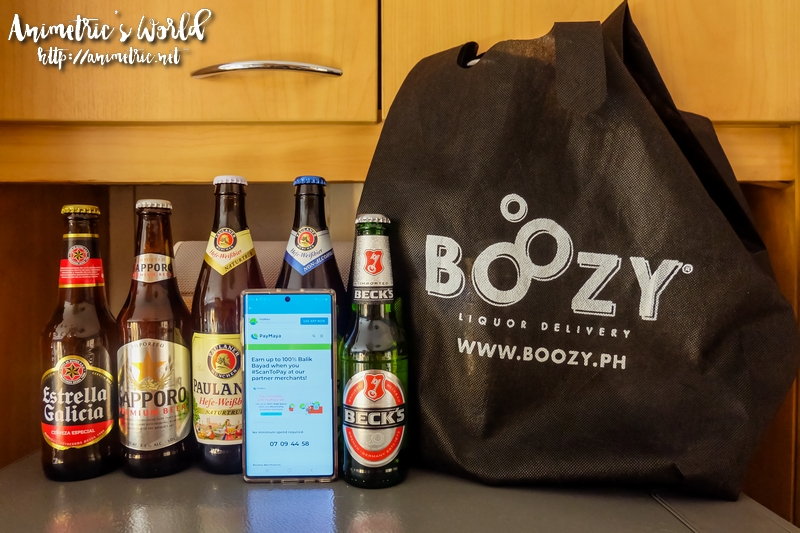 Anyhow, I saw Boozy PH as one of PayMaya's featured merchants when I was scrolling through the app. I use PayMaya for a lot of my cashless transactions so this was definitely good news. So I downloaded the Boozy PH app. Most people who know me know I don't drink but I've gained an appreciation for beers during ECQ.
Hubby and I picked a few beers to try. Some of our picks were not available in QC but we finally came up with a lineup that was.
I chose to pay with PayMaya because there's a Balik Bayad promo ongoing until June 30. You can get 1%, 10%, or 100% of your qualified transaction back. The maximum amount that can be returned to you is P500. As you can see in the screenshot above, I got 1% of my Boozy PH payment back.
Okay so I ordered the beers at around 3pm last Sunday, which was beyond Boozy PH's same day delivery cut-off of 2pm. They said it would be delivered the next day. Anyhow come Tuesday, my beers were nowhere to be seen. I sent Boozy PH an e-mail following up my order. They replied some hours later and I got my order shortly after.
Overall, I'm happy with Boozy PH's service and I will most probably order from them again. I find their delivery fee of P49 very reasonable too. Plus, they now accept PayMaya so it's even easier to order.
Like this post? Subscribe to this blog by clicking HERE.
Let's stay connected: