Last Tuesday, I found myself at Robinsons Selections in Venice Piazza for the Contadina Supermarket Raid. It was a shopping race. We needed to have a dish in mind and we were given P2,000 to shop for the ingredients. The first person to finish shopping would win P5,000 GCs. It was my first time at this particular Robinsons Selections. I decided to shop for two recipes because I couldn't make up my mind which one to cook. Hahaha, yeah I didn't finish first. Twinnie Marj Sia did.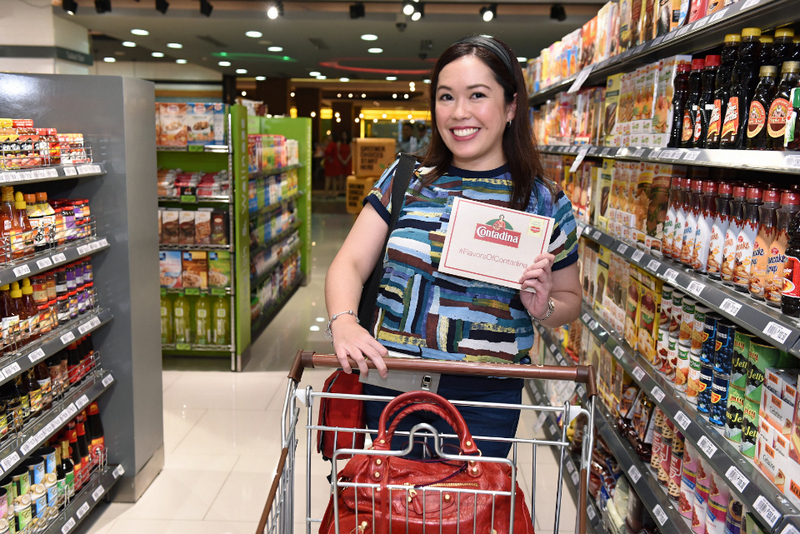 I don't mind. The activity was super fun and Robinsons Selections at Venice Piazza is rather impressive.
At first I thought I'd do a pasta dish so I headed for the section with the Contadina sauces. But then I decided to do Olive Oil Cake instead. I saw everyone hoarding pasta and I wanted to do something else.
I shopped for Olive Oil Banana Bread and Lemon Olive Oil Cake. This is so just in case I flop I'd have a back-up recipe. I bought bananas, one liter of Contadina Extra Virgin Olive Oil, cake flour, all-purpose flour, honey, milk, eggs, lemons, baking soda, and milk chocolate chips.
I was actually able to make the Olive Oil Banana Cake twice due to the amount of ingredients I had on hand. These are the ingredients for the first version. The kids liked it a lot but we all liked the second version more. The second version doesn't use cinnamon and vanilla extract. It also uses sugar in place of honey. I'll share the recipe here:
Olive Oil Banana Cake
Ingredients
1/2 cup Contadina Extra Virgin Olive Oil
1 cup coconut sugar
2 eggs
2 cups mashed bananas
1/2 tsp baking soda
1/4 cup milk + 1 tsp vinegar (mixed together)
1 tsp baking powder
1 1/2 cup all-purpose flour
1/2 salt
1/2 cup milk chocolate chips (optional)
Procedure
Grease either an 8-inch round cake pan or a loaf pan. I used extra virgin olive oil to grease the pan as well.
Preheat oven at 325F / 180C. I do this for about 10 mins.
Mix olive oil and sugar until blended. Add eggs and bananas. Beat until well-blended.
Add baking soda to the milk and vinegar mixture.
Combine flour, salt, and baking powder. Add to banana mixture and beat together until well-blended. Add optional ingredients like chocolate chips, nuts, etc.
Pour batter into pans and bake at 325F / 180C for 30 minutes or until golden brown. Poke with a toothpick to test doneness.
This is my first version batter. The second version looked more or less the same.
This is the finished product. The middle part was still a bit wet after 30 mins so I extended the oven time by 5 more minutes.
Some notes:
I adapted this recipe from an officemate of mine from 20 years ago. She said to use cooking oil but I changed it to extra virgin olive oil. EVOO tastes better and is healthier as opposed to using something like canola oil.
Her original recipe called for white sugar. But in the interest of being healthy, I changed it to coconut sugar. I also decreased the amount because she used to use 1.5 cups but I find that 1 cup is enough. I use fully ripe and sweet bananas so I don't really need that much sugar.
I added milk chocolate chips because my kids like it better that way. I think walnuts would also be a great addition but hubby doesn't eat nuts so I didn't put any.
Okay so I actually used to make this when I was single and living in my dad's house. I think the last time was 2 decades ago. Hubby and the kids liked it a lot so this loaf lasted just one day… so success, I guess?
A bottle of Contadina Extra Virgin Olive Oil costs P136.20 for 250ml, P261.65 for 500ml, and P503.95 for 1L. Contadina products are available at leading supermarkets nationwide. I usually buy Contadina products at Robinsons Supermarket as they have the complete product line.
Like this post? Subscribe to this blog by clicking HERE.
Let's stay connected: