Whenever my mom vacations here from the US, she'd ask to buy tawas.  She said her Filipino and American friends wanted tawas as pasalubong. Tawas is the Filipino term for Aluminum Potassium Sulfate, widely used as an active ingredient for deodorant. In its unprocessed form, it looks like white crystals. We went to Kamuning to go get some but they were literally rocks with jagged edges and not exactly underarm-friendly.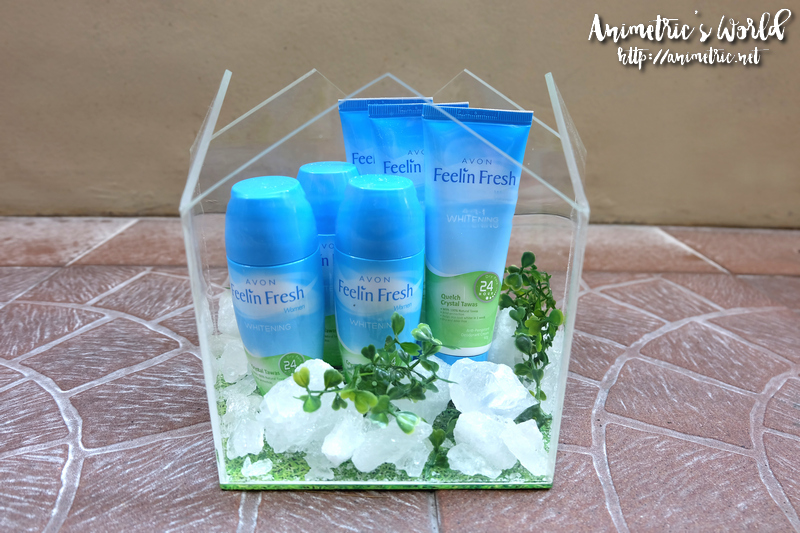 The good news is, leading direct selling brand Avon now has a line of deodorants which makes use of tawas. In the Philippines, tawas is a widely trusted home remedy renowned for its natural deodorizing properties and whitening power. Avon Feelin Fresh combines natural tawas with Whitening Crystal Complex to make skin look whiter and clearer. Its 24-Hour Dry Pore Protection helps control sweat and odor.
Avon Feelin Fresh comes in two (2) forms – Avon Feelin Fresh Roll-On Deodorant (P149)…
…and Avon Feelin Fresh Deodorant Cream (P199).
The Deodorant Cream promises to give you whiter underarms in just one week! That's aside from its deodorant functions.
It has a surprisingly fresh scent which I immediately liked. The consistency is lightweight and water-like too. It's absorbed by the skin rather quickly so you don't have to worry about having moist underarms after application.
The first thing I noticed about the Roll-On Deodorant is the size. It's way bigger than most roll-ons I've encountered. That big roller ball will probably do the job with one swipe whereas it will take a few with other roll-ons. It has the same pleasant fresh scent as the cream.
Avon Feelin Fresh products are currently available in the market. To purchase, contact your Avon representative. If you don't have one yet, drop by http://www.avon.com.ph and order online — they even offer FREE shipping right to your doorstep!
Like this post? Subscribe to this blog by clicking HERE.
Let's stay connected: