When I was invited to check out Arrozeria Manila at Century City Mall, I was quite excited. I knew enough from social media that it's the place to be when it comes to paella. There's something magical about paella. I don't know. Any paella post I make on any of my accounts is always well-received and well, paella is often one of the more popular dishes in a buffet spread. Is it because it's a complete meal in itself? Is it because of the medley of flavors one can experience with every spoonful?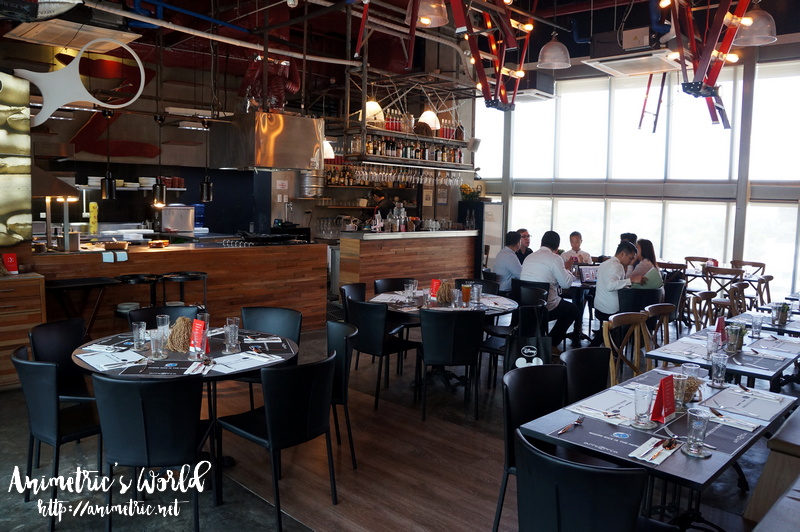 Arrozeria Manila is an authentic Spanish restaurant which serves dishes by Spanish Chef Jose Luis "Chele" Gonzalez of Vask Modern Tapas.
The first order of business was to have a drink. The server recommended Mango Iced Tea (P110). I was iffy but I said okay. Wow, it was actually amazing — it's got the lightness of freshly brewed tea but the taste of fresh ripe mangoes! My description doesn't even begin to do it justice, this is something you just have to try for yourself.
Instead of the usual complimentary bread and butter, Arrozeria Manila serves Amuse Bouche — appetizers specially prepared by the chef which varies daily. That day we had liver pate, it was yummy!
Salpicon de Pulpo (P370) is a dish made of marinated octopus. It's surprisingly good. The octopus pieces are just the right level of chewy and they go so well the sweet and crunchy bell pepper bits in olive oil and onion vinaigrette.
Albondigas Con Champinones (P375) are beef and pork meatballs with mushroom sauce and roasted potatoes. I was surprised by the subtle flavors of this dish. The sauce had a tomato base but it's nothing like the Pinoy tomato-based dishes like Afritada or Mechado.
We were also served freshly baked bread with lots of creamy butter. Crusty outside and soft inside, wow… Arrozeria Manila has the best bread ever! These aren't complimentary by the way, but I couldn't find the price on the menu.
Without further ado, we moved on to paella, specifically Paella Abanda (P790 for 12″ / P1,530 for 15″ / P2,320 for 18″). It's made with boneless fish and seafood. At Arrozeria, you can choose your paella's consistency: al dente and thin or soft and wet. In Spain, paella is typically al dente and thin while Asian versions seem to lean towards soft and wet. Our Paella Abanda was al dente and thin. I love scraping the bottom of the pan for toasted crunchy bits of rice. I really enjoyed the smooth and subtle flavors of Chef Chele Gonzalez's Paella Abanda.
We had Fideua Callos (P500 for 12″ / P950 for 15″ / P1,450 for 18″) too — a paella-like dish that's made with thin noodles. This one has pork, tripe, and garbanzos. It was okay but I think I prefer paella.
We also tried a risotto dish… Arroz Gratinado Longaniza (P600). Savory rice is topped with longaniza, broccoli, and aioli gratin. This is a great way to get kids to eat vegetables — the cheesy broccoli is really yummy!
Desserts are something you shouldn't miss at Arrozeria. They're very unique! We started off with this Calamansi Semifrio (P225). It's kinda like calamansi ice cream cake. It's refreshing and citrusy, perfect for cleansing your palate after a rich Spanish meal.
Tocinillo Del Cielo (P250) is made of egg yolks and served with raspberry foam, yogurt, and lime — I'd describe it as a different kind of leche flan.
Tarta De Chocolate (P195) is chocolate tart with whipped cream and chocolate crumbs has a really deep and rich chocolate taste that's just divine.
Torrija De Coco Caramelizada (P195) is caramelized coconut brioche with pineapple sorbet — another unique dessert! The combination of coconut and pineapple is surprisingly good. Yum!
Arrozeria Manila is a great go-to place if you're hankering for some authentic Spanish food. Prices are reasonable considering the quality and uniqueness of the dishes. Paellas are on the pricey side but the smallest order is good for 2-3 people so it's actually not that expensive if you think about it. If you've always wanted to dine at Vask but have found the pricing prohibitive, you can get your fix here.
Like this post? Subscribe to this blog by clicking HERE.
Let's stay connected: