Earlier today, hubby, the kids, and I had lunch at the newly opened food stall in Hole In The Wall. The name? AnyAny. AnyAny promises bold flavors and no commitment (whatever that means). It's located right across Chef Miko Aspiras' popular craft cookie stall Scout's Honor. My kids have bottomless pit teenage stomachs so it's always a challenge to feed them. They're hungry something like an hour or two after a main meal.
AnyAny's look is reminiscent of Hey Handsome in BGC. In fact, I'd say this is the budget version of Hey Handsome because it's from the same group.
The menu is pretty simple and straightforward. AnyAny serves 2 types of food items (for now): Nasi Lemak and Roti Prata. There's a simple formula for ordering AnyAny Nasi Lemak:
Nasi Lemak (P170) + Your Choice of Viand(s) = DIY Nasi Lemak
You can have up to 2 viands. You add the prices of the viands to the Nasi Lemak and that's how much your meal will cost. Nasi Lemak is rice cooked in coconut with dilis, peanuts, cucumbers, and hard-boiled egg topped with sambal on the side. Sambal is a spicy paste made with a mix of chili peppers and other ingredients like fish sauce, garlic, ginger, palm sugar, lime juice, etc.
After ordering, you are given one of these buzzers which light up when it's time to go back and get your food.
We ordered Roti Prata (P120) + Curry (P50) to start us off. One Roti is good for 2 people but you easily finish one on your own. The Roti was a tad too oily for me but still good. The Curry dip is to die for! You can have maybe up to 3 Roti Pratas and 1 order of Curry would be enough to dip them all in.
We ordered another Roti Prata (P120) + Sweet Milk (P50). My kids actually saw cans of Alaska Condensed Milk on display at their stall and asked why we were ordering Alaska for P50 lol. But surprise surprise — the Sweet Milk dip was infused with a unique citrus flavor that was pretty refreshing! So yeah, it's not plain condensed milk and it is worth trying.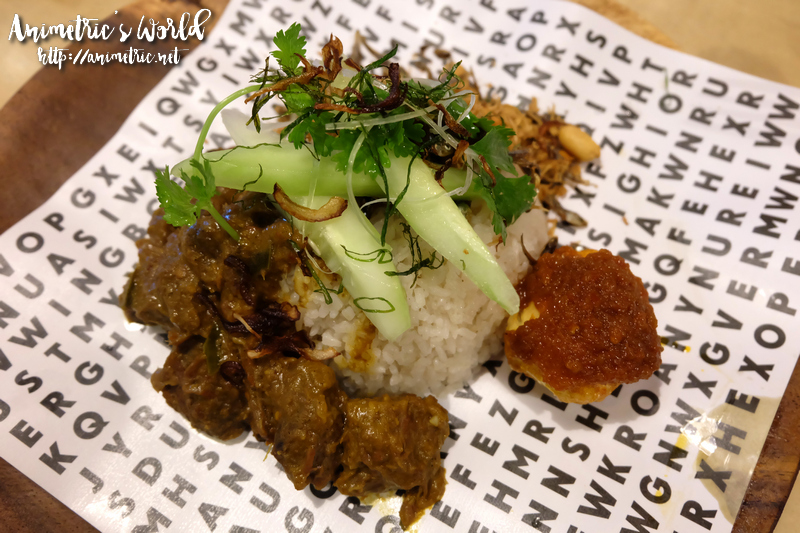 The kids and I each ordered Nasi Lemak (P170) + Beef (P220). The Beef is actually Beef Rendang. The combination of coconut rice, tender stewed beef, egg with sambal, dilis, peanuts, and cucumbers was perfect. AnyAny has the best sambal I've tasted so far, even better than the ones I've had in Malaysia and Singapore! It's not overwhelmingly hot and you can taste a lot more flavors than just chili peppers. I actually got some sambal off my hubby's prawn to mix with my rice lol.
Hubby had Nasi Lemak (P170) + Prawn (P110) + Chicken (P70). What he got was Sambal Prawn and Fried Chicken. I love the sambal so much I might get Prawn next time. Each order of Nasi Lemak packs in a lot of rice, definitely more than 1 cup… maybe 1 and 1/2. Next time I can probably share one order with my daughter and then each of us can order 1 viand. One order is so filling that come 5pm, kids said they still weren't hungry (lunch was at 12:30pm).
We ordered filled Rotis for dessert, starting with the Banana Roti (P70). Roti is folded and filled with sliced bananas and sweet milk. Yummy! You can have this for merienda too.
Lol it looks the same as the Banana Roti but this one is actually Caramel Roti (P60). It's filled with salted caramel and candied caramel bits for an added crunch. Delicious! Kids said the dessert rotis reminded them of crepes.
Considering that an order of Nasi Lemak costs P700+ at the more upscale Hey Handsome, enjoying an order at AnyAny for around half the price or less is a pretty good deal. I'd definitely go back for more. I wish they'd sell sambal by the jar though. We had initially planned on getting some Steamed Milk from Milk Trade and Cookies from Scout's Honor for dessert but we were so stuffed after our Nasi Lemak and Rotis we had no space anymore. Definitely satisfying, even for the most ravenous kids! 🙂
AnyAny
Hole in the Wall Food Hall
4/F Century City Mall
Kalayaan Ave., Makati City
Like this post? Subscribe to this blog by clicking HERE.
Let's stay connected: