Guess what? I'm spending the holidays at home! Lol actually, I'm at home most of the time when Holy Week comes around. We prefer going out of town either before or after because it's too stressful going with the crowd to the airport, to the beach, to Tagaytay, or wherever. That said, I want to share my latest discovery — the Althea Bare Essentials skincare line.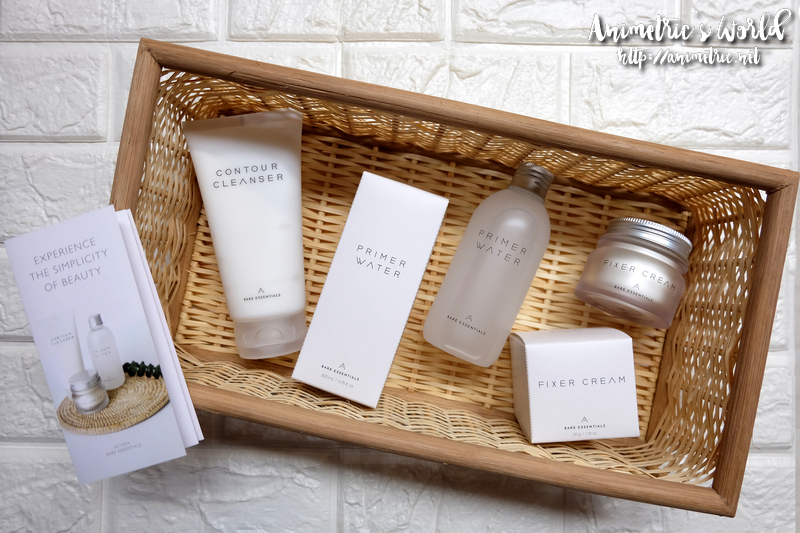 If you've always wanted to try doing the multi-step Korean skincare routine but found yourself confused, the Althea Bare Essentials skincare line is a good starting point. For starters, there are only 3 products. You can actually own the ENTIRE line for a little under ₱1,500. Let's take a look at each of them. Are you ready? 😀
Step 1: Contour Cleanser (₱300) – This is a rich, foaming cleanser that leaves the skin soft, smooth, and refreshed — not taut and tight. Its key ingredients are Ice Plant and Lemon Verbena Leaf. The Ice Plant has the ability to heal skin inflammations while Lemon Verbena Leaf helps make skin soft and smooth. I was surprised tiny exfoliating micro capsules in it too. I love how my skin feels after washing with this.
It's quite creamy in consistency. I wet my face and then mix this with a bit of water.
Then I lather it up on my face. Afterwards I rinse off completely with water and pat my face dry with a clean towel. They say this cleanser not only removes impurities but improves blood circulation for a V-shaped look.
Step 2: Primer Water (₱550) – This is a 2-in-1 product, a toner-primer hybrid. It hydrates and preps the skin, turning it into a smooth canvas for the next skincare or makeup steps. Key ingredients are Snow Lotus and their patented Dewdrop Technology.
The Primer Water has a consistency that is thicker than the normal toner. I tried applying it with a cotton pad, but I found it quite wasteful as a lot of the product is absorbed into the cotton. I find that this is best applied using your fingers. You pat the product directly onto your face until it's absorbed.
It absorbs quickly so you don't have to wait long. My skin is even smoother after this step.
Step 3: Fixer Cream (₱640) – This is a powerful moisturizer which penetrates deep into the layers of the skin to hydrate and plump them. The key ingredients are Trehalose, Wild Green Tea, and Baobab Tree Extract. Trehalose retains moisture, Wild Green Tea soothes and hydrates, and Baobab Tree Extract helps promote collagen production.
The Fixer Cream's consistency is rather thick and creamy. It promises 24 hours of moisture.
I apply it all over the face after the Primer Water is completely absorbed. I love how it dries to a non-greasy and non-sticky finish. I've tried using this day and night and it really does keep my skin smooth and moisturized.
I've been using the Althea Bare Essentials line for around a week now and I'm really impressed. To be honest, I didn't have very high expectations since it's only 3 steps and it's quite cheap. But boy does it deliver what it promises!
What I like about the Althea Bare Essentials line:
I love how the Contour Cleanser makes my face feel soft, smooth, clean, and fresh. There's no taut or tight feeling which is a pet peeve of mine.
The Primer Water is really impressive too. My skin feels so perfect after applying it I'm tempted to stop right there.
The Fixer Cream is rich and moisturizing but not greasy or sticky.
If you're not keen on a 10-step regimen, this 3-step program is already very effective. Of course, I suggest getting an eye cream to go with it since eye cream (for me anyway) can't be skipped.
You can get the entire line for a little under ₱1,500 — how cool is that?
Did I mention that I love the minimalistic packaging? It reminds me of the CK perfumes.
Downside? They don't have eye cream, which I feel would make this a complete regimen. Eye cream helps prevent crow's feet that can make any of us look old before our time so it's super important.
You can purchase Althea products at the Althea Korea Official Store on Lazada.
Like this post? Subscribe to this blog by clicking HERE.
Let's stay connected: