Given my current K-Drama addiction, I've become even more of a K-Beauty enthusiast. Now the newest beauty products to hit the scene are those in the Althea A'Bloom line. This line has sheet masks, applicator puffs, and a blackhead removing stick. Let's take a look, shall we?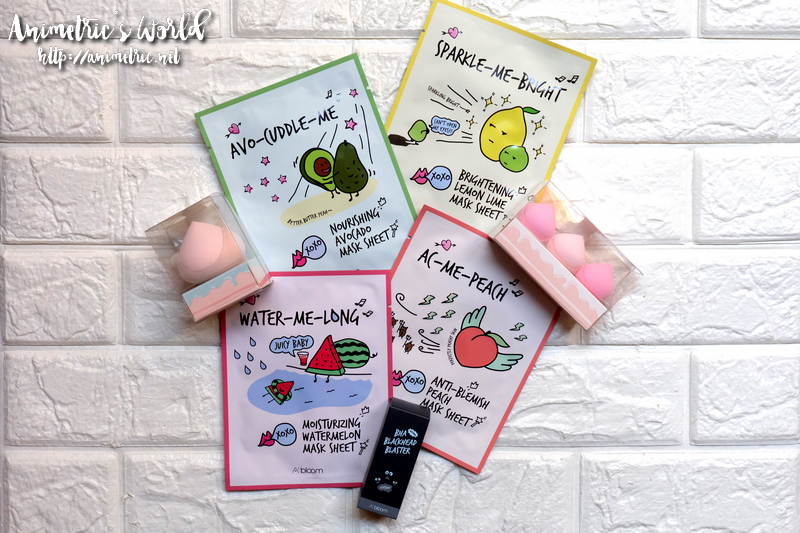 Of all the Althea A'Bloom products in my package, it was the Water-Me-Long Moisturizing Watermelon Mask Sheet (₱180 for 10 sheets) that caught my attention. I imagined a cooling mask which smelled like yummy watermelons.
So there are four (4) sheet mask variants in the Althea A'Bloom line:
Avo-Cuddle-Me Nourishing Avocado Mask Sheet – Recommended for dry skin, this mask is infused with avocado extracts and hibiscus for soft supple skin that glows.
AC-Me-Peach Anti Blemish Peach Mask Sheet – Regulates oil, balances moisture, and purifies skin for improved clarity.
Water-Me-Long Moisturizing Watermelon Mask Sheet – Formulated with watermelon extract and lavender, it hydrates and moisturizes skin.
Sparkle-Me-Bright Brightening Lemon Lime Mask Sheet – Brightens and clarifies dull skin with a double dose of Vitamin C from lemon and lime extracts. Helps banish dark spots too.
The Althea A'Bloom sheet masks cost ₱20 each or ₱180 per set of 10 sheets. It's probably the cheapest sheet masks I've ever come across. This is the introductory price though.
As I've mentioned earlier, Althea A'Bloom also has applicator puffs. There's the Giant Meringue Puff (₱100) and Baby Meringue Puff (₱140 for 3 pcs). Both are made of high density latex-free foam which can be used dry or wet for makeup application.
This is the BHA Blackhead Blaster (₱200). It removes blackheads and whiteheads painlessly, also preventing new ones from forming.
So I immediately tried the Water-Me-Long Moisturizing Watermelon Mask Sheet. I like how the mask fits and adheres to the face — this is true for all the variants. It's easy enough to put on. My problem with the watermelon mask is it didn't smell anything like watermelon. Plus it left my face feeling sticky after I had removed it. I didn't really like it. I did however, love the Sparkle-Me-Bright Brightening Lemon Lime Mask Sheet. It's very refreshing and I like the fresh citrus scent. It left my skin smooth and bright too, not sticky at all.
Since I don't really have visible blackheads and whiteheads, I had my daughter try the BHA Blackhead Blaster. You pretty much just rub the stick on affected areas, massage, and then rinse off. It left my daughter's skin smooth and bump-free. I like that it's very affordable too.
Since the puffs are pretty much the same products in different sizes, I decided to try out the Baby Meringue Puff. I've been using creamy cheek tints in place of powder blushes lately and so instead of applying with my fingers, I tried applying with the Baby Meringue Puff.
I dab the puff onto my cheek tint and then on my cheeks, tapping as I go along. I love how I no longer need to get the creamy tint on my fingers when I do my makeup. It has definitely made makeup application a lot more convenient for me. The puff enables even application too. I love it! The bigger puff is recommended for foundation and/or BB Cream application.
You can purchase Althea products at the Althea Korea Official Store on Lazada.
Like this post? Subscribe to this blog by clicking HERE.
Let's stay connected: