One of the highlights of our recent Tokyo trip was our visit to Akiba Fukurou Owl Cafe. Last year, we walked in to Cat Cafe Mocha. This time, we wanted something more unique so I decided to do some research about owl cafes in Tokyo. My cousin went to one in Ikebukuro and I saw her pics on Facebook. That pretty much convinced us all to give it a shot.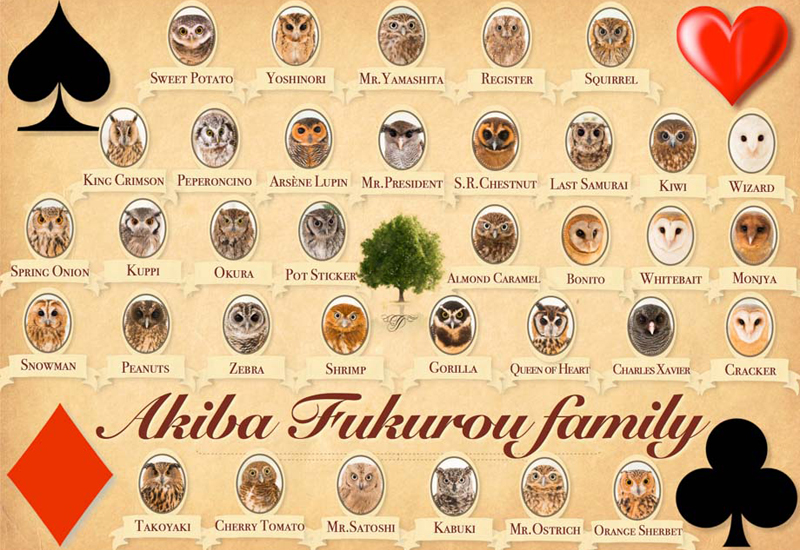 After checking owl cafe reviews, I picked Akiba Fukurou, a quaint establishment in Akihabara. They have 30+ owls. Akihabara is just one train ride away from Asakusabashi (where we're staying) so it was perfect. I reserved our slots more than a week in advance at the Akiba Fukurou website. That's the thing about owl cafes — you have to reserve beforehand. They really limit the number of people who come in at any given time. Slots run out pretty quickly. One week is not enough lead time if you are going as a big group. I almost did not get the 8 slots we needed — initially we were divided into 2 groups of 4, 1 hour apart. We're lucky that the accommodating couple who run Akiba Fukurou granted us 8 slots for the same hour after some discussion.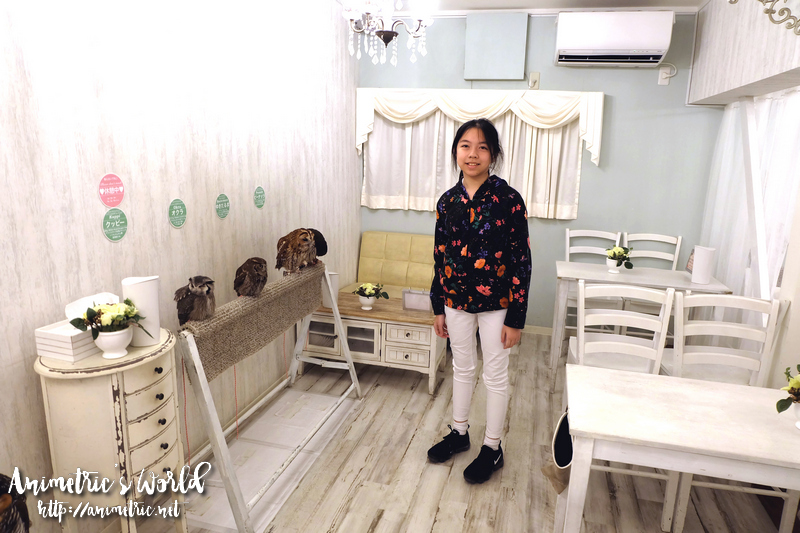 The place is elegant, immaculately clean, and comfortable. We were required to be there 10 minutes before our timeslot so we could be oriented on how to handle the owls. They gave each of us manuals to read through for the house rules. I was impressed because the owls seem content and well-taken care of. I browsed through photos from other owl cafes and there were owls who looked kind of worn out and stressed. We were told we could take photos and pet the perched owls. Hands off owls with pink tags — pink tags mean they are resting. The cover charge is 2000 yen per head (around P1k at our time of visit).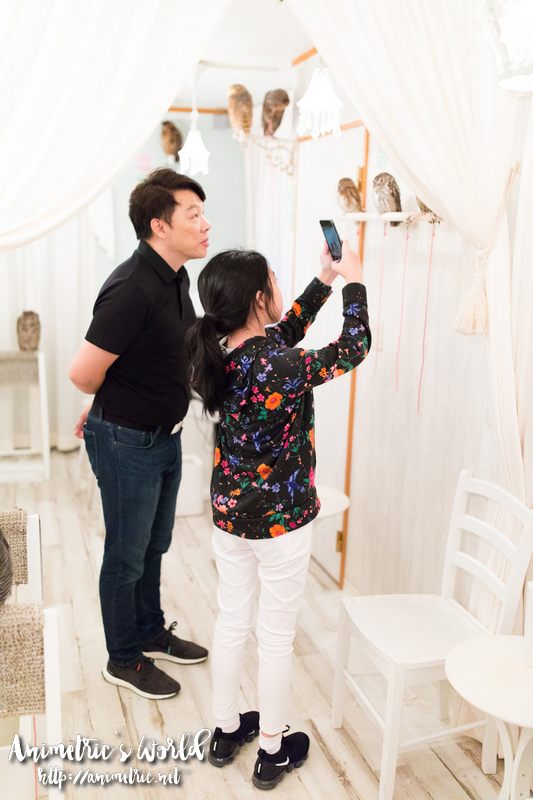 We were given a few minutes to go around and get acquainted with the perched owls. Our group of 8 was then divided into 4-2-2 for pictorials. Yes, what sets Akiba Fukurou apart from other owl cafes is the photo session. They will use a DSLR camera to take a nice souvenir photo you can take home. We were asked what owl sizes we wanted: small, medium, or large.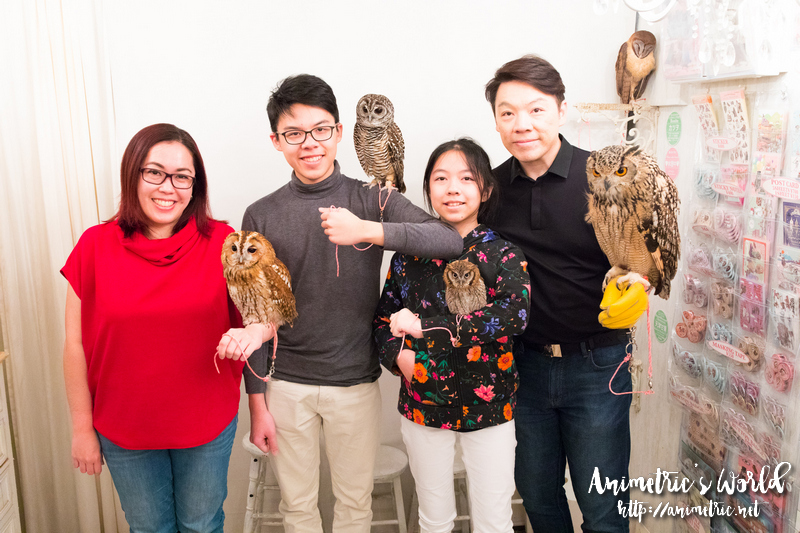 We had a family pic taken with our owls. I got Snowman (medium), my son got Zebra (medium), my daughter got Squirrel (small), while my hubby got Spring Onion (large).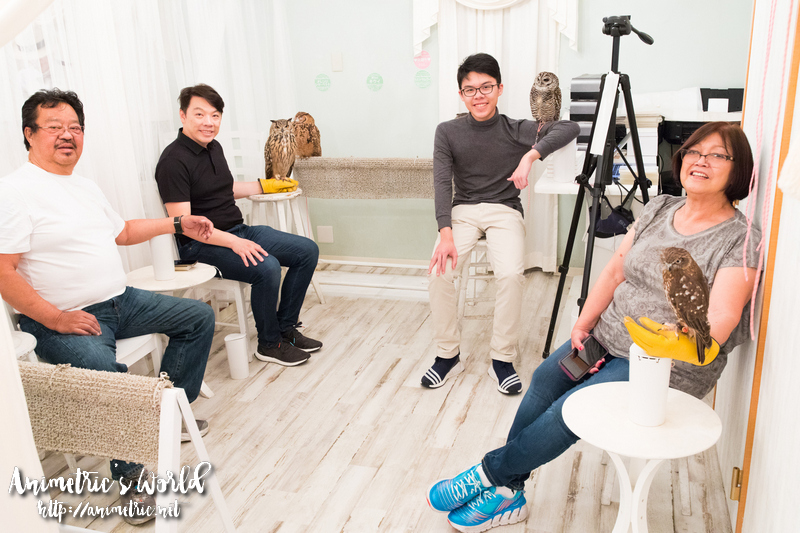 We were all seated beside tables with hand/arm rests. Hubby, son, mom, and stepdad were assigned to a different area of the cafe.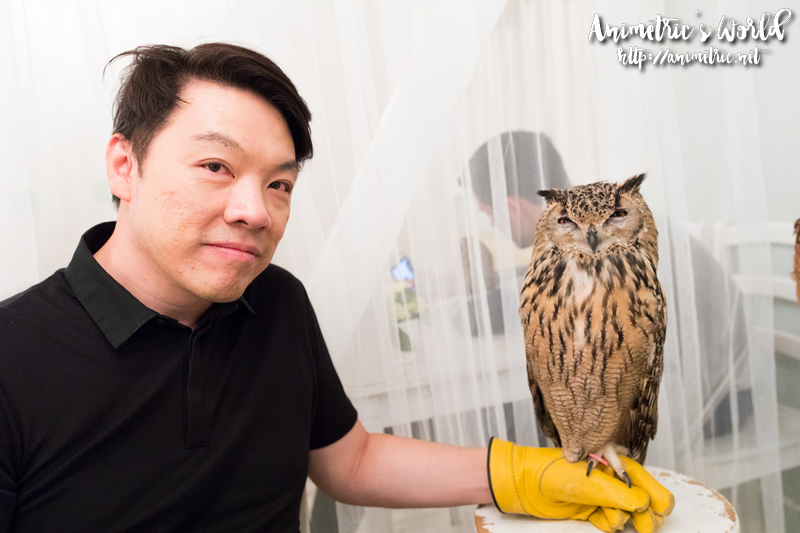 Here's hubby and his large owl, Spring Onion. Spring Onion is a Rock Eagle Owl. You get a leather glove if you choose a large owl.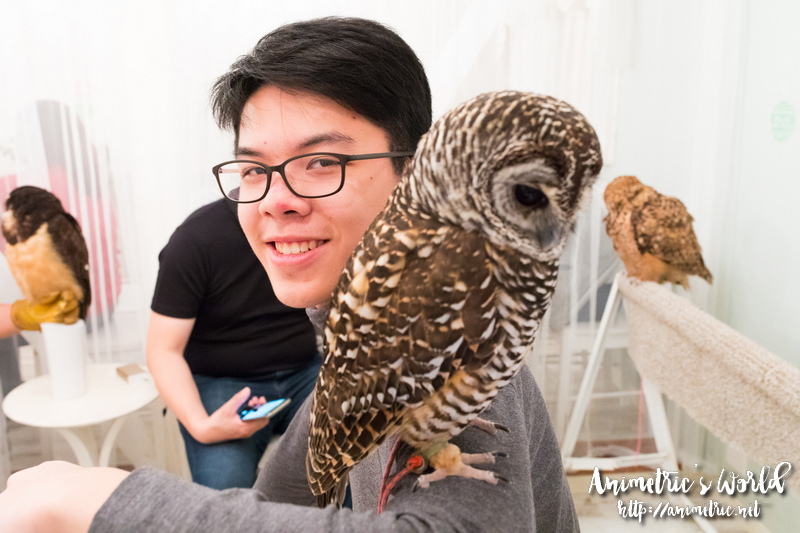 Here's my son and Zebra, a Chaco Owl.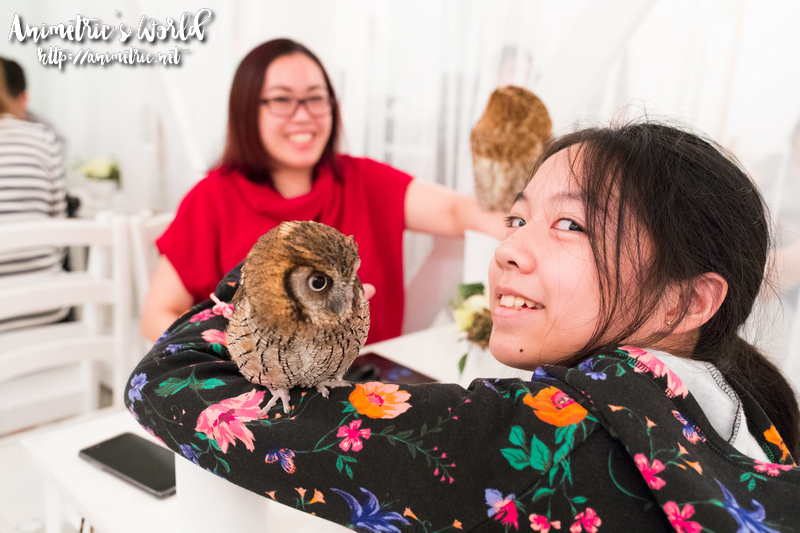 My daughter and I occupied the same table. She got Squirrel, a hyperactive Tropical Screech Owl. Squirrel kept walking back and forth on her arm and even attempted to fly to her head hahaha. The husband and wife team who run Akiba Fukurou would go around periodically to take photos and check on the owls. In fact, over half of the photos in this blog post were taken by them using a DSLR! We were given 45 minutes bonding time with our individual owls. All throughout, soft classical music by Mozart was playing in the background.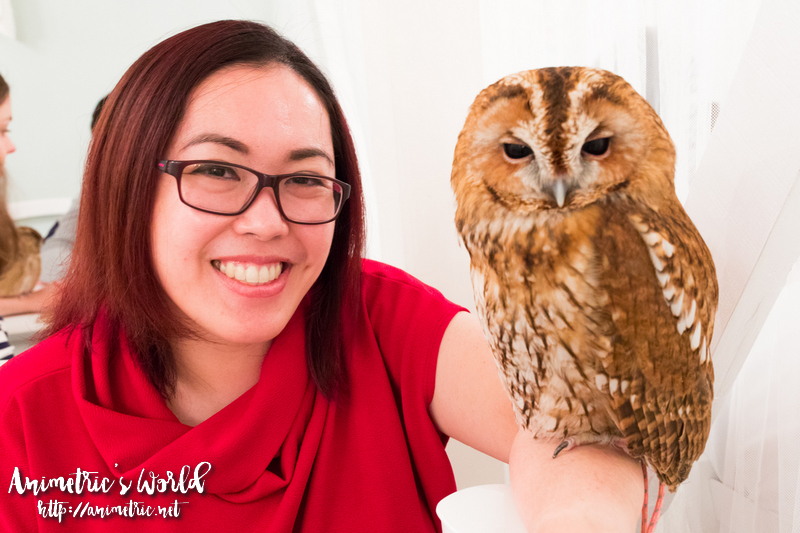 I love my owl, Snowman! She's a Tawny Owl. She's so calm, cute, and fluffy! So cooperative too when I told her we'd be taking selfies haha!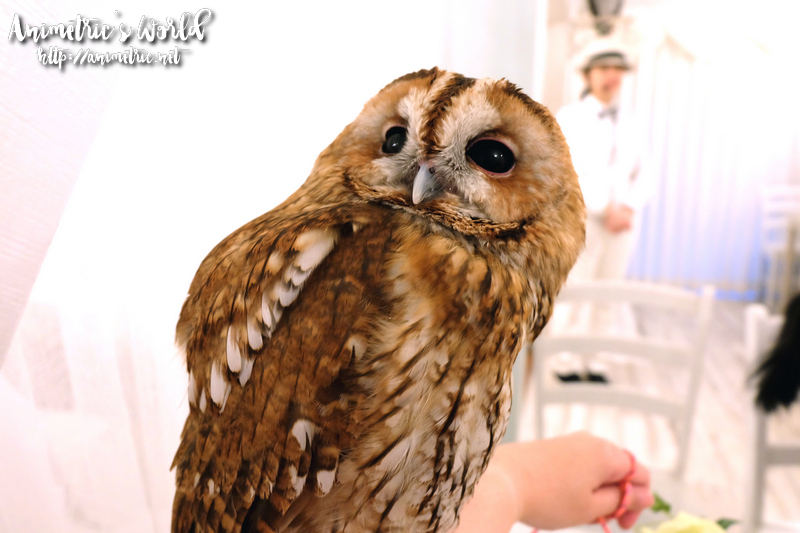 Snowman is sooooo cute. I wanted to hug her but I don't think you can do that with birds lol. I just talked to her and patted her lightly on the head once in a while.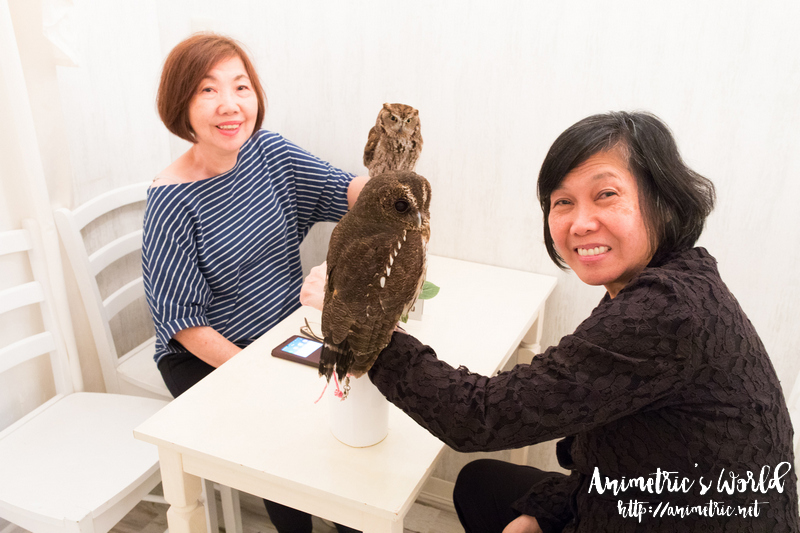 My mom-in-law and aunt got a corner table with their owls too. 🙂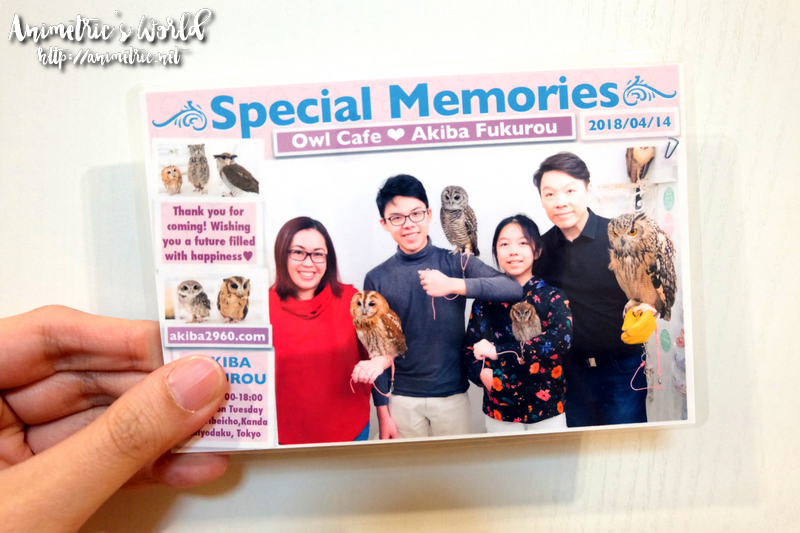 Each of us got a laminated souvenir photo after our session. They also have Akiba Fukurou merchandise like calendars, post cards, pins, etc. which you can purchase there. Please note that for safety reasons, kids 7 and below are not allowed in Akiba Fukurou Owl Cafe.
We all enjoyed our time at Akiba Fukurou Owl Cafe. In fact, we want to go back next time we're in Tokyo! The place was very easy to find because their website offers very clear walking directions from the JR Akihabara Station.
For reservations and more information, log on to http://akiba2960.com.
Akiba Fukurou Owl Cafe
101-0022 67, Neribeicho, Kanda,
Chiyoda-ku, Tokyo, Japan
Like this post? Subscribe to this blog by clicking HERE.
Let's stay connected: