I first got to know 8 Spoons Party Trays back in 2012. We've always loved their food and when people would ask me where to get good party trays, I would always tell them 8 Spoons. I'm happy to share that they've expanded their offerings since so now aside from party trays, they have frozen ready-to-heat and ready-to-cook food. Now this is perfect for me since we are now living a helper-less life. Once upon a time kasi it was our helper who'd go to the market, cook, and clean afterwards. Now it's mostly me who's in charge of food and the kitchen. That said, I buy a lot of easy-to-prep meals to help me out.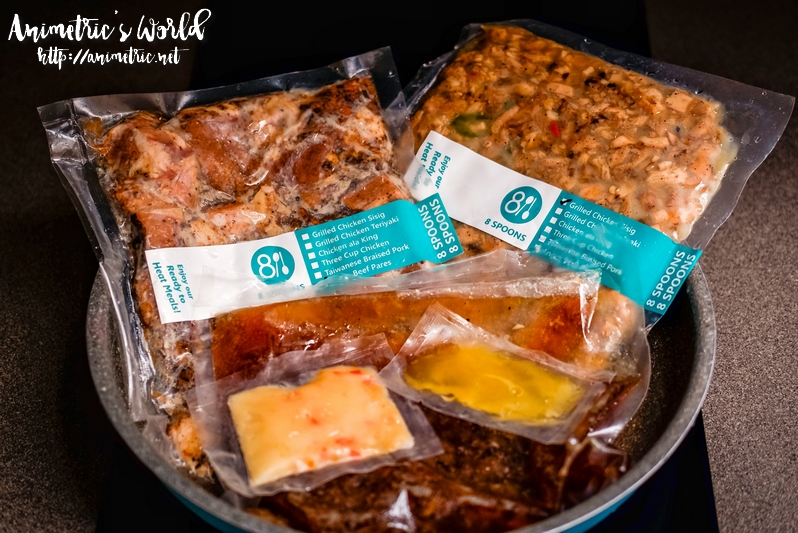 We got to try 8 Spoons Frozen Food Packs last December. Each pack contains 350g to 500g of food and prices range from P200+ to P400+. I find this very very reasonable. I only need to fire up either two 350g packs or one 500g pack per meal. There's a lot of variety too. Everything you need to prepare the dish is included in the pack.
This is the Grilled Chicken Sisig (P320 for 400g). I just defrosted, opened the pack, and poured the content into a heated pan with oil. I stir-fried for a few minutes and voila!
Delicious Grilled Chicken Sisig ready in less than 10 minutes!
One of our favorites is the Angus Beef Belly Tapa (P290 for 350g). The pack even includes chili garlic sauce and calamansi extract! The beef is amazingly tender and flavorful. I normally hate pares but this is easily the best pares I've ever had.
Their Taiwan Chicken Chops (P260 for 350g) is also yummy, reminiscent of those served in Taiwan food markets. We actually tried several variants of 8 Spoons Frozen Food and every single one was a hit with the family. You really can't go wrong with them.
If you have special occasions to celebrate, they also have Premium Rice Sets. These are complete meals in trays for 4 people (perfect for us really) and they are packed so well. They even include serving dishes, utensils, and napkins! These sets combine meat, veggies, and rice. There are 3 kinds to choose from.
Our favorite is the 10-Hour Barbecued Beef Belly, 10-Hour Twice Cooked Pork Belly, Garlic Parmesan Potato & Corn, Truffle Mushroom Rice.
This tray even comes with Smoked Eggplant Salsa for the Pork Belly. OMG, I can't even begin to describe how good this tray is. It's very reasonably priced at P1,880 too. This will definitely be one of our go-to's for celebrations at home. Super winner!
8 Spoons is based in Quezon City. You can inquire or order from them via Viber at 0939-1155590 / 0945-7061100 / 0947-9317726 / 0926-7535318. They are open Tues to Sun from 9am to 5pm.
You can also check out their IG accounts to find the complete menu. For frozen food go to https://instagram.com/8spoonsfood, for party trays go to https://instagram.com/8spoonspartytrays.
Like this post? Subscribe to this blog by clicking HERE.
Let's stay connected: