It's our cook's yearly routine to take a few weeks off during the summer months in order to take a vacation in the province. That said, those weeks always put me in a spot because well, I can't cook to save my life… and now I have a hubby and two kids to worry about too. If it were just me I think I can subsist on stuff like fruits and oatmeal for a few weeks but my family is a different story, haha! Good thing there's 8 Spoons Party Trays!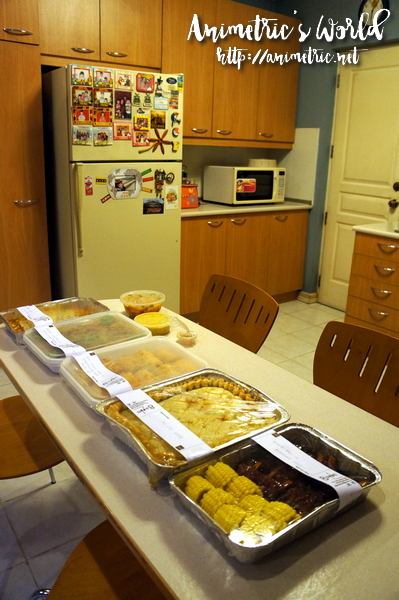 8 Spoons, a catering and party tray service, offered to send samples of their food during our cook-less time. I was more than happy to accept! We got 5 party trays in all and each one was good for 8 people.
First there was Baked Salmon with Cream Cheese (P800 for 8 people / P1,500 for 15 people). Each tray is clearly labelled so you don't get confused.
A big tray of juicy salmon is topped with rich cream cheese and surrounded by buttered sweet corn kernels, carrots, and peas. It's really a steal for P800 considering that a small portion of salmon in a restaurant will easily set you back at least P400. My kids really loved this dish since the salmon is so soft, boneless, and easy to eat — not to mention really flavorful! I think they ended up finishing most of it over the course of the next 2-3 meals, haha!
Then there was Oriental Style Pasta with Chicken and Shiitake Mushrooms (P450 for 8 people / P750 for 12 people). We all loved this dish. If you've eaten Kung Pao pasta in restaurants, this is reminiscent of it except that this one is not spicy. Spaghetti noodles is tossed with a slightly sweet soy-based sauce and a generous amount of tender chicken pieces, juicy shiitake mushrooms, and peanuts. It's soooo good and affordable at just a little over P50 per serving… even less if you order for 12 people.
Crispy Chicken Crepe with Mango Salsa and Mango Cream Sauce (P1,300 for 15 people) was another delicious dish that's perfect when served from right out of the oven toaster. They're good even without the salsa and sauce but the salsa makes it a lot more interesting to the palate. Chicken pieces in white sauce are wrapped in crepe and then deep fried to a crisp. My son liked it a lot. 🙂
We also had Baked Ribs in BBQ Sauce (P600 for 8 people / P1,100 for 15 people) which came with matching sweet corn on the cob. The savory sweet pork was fall-off-the-bone tender so even the kids were able to eat it with ease. Delicious!
Last but not least was the Beef Pot Pie (P700 for 8 people).
Underneath the chewy crust are tender chunks of beef, potatoes, carrots, celery, and mushroom. It's so yummy! Since it's a pie it's really convenient for potluck parties. 😀
What I totally loved about 8 Spoons Party Trays was the fact that each one was just bursting with good old-fashioned home-cooked goodness. Everything is so neatly packed up and organized plus delivery is right on time.
If you'd like to order 8 Spoons Party Trays:
You can view the complete menu at the 8 Spoons Facebook Page.
48 hours notice is needed for most items
50% deposit is required upon confirmation of order
Delivery is free for orders worth P5,000 and above
8 Spoons Catering and Food Services
21-C Dagot St., Quezon City, Metro Manila
542-2168 / 09228246822 / 09228245579
8spoonsfood@gmail.com
Like this post? Subscribe to this blog by clicking HERE.
Let's stay connected: