I used to be a contest addict. I would actively look for and join all sorts of giveaways I'd find in magazines, newspapers, the internet, and sometimes even TV. Eventually I got tired of it, plus I ran out of spare time. Ever since I started being really active here on my blog, I haven't really been joining. Last year I think I joined maybe 3 giveaways? In fact I remember only 2, lol. Deal Grocer's Instagram promo last December was one of them.
I just regrammed, followed, and tagged @dealgrocerdaily and a couple of days later I saw this on my IG feed — I actually won! I won a Celebrated Buffet for 2 at 7 Corners Crowne Plaza! Given our penchant for eat-all-you-can buffets of course hubby and I were thrilled!
Last Monday, we decided to have lunch out at 7 Corners in Crowne Plaza Galleria. It wasn't planned, which is why I was unable to bring a proper camera, all I had was a phone cam. Oh well.
The 7 Corners Buffet at Crowne Plaza Galleria is markedly smaller in size compared to other hotel buffets I've tried. Here's the cheese and bread section.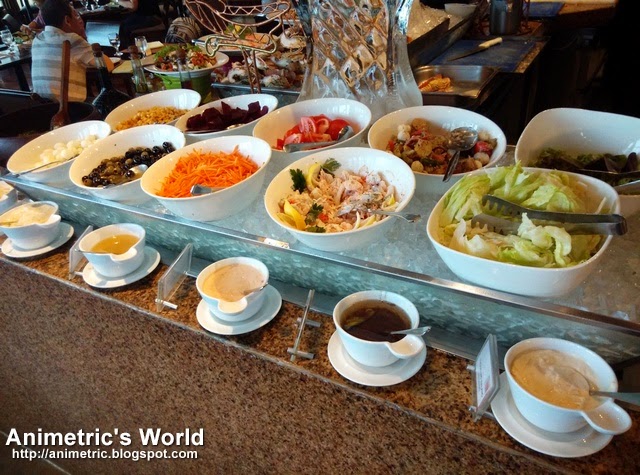 Salad Bar
You can DIY your own salad. Gather ingredients from the salad bar and…

…place them in this large wooden bowl so you can toss them. The selection was pretty small but I thought it quite sufficient.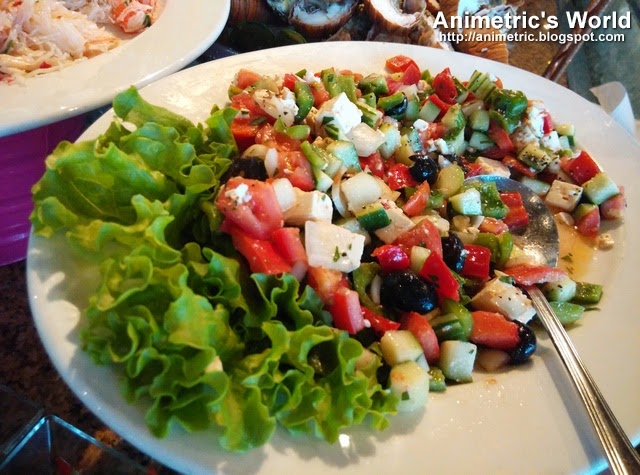 Greek Salad
Besides, there are ready-made salads in the lineup too like this colorful and fresh Greek Salad with lots of tomatoes and Feta cheese, two of my favorite ingredients.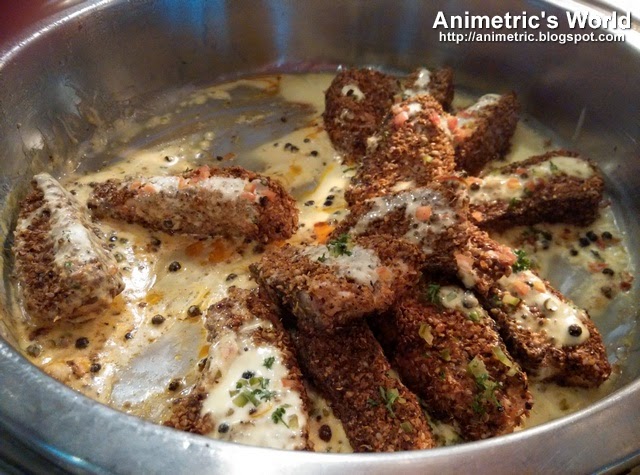 Dukkah-Crusted Salmon with Saffron and Green Peppercorn Sauce
There were maybe 20 different dishes of varying origins — Chinese, Japanese, Indian, American, Italian…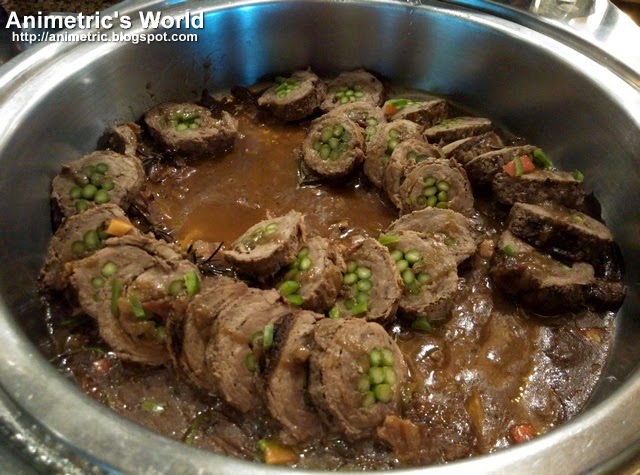 Asparagus Stuffed Beef Tenderloin with Burgundy Sauce
There was a pizza and pasta station, carving station, and grilling station.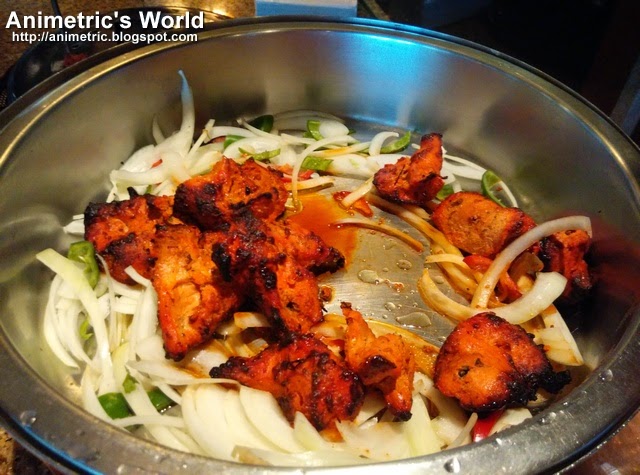 Tandoori Chicken
I don't eat like I used to, there were so many dishes I wanted to try but didn't because I simply did not have the space for them.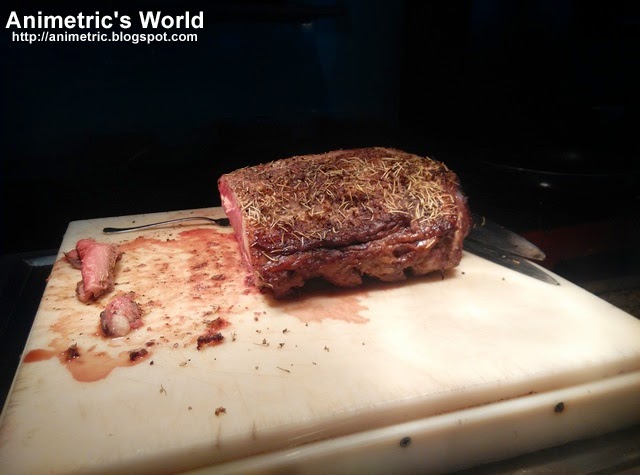 US Rib Eye Steak
This was our favorite — US Rib Eye Steak. We asked the chef to grill a slice for us. Honestly I wasn't expecting much but…
Wow! The beef turned out to be really tender and tasty. We were both very surprised. This is hands down our favorite! Unfortunately after I finished this I could no longer get a second plate because I was so full.
This was my first and only plate aside from the steak. I got naan, cheese, papadams (fave!), curry corn, greek salad, buttered vegetables, salmon, almond mashed potatoes (so yummy!)…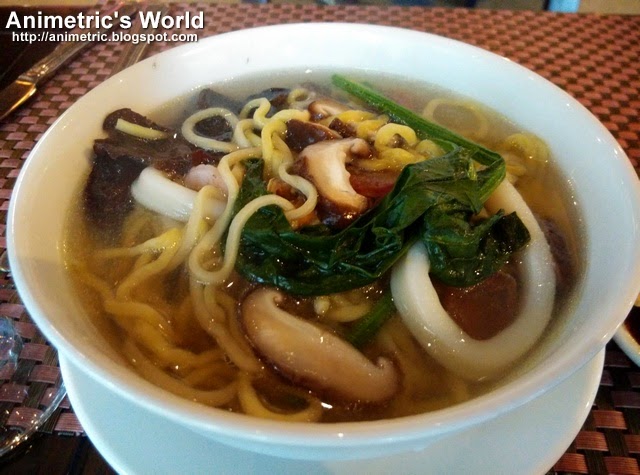 Hubby's custom made Chinese noodle soup
Hubby got this from the noodle station. I simply had no more space and I chose to leave room for dessert. I even skipped the sushi.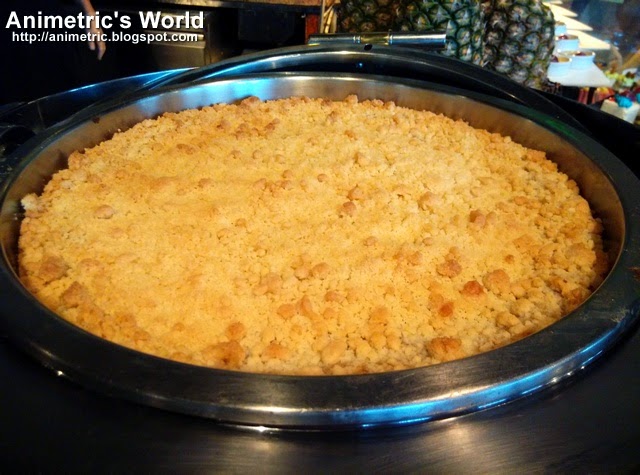 Apple Crumble
For dessert, there were the usual small cakes lined up in rows but they looked kinda dry so I didn't get any. Instead I chose to have some Apple Crumble.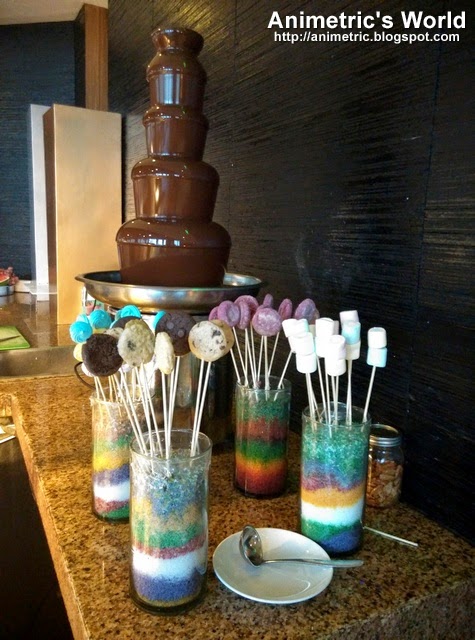 Chocolate Fountain
They have fresh fruits, ice cream, and a chocolate fountain too.
I had tiramisu, a French macaron, one small cake, and Apple Crumble for dessert. Coffee and tea are included in the buffet.
This lunch buffet spread normally costs P1,436 per person but Deal Grocer offered it at a discounted rate of P995 last month. We got to try it for free because I won in their promo!
For P1k per person, I think it's a good deal because going to a decent steak place would set you back way more than P1k and you can have unlimited amounts of surprisingly good US Rib Eye Steak here. I might have second thoughts if I were to pay P1.5k though because the selection IS pretty limited. Although I can't really eat huge amounts of food, it's still better to have a lot of options available.
Still, it was a nice lunch!

7 Corners
3/F Crowne Plaza Manila Galleria,
Ortigas Ave. cor. ADB Ave., Quezon City
633-7222

Like this post? Subscribe to this blog by clicking HERE.
Let's stay connected: