Shortly after I got back from the United States, I got an interesting gift. It was a gold box filled with one of things I love the most in this world — milk tea! Specifically, 3:15PM Milk Tea.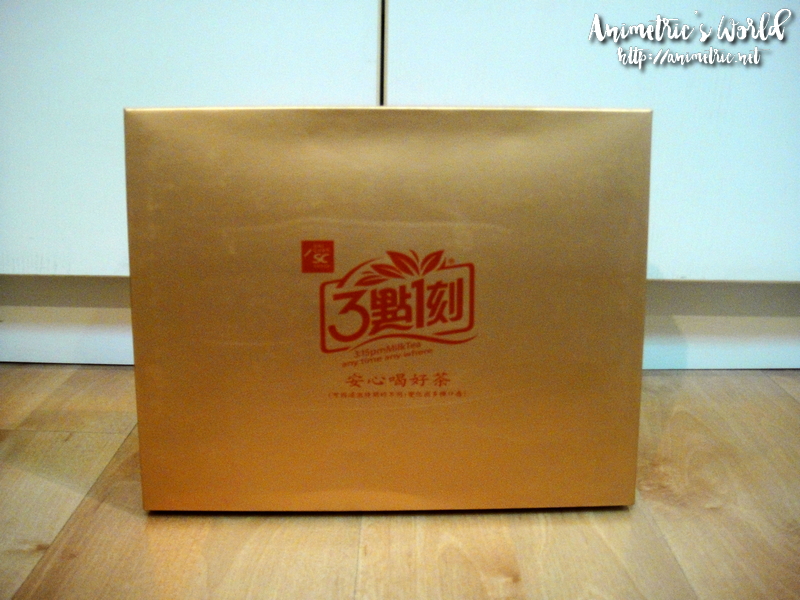 I love gifts. But then who doesn't? 😀
Wheee! Instant 3:15PM Milk Tea — several variants of it too! I've actually encountered this brand at Robinsons Supermarket in Robinsons Magnolia but forgot to purchase a box since I was busy completing my grocery list. When I went back another time, it was out of stock already! XD
Anyhow, one box contains six (6) sachets. A box retails for P120 and so it's P20 per sachet or serving. It's definitely a lot cheaper compared to buying from a milk tea place.
The first variant I tried was the 3:15PM Original Milk Tea.
I was expecting it to be in powder form but no, it comes in a tea bag (with tea leaves inside)! That's good news because in this form, I am assured that the product is natural and it means actual brewing is going to occur. Woot!
What you do is pour a bit of hot water, enough to steep the tea bag in. Now decide if you want a piping hot cup of tea or an icy cold beverage. If you want it hot, just fill up your cup with hot water. If you want it cold, fill it up with ice instead. Leaving the bag to steep in hot water for 3 minutes makes a sweet and milky drink. If you want a stronger tea flavor and less sweetness, leave it in for at least 5 minutes. As for me, I leave the bag in, period. I don't take it out even when I'm drinking, haha! Each bag makes a 7 oz. cup of milk tea. I've had it hot and I've had it cold. I was totally blown away when I took a sip. It tastes just like the stuff sold in milk tea places.
By now I've tried four 3:15PM Milk Tea variants and here's how I find the other three:
3:15PM Roasted Milk Tea – Similar to Dakasi's Charcoal Roasted Milk Tea except that Dakasi's has a toastier flavor and is more milk-rich. I liked this a lot. 🙂
3:15PM Earl Grey Milk Tea – This is very aromatic and has a stronger tea flavor compared to the Original Milk Tea and Roasted Milk Tea variants. I enjoyed it too.
3:15PM Rose Fruity Milk Tea – This is the most unique variant as I haven't tasted anything like it from the tea places that I frequent. The scent and taste matches the description — flowery and fruity. Since I'm not fond of flowers, this is the variant I liked the least although I don't dislike it.
At P20 a pop (P120 for a box of 6 sachets), these surprisingly delicious milk teas are really worth trying. There is a fifth variant that I have not yet tried — Coffee Milk Tea. I will grab a box on my next supermarket trip. For now, 3:15PM Milk Tea is available at Robinsons Supermarket (Ermita, Otis, Galleria, Pioneer, Magnolia, and Eastwood), Unimart, Cash and Carry, and Makati Supermarket.
Like this post? Subscribe to this blog by clicking HERE.
Let's stay connected: