I was a writer before I was a blogger.
The Philippine Star pretty much got the ball rolling for me.
I'm something of a late bloomer. See, I shunned writing after graduating from Ateneo de Manila University back in 1995. My whole college career consisted of writing all sorts of papers whose topics ranged from a reaction to the latest mass I attended (and I'm not even Catholic!) to Immanuel Kant's investigation into reason. Ateneo = writing. You can't
not
write and survive in the Ateneo. I had papers coming out of my ears, which was why I refused to write after college.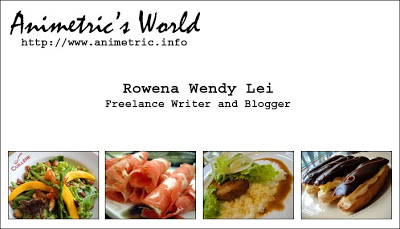 Good Housekeeping Philippines is technically the first magazine where I got published, but it's at ABS-CBN's Working Mom where I became a regular contributor… although I did get to contribute to GH again after almost two years — watch out for it in the upcoming March 2010 issue!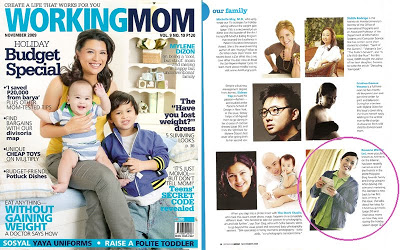 2009 marks one year of writing for WM for me, and by this time I have a few more publications under my belt: Health Today, Moms Today, and Cradle Magazine. I also had a brief stint as a food writer for Summit Media's Spot.ph earlier this year and I am forever thankful for the experience. It was during that time that I learned how to photograph food plus I got to meet and work with such great people.
All the while I was writing professionally, I kept an online journal at
Multiply
wherein I had a network of moms and friends who would actually take time to read whatever it is that I'd post. My friend the IT Professor
Beia
urged me to activate my blogger account, which I did back in February 2009 (with a meager four posts for the whole month!). I was worried that my Multiply readers would not migrate with me, and that no one would bother to even look at what I'd put up. My move to blogger/blogspot was my formal initiation into the Pinoy blogosphere. I didn't have a hard time since I could code raw html. I did after all, create and maintain the anime review site
animetric.com
for seven years before I got bored and sold it to an American guy.
2009 is ending. As I look back in the last several months that I've been a blogger, I'm rather surprised that I've somehow managed to:
Become a finalist at the 2009 Philippine Blog Awards' Family and Living Category
Become a brand ambassador for the Sony Cyber-shot TX-1
Become Nuffnang's Featured Blogger for November AND December
Become a blogger for Tech Exchange
Get 2,500+ unique visits on my blog every week
Get over 200 feed subscribers and Facebook fans
Get Google PR3 and top Google search results for whatever it is that I blog about… try googling "Chowking Delivery"… :p
For all this I am very thankful. Thankful to each and everyone who takes time to drop by and read what I post. Thankful to those who believe in me and what I can do. Thankful that God still lets me do things that make me happy on top of the many responsibilities that I need to fulfill. Unfortunately, I cannot write and blog full time and this is something I can do only on the side.
As 2009 comes to a close, I would like to wish everyone a Happy New Year! 😀
Like this post? Subscribe to this blog by clicking
HERE
.