Last June 5, we went to Posh Nails Hand and Foot Spa along Tomas Morato to experience Zoya Nail Polish firsthand.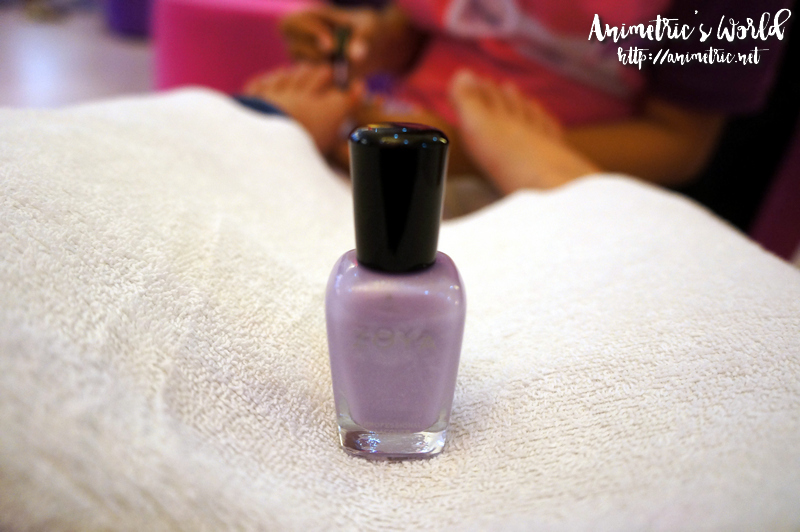 We were asked to choose a shade. I went for Julie, which is part of Zoya's Spring 2013 Lovely Collection. It's a metallic lavender shade which I found so cute and unique.
We were to have a Mango Mandarin themed service for our feet. The gel, body butter, and scrub all smelled heavenly.
Thus began the pampering of my feet. It involved cleansing, scrubbing, moisturizing, and massaging my feet and lower legs.
All that while I had delicious chocolate cupcakes, lol!
I was with Mrs. Martinez the entire time. She's been so busy with her baby it's been a while since we went somewhere together.
My foot pampering session ended with a pedicure. I so love Zoya in Julie!
Would you believe this is the first time I've ever had nail polish applied to my toe nails? I'm too lazy to go into the whole nail thing hahaha.
After my feet, my hands received more or less the same treatment. Again, I went for Julie. I love this shade! It has actually garnered a lot of compliments at work from our office staff.
However, I picked a different shade to take home… Nyx, from Zoya's PixieDust series. All the Zoya PixieDust shades are glittery. Nyx is a sparkling purple gray shade which I found intriguing.
I was too excited to try it so after several days of sporting Julie, I switched to Nyx. It dries to a grainy finish so you feel each and every bit of silver dust on your nails. It's pretty though… like Julie, it has garnered a lot of compliments from people who've seen it.
What I like about Zoya Nail Polish:
It lasts. I had Julie on for almost a week and it was perfectly intact.
It's free from Formaldehyde, Formaldehyde Resin, Toulene, DBP (Dibutyl Phtalate), and Camphor.
It's also free from animal products so it's vegan-friendly.
It's safe for pregnant and nursing women.
There's literally hundreds of pretty colors to choose from.
Zoya Nail Polish retails for P399 per bottle and there are over 300 shades available, 270 of which the official Philippine distributor, Top That Corporation, has already brought to the Philippines. Initially, Zoya Nail Polish is available only from salons and spas like Posh Nails Hand and Foot Spa, Jesi Mendez, and California Advanced Nails and Skincare (CANS). Top That is working on a wider scale retail distribution though and so it's only a matter of time before you can grab these off your department store shelf. 🙂
Aside from nail color, Zoya also has excellent complementing products like nail polish remover, top coat, base coat, quick dry, etc.
Have you tried Zoya Nail Polish?
Like this post? Subscribe to this blog by clicking HERE.
Let's stay connected: