I trooped to Zong at The Fort through the stormy weather with a couple of blogger friends last June 9, 2011. I've never eaten at Zong before, although it's been around for 9 years already. I couldn't say no because a friend whom I had not seen in a long time invited me to Zong's relaunch. 🙂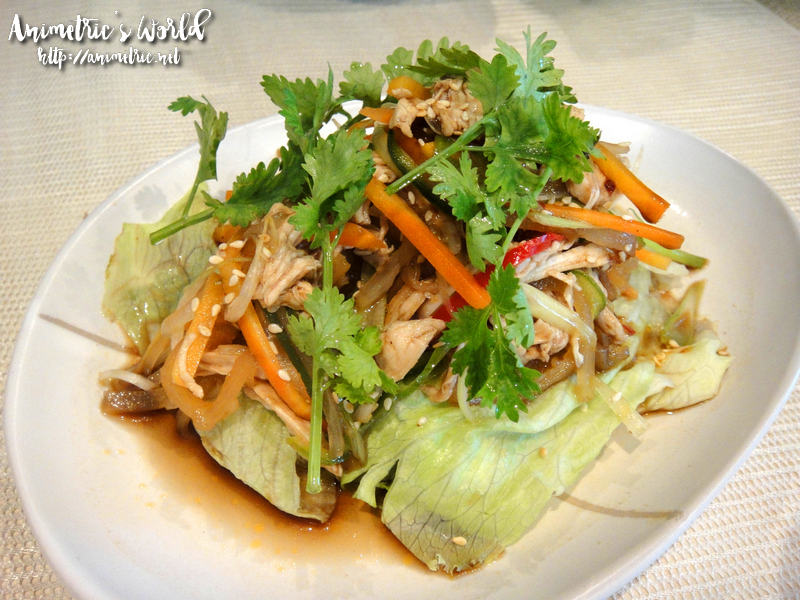 I initially thought that Zong was a Vietnamese restaurant, but as it turns out I confused it with Zao Vietnamese Bistro! Anyways we started off with Chinese-Style Chicken Salad (P348). It's very unique because while the usual oriental or chinese style salad usually involves crispy noodles and peanuts, this one tosses together jellyfish, steamed chicken strips, carrots, bell peppers, greens, and sesame vinaigrette. I liked it a lot. 😀
Then we had Homemade Meat Roll in Orange Sauce (P328). Simply put, it's good old kikiam. Crispy outside while tender, juicy, and meaty inside, this dish is a winner. I hate it when I chew on bits of tough fat or ligaments in kikiam. This one had no such extenders and is made with high quality ground meat. The orange sauce is zesty and slightly sweet — just perfect!
Fujian Fried Rice (P288) was up next. Fried Rice is topped with a thick sauce garnished with mushrooms, shrimp, and mixed vegetables.
Dumplings with Black Vinegar Sauce (P328) looked quite familiar because it reminded me of Mien San Noodle House's Spicy Wonton. It's not bad, but Mien San's version is better (and cheaper). 😛
Another surprisingly good dish was Braised Shanghai-Style Meatballs (P328). I'm not much of a meatball fan but like the kikiam which preceded it, the high quality meat with no extenders that was used really shines through.
Steamed Zucchini in Pumpkin Sauce (P389) was the unanimous favorite of my seatmates. Steamed zucchini cups are topped with a nice plump shrimp and then blanketed with creamy pumpkin sauce. The sauce is kind of like Cream of Pumpkin soup. :p
For the finale, we had a whole Roasted Chicken (P600). Zong uses Bounty Fresh free range chicken. I noticed that it's leaner than the normal chicken but it's also tastier. You don't even need the dipping sauce that it's served with since it's already flavorful as is.
Zong presents a myriad of flavors that goes beyond what we usually expect from Chinese cuisine. I can't wait to go back with my hubby and kids since there are still a lot of interesting dishes to try on the menu.
The Fort Strip Mall
Fort Bonifacio Global City, Taguig City
889-0472 or 79
http://www.zong.com.ph
Like this post? Subscribe to this blog by clicking HERE.
Let's stay connected: