The Japanese brand Zojirushi has always been our family's foremost choice when it comes to lunch jars and water bottles. I used to buy their products from Sogo Department Store in Hong Kong. In fact, my kids' very first water bottles in preschool were Disney-themed Zojirushi water bottles. We've known and trusted this brand for years.
I had no idea they had a store in Greenhills Promenade! It's located on the ground floor, near one of the mall entrances.
The first thing I checked out was the highest end Zojirushi Rice Cooker, which I dub as the rice cooker to end all rice cookers. It costs a whopping P25,000 BUT but but… it uses induction heating and it can cook rice in many different ways. Did you know that brown rice contains GABA (Gamma-Aminobutyric Acid)? GABA has a multitude of health benefits and is found to possibly lower blood pressure, improve kidney function, reduce sleeplessness, etc. Guess what, this rice cooker has a GABA Activator. You can't reap the benefits of GABA if it's not activated. Anyhow, I saw the demo video on their Facebook Page and I swear if I didn't have a working and rather high-tech rice cooker at home I would've bought this.
This rice cooker model is the next best thing if you find P25k too steep. Of course it doesn't have all the bells and whistles of the top model but hey, it still cooks better tasting rice.
This is the Electric Multipurpose Pan. It costs around P10,000. You can use it to steam, grill, hold a shabu-shabu (hot pot) party at home, etc. I initially wanted to get this but me entertaining people at home isn't happening anytime soon. It hasn't happened in the last 2 decades and it's not going to happen in the next ones. You know what, this sells for P15,000 in Singapore so we have a good thing going here.
This is the Hot Plate. I was surprised that it costs only P5,900. It's pretty much a tabletop grill. I immediately envisioned Korean BBQ nights and grilled Wagyu Cubes at home.
The Hot Plate comes with a controller dial and a 2.5m power cord. I'm excited to try grilling stuff on the dining table.
These thermal water bottles keep liquids hot or cold for 24 hours. They cost around P2k each.
I love how sleek and stylish they are.
There are more sporty versions too.
These are Handy Pots. They retail for around P2k each. We have one in our bathroom and we've been using it since 1999. Of course the design on ours is more retro lol. Ours is almost 20 years old and it still works perfectly!
Whoa I'm surprised they still sell this Lunch Jar (P2,600). I got this exact same model for my kids some 6-7 years ago from Sogo Department Store in Hong Kong. Both jars are still in perfect working condition.
I love this metallic pink Lunch Jar and the floral one with matching insulated bag.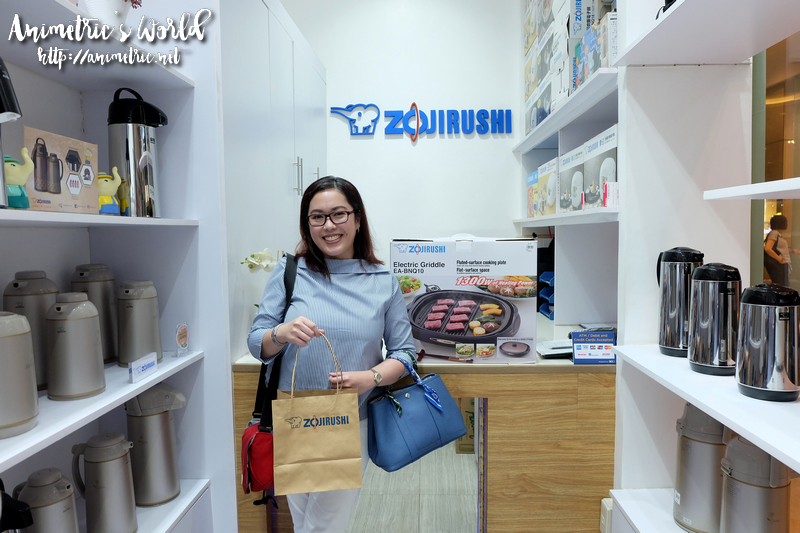 After much deliberation, I decided to get the Hot Plate a.k.a. Electric Griddle. It's such a steal for P5,900. Now we don't have to do the entire messy smokey charcoal thing when grilling.
Waaah I'm so excited to use this! I need to buy some nice meats and veggies to grill first. I wonder if we can grill cheese sandwiches too? I'm looking forward to having less oil in our food.
Okay so as I was saying earlier, I got my 2 kids Zojirushi Lunch Jars several years ago. See, they're exactly the same as the one in the store! When I did the 5-Day Prolon Meal Program, I used this Lunch Jar to bring my soup to the office. I'd cook it in the morning around 7am and it would still be warm by 12nn.
Our former yaya (she's now retired) even embroidered the kids' names on the bags' straps. These Lunch Jars are really worth the money. I think this is their 7th or 8th year of service here in our household.
Another thing I like about Zojirushi is the presence of authorized service centers here in the Philippines. They have spare parts for just about everything you could possibly need. There's a complete list at http://www.zojirushi.com.ph.
Zojirushi products are available at Zojirushi stores in Greenhills Promenade and Ayala Malls Feliz. They're also available at leading department stores like SM, Rustans, and Robinsons.
Like this post? Subscribe to this blog by clicking HERE.
Let's stay connected: