Welcome to my 27th BB Cream review! Yes, I'm still at it, lol! I can't believe I've reviewed almost 30 BB Creams even if I'm also into CC Creams these days. BB is still my preferred foundation replacement during days where I want to wear makeup but not too much, lol. Tonight we'll take a look at ZA Total Hydration BB Cream (P450).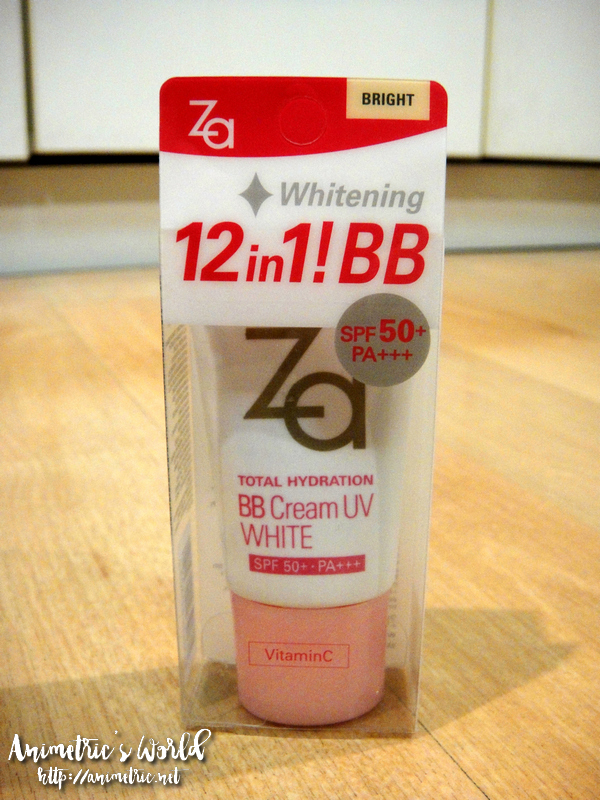 ZA Total Hydration BB Cream UV White in Bright is a 12-in-1 BB. 12??? I was so excited I threw the box away immediately so I'm not sure if the 12 benefits were enumerated there. I did google it and according to the results the 12 are:
2 kinds of sun protection: SPF 50+ and PA+++
Other effects: primes, conceals, color corrects, lightens, brightens, hydrates, controls oil, works like skin care… the others seem repetitive so no, I still don't get how it's 12-in-1
It's pretty small, only 20g per tube. The norm is 30g. But 20g works for me because I have a lot of BBs and I can't finish most of them.
I can already see the brightening effect from this single swatch. Most Asian BB shades fit me anyhow, so I'm pretty confident with this one.
Anyhow, here are before and after application shots.
Here's a closer look at ZA Total Hydration BB Cream's effect on my skin.
This is how the BB looked 6 hours after application.
What I like about ZA Total Hydration BB Cream:
I love how it instantly brightens and evens out my complexion!
It's got a smooth, non-sticky consistency that makes it easy to apply and blend.
It makes my face look flawlessly smooth and dewy.
It's got SPF 50+ PA+++ so my face is completely protected from the sun's harmful UV rays.
Coverage is light to medium so it's pretty okay as a daily foundation replacement.
My skin didn't look like a greasy mess after 6 hours and no blotting.
I find the price okay at P450 per tube even if it's only 20g.
Downside? There's only one shade available and those with medium to darker skin tones may find it too light.
ZA Total Hydration BB Cream is available for P450 per tube at all Watsons outlets, SM Department Stores, and Chimes Specialty Store in Davao.
Like this post? Subscribe to this blog by clicking HERE.
Let's stay connected: