Are you familiar with Yves Rocher? Yves Rocher is a French brand that specializes in natural plant-based beauty products. The brand has been around for over 50 years so you know we have something special here. I've been wanting to try something from Yves Rocher but I don't really know where to start.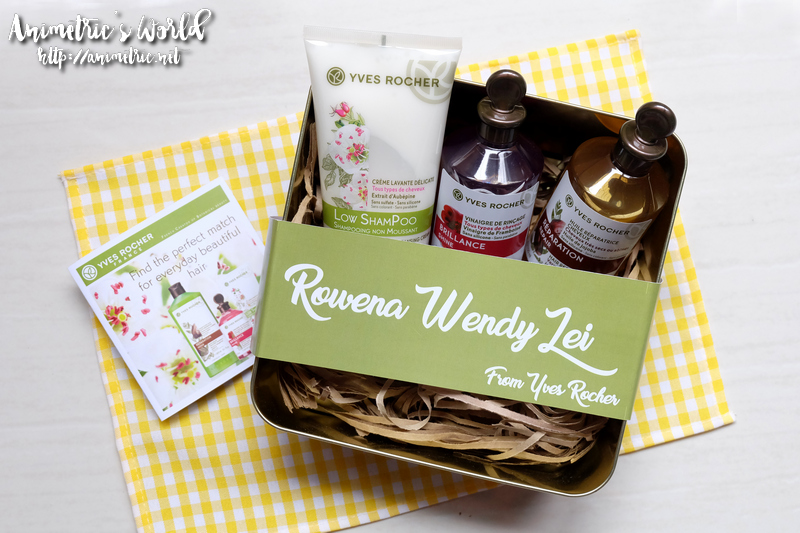 It's so timely that I got this set of Yves Rocher hair care products for review a couple of weeks ago. My hair is one of my biggest beauty challenges because it's so hard to manage. I can't even afford not to use conditioner because that would mean impossible-to-comb hair. They sent me the following products:
Yves Rocher Botanical Hair Care Repair Oil (₱695)

Formulated with Babassu Oil and Macadamia Oil, this product repairs very dry or damaged hair. You apply it before shampooing and leave it on for 10 minutes. It's silicone-free too, which is good new for me. I find that silicone makes my hair look and feel stiff.
Yves Rocher Low Shampoo (₱495)
This a delicate cleansing cream that's different from the shampoos we're used to. It doesn't foam or form suds. It's super gentle and it's good for all hair types.
Yves Rocher Rinsing Vinegar (₱349)
This is the most interesting of the 3 products for me, the Rinsing Vinegar. It combines raspberry and French origin vinegar. It's applied all over the hair during the final rinse. Hair becomes soft, smooth, and radiant.
After going through the products, I figured that my next shampoo session would consist of 3 steps: Oil –> Shampoo –> Vinegar. What, no conditioner? I was kind of panicked at this point because I normally can't comb my hair without conditioner. I decided to give it a go.
For the first step, I opened the bottle of Yves Rocher Botanical Hair Care Repair Oil. It smells like a mix of fruits, flowers, and spices.
I rubbed it all over my hair as per the instructions. It's surprisingly light and not very greasy. I left it on for over 10 minutes because I had to make teriyaki marinade.
Since the oil had been on my hair for over 10 minutes (more like 30 mins actually), I was ready to shampoo. I applied this cream from roots to tips in the shower, massaged into my hair a bit, and then rinsed off. The shampooing experience can be likened to using Cetaphil or Physiogel cleansing cream on your face. I applied the hair vinegar all over my hair before my final rinse. It smelled really really nice, more like raspberry instead of vinegar. Then I rinsed off.
Surprisingly my hair was perfectly tangle-free even without conditioner. I dried it the way I usually do using a hair dryer. It came out really nice and smooth! I'm so amazed.
What I like about the Yves Rocher Hair Care products:
They're made from natural ingredients.
They're free from harmful chemicals — no sulfates, parabens, silicones, and colorants.
All of the products smell really nice.
Each product delivers what it promises, it's so amazing!
Everything is easy to use.
Prices are reasonable given the quality of the products.
The most amazing part for me was the fact that my hair was tangle-free, soft, and smooth even without conditioner!
Downside? None! My lovely experience has actually got me wondering about their skin care products.
Yves Rocher Hair Care products are available at the Yves Rocher Flagship Store on Lazada.
Like this post? Subscribe to this blog by clicking HERE.
Let's stay connected: