Whenever the name Goldilocks pops up, festive occasions and a truckload of memories always come to mind. I attribute this to my mom, who by default, would always buy our birthday cakes and baon for school from Goldilocks through the years.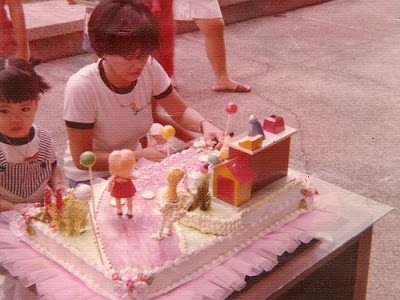 The photograph above was taken during my 3rd birthday back in 1977. I still remember the big Sesame Street-themed cake my mom ordered from Goldilocks — yup, that's me and mom up there. Many years later, well after my parents had separated and my mom migrated to the United States, she remains a loyal patron of Goldilocks. She's always stopping by the Goldilocks branch in the San Fernando Valley area to get a halo-halo, or some mamon and ensaymada… I guess you could say that Goldilocks goodies are her comfort food, providing her with a little slice of home across the miles. Whenever she comes to Manila for a vacation, she'd hoard boxes and boxes of Goldilocks polvoron to bring over to the States. She says it's her officemates' favorite pasalubong.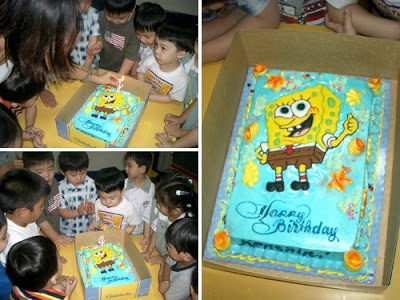 It's funny how the wheel of life turns. Eventually I was married and had children of my own. When the time came for my son's first school birthday party back in 2005, I asked him what cake he wanted. He was 3 years old then, the same age I was when I had my first Goldilocks birthday cake. He told me he wanted a Spongebob cake. I wanted his first school party to be a memorable one and so I was deadset in getting him exactly what he requested. Guess which bakeshop had the Spongebob cake? It was Goldilocks! As you can see from his party pictures above, the cake was a big hit with his classmates. The children were awed by the perfectly rendered Spongebob cake topper, the bright colors, and the ornate seashell background. There were oohs and aahs as I removed the box cover and proceeded with the candle-blowing. It was an unforgettable party indeed. Looking at the party photos still brings smiles to our lips well after four years had already passed.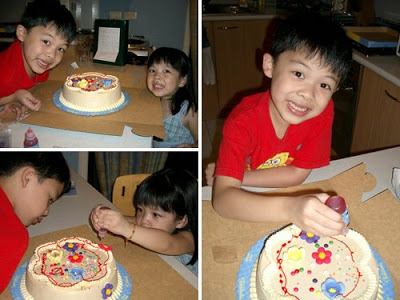 Some time ago Goldilocks came up with DIY (Do-It-Yourself) cakes. By this time, I had a daughter who was, yes, you guessed it — 3 years old! We got this plain round Goldilocks mocha chiffon cake and a set of decorating materials — colored gels, sugar flowers, candy sprinkles, chocolate pieces… it was a unique activity which I felt would help unleash my kids' creativity. I let them have free reign on the cake design, with the condition that they would not fight and take turns with it. It felt good to see them working and playing together happily. They had a great time with the DIY cake which we sliced up and ate afterwards. Time really flies when you're having fun. Just like the countless birthdays and celebrations, this would forever be part of my treasure trove of memories.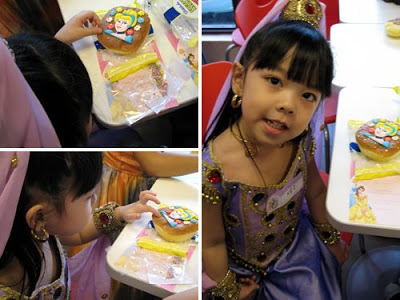 Looking at my children now, I can see them growing up so fast. I'm always trying my very best to raise them well. We are all here in this world for a very short time, and in that brief period I want them to be able to experience as much as they can and to be truly happy. Perhaps this is also how my mom felt when she was raising my sister and I.
You're the 1 Goldilocks, because like a true and timeless friend, you're someone I can always count on to be there for us in every generation. From my mom, to myself, to my children, you will always be that special one who makes our lives happier.