One of the best dinners I had last year was definitely at Yoree Korean Barbecue Dining at BGC. AGC, the group behind Etude House and Tonymoly, held their media Christmas party there. Yoree is also an AGC venture.
The hot coals Yoree Korean Barbecue Dining uses to grill food remind me of a place we had dinner at in Myeongdong a few years ago. I don't know what the place was called but it was a barbecue place like this one. The coals were changed when they could no longer absorb sufficient heat.
To start the evening, I ordered Iced Tea (P120). I liked Yoree's Iced Tea. It's brewed so it tastes natural and refreshing. It's also not overly sweet, it goes well with flavorful dishes.
All the party guests had a full-course Yoree experience because each of us what was referred to in the menu as Course Dinner A which costs P1,050 per head. You need a minimum order of two before they serve it to you. Yoree's Course Dinner A started with a bowl of flavorful rice porridge called Juk. I'd describe it as the Korean counterpart of Arroz Caldo except that it's more fine and there aren't any chunks of meat in it.
Each person gets 3 appetizers consisting of Kimchi, Muchim, and Pickles. Okay I'm not really sure what Muchim is but I read on Wikipedia that it can be made of a type of sea snail, squid, and fish with some veggies. I thought it was some sort of bamboo shoot. Oh well, I ate all of these and thought they were great. I should ask the Yoree people about the snail next time hahahahaha.
No Korean meal is complete without Japchae, one of the more popular Korean dishes here in the Philippines. It's basically fried noodles with veggies and meat but in this case it's veggies and seafood. Nice and chewy and definitely bursting with flavor!
This is Hae-mool Pajeon, a Korean seafood pancake. It's quite lovely, sort of like a cross between an actual pancake and an omelet with everything in it (in this case veggies and seafood).
I had a slightly different version of Geranjjim (Steamed Egg in Pot) at KPub a long while back and I must say, Yoree's Geranjjim is a lot more fluffy (KPub's was flat) and my money's on this one as the proper version as we met the Korean chef who cooked it that night. Dreamy and creamy, that's how I would describe this unique egg dish.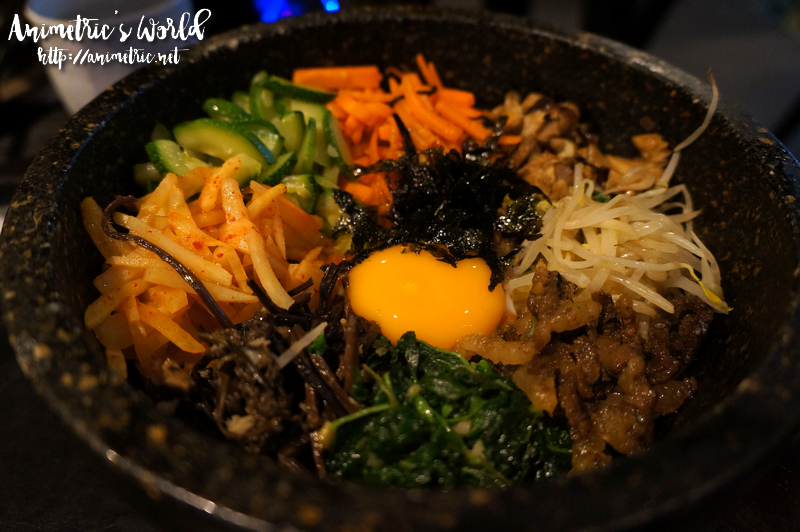 According to the menu, Mini Haemul Dolsot Bibimbap is actually seafood and vegetables bibimbap. I thought it was the normal beef one because it tasted like it. Bibimbap is one of my favorite Korean dishes and this one is no exception! I mixed everything to "cook" the egg. I loved how crisp the vegetables were.
Our full course dinner included Hae-mool Soon Tofu. The menu described it simply as soft tofu and seafoods on soup. It was red and it looked super spicy. I took a sip and was surprised that it wasn't unbearably spicy. It was just right. In fact, I found it rather comforting.
Up until this course, everything was pretty much seafood. Now we get to the core of Korean Barbecue Dining with some Wagyu Deungsim Gui or Wagyu Ribeye Steak! This was hands down my favorite part of dinner — they served us veggies on the side to go with it so I wrapped up the meat along with some garlic and doenjang (Korean soybean paste). Delicious! Really tender and juicy, you can't go wrong with this. I love how they filled the button mushrooms on the side with butter too. Grill them and wow, the aroma will send you right up to heaven.
After the wagyu we had Yang Nyum Galbi or Sauced Ribeye (I'm guessing marinated ribeye, sauced ribeye could very well be the literal translation of the Korean terms in the menu).
The quality of the meats at Yoree is excellent as you can see (check out the marbling!). Regular readers know how much I love those cheap Korean eat-all-you-can places but I'll be the first to tell you their meats don't hold a candle to Yoree's.
Amidst all the beef, we also had chicken — Dak Galbi! Lol, it's no secret I'm not a fan of chicken so I skipped this one.
I must admit, when I saw the dessert, I wasn't too excited because I'm not a red beans person and Pat Bingsu is shaved ice with azuki red beans! But when I had my first spoonful… wow! The milky shaved ice, slightly sweet red beans, and sweet yet tart fresh ripe mangoes all just came together beautifully in my mouth. This dessert is SOOOO good. I finished it ALL! It was the perfect ending for our Korean dinner.
Thank you Andrea for having me over at Yoree for the AGC Christmas Party! I first met Andrea back in 2012 at Marj's birthday bash. Would you believe this is actually our first photo together? Haha.
Will I go back? Yes, with my hubby and kids next time. We'll probably order set meals like this one as I saw a lot of set meal options in the menu. I figure it's also more economical that way as compared to ordering everything ala carte. I highly recommend Yoree if you'd like to splurge Korean style. 😀
Yoree Korean Barbecue Dining
G/F Forum South Global
7th cor. 25th St., Bonifacio Global City, Taguig City
866-0432
Like this post? Subscribe to this blog by clicking HERE.
Let's stay connected: