I practiced Bikram Yoga (also known as Hot Yoga) at Sundar Bikram Yoga with Al Jarreau Galang for 2 months back in 2008. I was desperate to lose weight for my sister's wedding back then. It proved very effective for me as I lost 10 lbs in 6 weeks. I was practicing an average of 4x a week.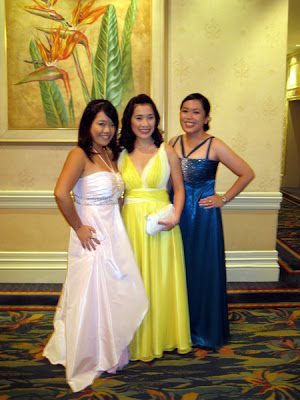 See I was actually able to pull off a turquoise Patrice Ramos Diaz gown for my sister's wedding thanks to Bikram Yoga!
Anyhow… a couple of months ago, Groupon Philippines offered 1 week unlimited yoga at Yoga Plus for P500. It would've normally cost P1,000 so I was getting 50% off. I jumped at the chance even if the studio wasn't exactly near where I lived and worked. Now I can finally share my experience with Yoga Plus. Please note that all the photos I'm using for this post were taken from Yoga Plus' online photo gallery since I was unable to take my own photos during the sessions.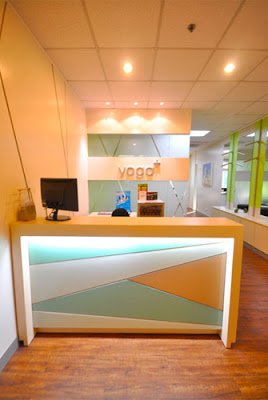 Yoga Plus is located at the 11th floor of Fort Legend Towers. While it may seem an unlikely location for a studio (it's in the middle of an office building), I was surprised at the first class establishment that greeted me. All I had to do was give my voucher to the reception area and sign a few things then I was all set.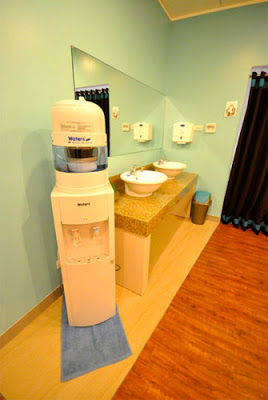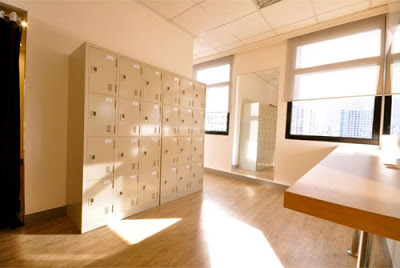 Yoga Plus provides you with mats, towels, drinking water, and lockers at no extra charge. I love how immaculately clean the place and all the facilities are. The yoga mats and matching yoga towels are of high quality too — very thin, absorbent, and are of the perfect size.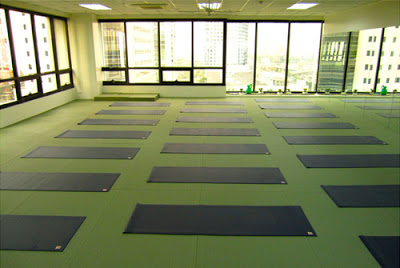 The studio is very spacious and amply heated, really optimized for Bikram Yoga. I could feel the heat from the ceiling and the floor. It must've been around at least 38 degrees Celsius in the room. I was confident when I started. The class I attended was led by Canadian instructor Ryan Chester. He's very good. He would go around and correct the postures as needed and he is very encouraging.
I was confident I could do it all over again but some half hour later I felt like I was about to black out from the heat… as in, I could hear ringing in my ears! Ryan advised me to sit down on my mat, breathe, and look into the mirror in front. Was it because my system was shocked? Did it have anything to do with the fact that I had a slight case of food poisoning the night before? Am I that unhealthy? Whichever the case, I'm determined to really get fit this summer while I have time since my kids have no classes. I have schedules for Belly Dancing, Plana Forma, Barre3, and gym for the rest of the summer too. I can't stand myself like this.
Anyhow after my brief moment of weakness inside the hot studio, I soldiered on to finish the whole 90 minute Bikram Yoga session. You really sweat it out for Bikram Yoga. After a session, you can wring the sweat off your clothes and form a puddle. You feel so refreshed afterwards since you sweat out all the toxins. During the time I was regularly practicing in 2008 all my blood tests yielded excellent results. That's how healthy this discipline is.
I'm going back for one more session at Yoga Plus since my voucher is about to expire. My only complaint is it's too far from work and home. Otherwise, it's perfect!
UPDATE: I had my second session and I did not feel like blacking out at any point! Wheeee!

Yoga Plus
Unit 1102 Fort Legend Towers
3rd Ave. cor. 31st St.,
Fort Bonifacio Global City, Taguig City
238-2768
http://www.yogaplus.ph
Like this post? Subscribe to this blog by clicking HERE.
Let's stay connected: