It's a little over 2 weeks till my brother's wedding! I'm still on a diet. I start hunting for a nice formal dress this weekend, I think. Anyway, my Dear Diet Delivery subscription ended a few days ago. I was getting rather bored with their food. Plus I finally gave up on their beef. I am forced to eat other food whenever I have a beef-based meal from them because their beef is really abysmal. I asked my dear friend Naths The Hungry Chef for another diet delivery recommendation. He told me about Yes Plate Delivery by Chef Jam Melchor.
Look, I don't know Chef Jam Melchor lol. I subscribed to Yes Plate Delivery because Naths said the food is good and it's the same price as Dear Diet Delivery — P340 a day for 1200 calories. Like I said before, price is one of my main considerations. I cook and I shop for ingredients all the time so I know what reasonably priced is when it comes to food. So I subscribed to Yes Plate Delivery and scheduled my first day immediately after Dear Diet Delivery's last day.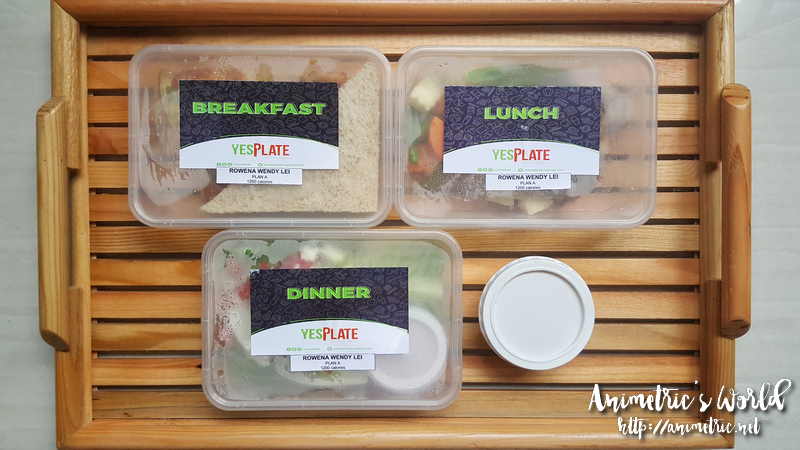 So for P340 a day, I get 3 meals and a snack. Food is packaged and labelled very neatly like this. According to their Facebook Page, they don't publish weekly menus like the other diet delivery services. So yeah, there is the element of surprise and I don't know what to expect each day.
To give you an idea of what I'm eating, I'll show you today's menu. So today I'm having:
Breakfast: Longga Fritata + Multigrain Bread
Lunch: Chicken BBQ + Steamed Vegetables
Snack: Coco Lychee Soymilk Pudding
Dinner: Watermelon Kesong Puti Salad
Like Dear Diet Delivery, Yes Plate Delivery consistently brings my meals to my doorstep at around 5am everyday. So far, I like the food. There seems to be a lot more thought put into each dish. I really feel I am eating healthier now. There are more vegetables, less carbs, and markedly less sugar in what I am eating compared to Dear Diet Delivery. While the Chicken BBQ I got earlier was a bit problematic (a lot of parts I couldn't eat, I think they were ligaments?), everything else so far has been great. While Dear Diet Delivery has more inclusions (fruit, coffee, utensils, detox water aside from 3 meals and a snack), I feel that Yes Plate Delivery devotes more budget to the main meals.
UPDATE as of Oct. 20, 2017: I was pretty okay with Yes Plate Delivery until breakfast salads consisting mostly of leaves and Thousand Island dressing became a staple. I'd have that kind of breakfast around 3x a week. Their Thousand Island dressing is crap. It tastes like cheap mayo, sugar, and ketchup. Just thinking of it makes me want to throw up. I also hate it when dinner is a sandwich filled with leaves and overly sweet mayo. I've had that maybe 3x already.
In 3 weeks, they've failed to deliver twice so far. First was supposedly a communication error. Second time was when their rider dropped the food on the road. Dear Diet Delivery has a perfect record when it comes to deliveries.
Yes Plate Delivery is also super fond of jicama, also known as singkamas. I've never eaten so much singkamas until now. There was a day when breakfast was salad with jicama, lunch was grilled veggies with jicama and meat, and dinner was another dish with jicama. Boring.
If you'd like to subscribe / order / inquire, visit their Facebook Page… or e-mail yesplateph@gmail.com. After my subscription is over, I don't think I will re-subscribe.
Like this post? Subscribe to this blog by clicking HERE.
Let's stay connected: