I got a nice surprise from Yellow Cab Pizza Co. last Friday night. They let us try their special holiday offering — the Yellow Cab Pizza Tango Box!
It's not really a box per se… it's actually a meal package for 6 people. For P1,600 you get:
1 Large Pizza (any flavor)
6 pcs Garlic Parmesan Wings
2 Pastas (any variant)
1 serving Jalapeno Wedges
Pitcher of Coke (dine-in) / 1.5 liter Coke (delivery)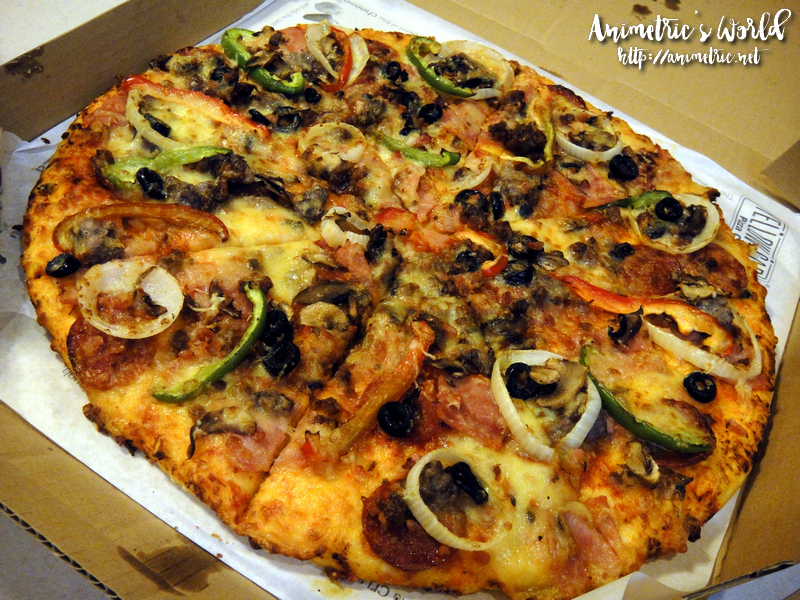 For our Yellow Cab Tango Box, we had a large
New York's Finest Pizza (P585 ala carte)
. It's their pizza "with everything on it" — Italian sausage, ham, pepperoni, bacon, ground beef, black olives, mushrooms, onions, red and green bell peppers. This pizza is so filling I can only have one slice at a time. We each had a slice that evening and then had a slice each again for breakfast the next morning, lol!
Here's a closer look at the toppings.
It was our first time to try Yellow Cab's Garlic Parmesan Wings (P370 for 6 pcs ala carte). I like how the wings are big and meaty, they give you the entire wing part — mini-drumstick and L-shaped wing. This gets plus points for being crunchy outside well-cooked to the bone inside… no gross bloody parts. Yes, we loved 'em!
For the pastas, we got Chicken Alfredo Pasta (P250 ala carte) since daughter prefers white sauce-based pastas.
It's spaghetti with rich and creamy white sauce with sauteed chicken pieces and black olives. There's fresh basil sprinkled all over it too. I thought it smelled like butter. The kids liked it a lot.
Hubby and I prefer the Charlie Chan Chicken Pasta (P270 ala carte). Seriously, we've been ordering this for the last ten years. We love the spicy sweet oriental style sauce (reminds me of szechuan cooking) combined with shiitake mushrooms, chicken, and peanuts. Up until this moment, this is still our favorite food item from Yellow Cab Pizza.
The Yellow Cab Tango Box also comes with a serving of Jalapeno Potato Wedges (P165 ala carte) with Bleu Cheese Dip (not in the photo). It tasted like regular potato wedges as it wasn't spicy in any way. If you're not eating them right away I recommend popping them inside the oven toaster until they're crisp.
You can avail of the Yellow Cab Pizza Tango Box for P1,600 from now until Jan. 15, 2014. I recommend opting for the Four Seasons Pizza as it lets you have 4 flavors all at the same time — NY Classic, 4 Cheese, Anchovy Lovers, and Roasted Garlic & Shrimp.
Call 789-9999 for delivery (Metro Manila only) or log on to http://www.yellowcabpizza.com/ to find the store nearest you.
Like this post? Subscribe to this blog by clicking HERE.
Let's stay connected: